Main content
Why size shouldn't matter when glamming up for life's biggest moments
Emma was about to embark on a holiday of a lifetime to celebrate her dad's 60th birthday but one thing filled her with dread – the invite to the formal night...
Shopping for a plus-size woman is really difficult
"We're so excited to go on the cruise. Obviously finding out about the formal night did panic me a bit because, again, it's finding a dress"
Being plus size, Emma needed somewhere you could get a gorgeous gown regardless of whether you do or don't fit the narrow size criteria catered for by most high street shops. She turned to bespoke dress designer Samantha Buca to help her find her dream dress and boost her confidence.
"Shopping for a plus-size woman is really difficult. I'm only 28…but the clothes are not out there like they are for slimmer figures. Obviously I'd like to be a bit smaller but I'm not and that's that, you know?"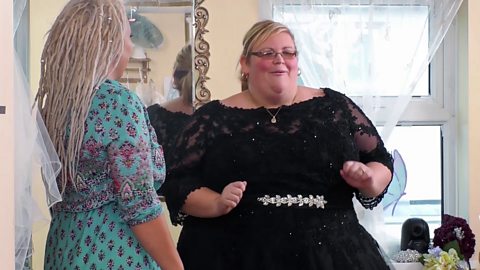 Samm Buca helps a customer find the perfect dress for a cruise.
Emma, who runs her own entertainment company, shared how her confidence was hit hard at a young age but meeting her husband and starting a family really helped her turn things around.
"When I was younger I was really bad. I wasn't as confident as I am now but I think that's to do with my husband and my son."
Trying on the dress for the first time, Emma was speechless and her husband Math and son Harvey loved her new look.
"What can I say about Math? He's just everything to me. We've been together 9 years. I know I could probably wear a black bag and he'd still say you look lovely but you can see the reaction in his face is different when I'm wearing different stuff, you know? It's like he fancies me all over again."
"Just having him in my life, going on this holiday together, being a family – it's just everything to me. Everything I've ever wanted and dreamed of. And then I've got the perfect dress now as well!"