Main content
Chinese greens
Award-winning food writer Fuchsia Dunlop demonstrates the perfect Chinese side dish, twice-cooked Swiss chard.
Chinese Greens
Fuchsia Dunlop is an award winning food writer, internationally renowned for her recipes and brilliant writing about Chinese food. The recipe comes from Fuchsia's latest book, Every Grain of Rice: Simple Chinese Home Cooking.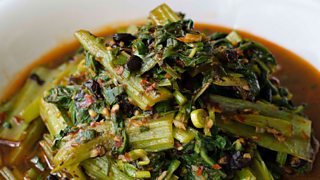 Subscribe to our download to be kept up to date with all cookery items.
Tips and techniques
Swiss chard is cheap and easy to find in supermarkets
Heat the aromatic ingredients gently in the wok to coax out the flavours - take care not to burn them
It's important not to overload the wok in Chinese cooking, otherwise the food won't cook evenly
If you are using crispy vegetables in a stir fry, blanch them briefly first to reduce cooking time in the wok
These Chinese greens are delicious served with steamed rice, or Thai fragrant rice. Or you can try them with a fried egg for lunch 
Ingredients
400g thick-stemmed Swiss chard
3 tbsp cooking oil, or 1 1/2 tbsp lard and 1 1/2 tbsp cooking oil
1 1/2 tbsp Sichuanese chilli bean paste
2 tsp finely chopped garlic
2 tsp finely chopped ginger
1 1/2 tbsp fermented black beans, rinsed and drained
100ml stock or water
3 tbsp finely chopped celery (Chinese celery if possible)
2 tbsp finely chopped coriander
2 tbsp finely sliced spring onion greens
Preparation method
Cut the dark green chard leaves away from the stems. Snap each stem into a few pieces, which will allow you to peel away and discard the stringy bits, as you would with celery
Bring a potful of water to a boil, add the stems and boil for about three minutes, until tender. Add the dark green leaves and boil for another minute or so until they are also cooked. Drain and refresh under cold running water. Squeeze the chard dry, then cut into bitesized lengths
Pour the oil into a seasoned wok over a medium flame, swirl it around, then add the chilli bean paste and stir-fry until it smells delicious and the oil is richly red. Add the garlic, ginger and black beans and stir-fry for a few moments more until you can smell their fragrances. Then add the stock, bring to a boil, tip in the chard and stir until it is piping hot once more
Finally, stir in the celery, coriander and spring onion, stir a few times, then serve
Browse previous recipes
Seeking to create perfect pumpkin soup, cracking curry or unbeatable bread and butter pudding?
More Food on the BBC
Browse our selection of recipes from top chefs, cooks and food writers who have joined us on Woman's Hour.

Download this interview, or subscribe to the Cook The Perfect... download.