Main content
How to Draw a Caricature
Martin Rowson is a political cartoonist, author and renowned cynic, whose pen has made mincemeat of politicians for many years.
Through a series of ink-splattered interviews for Radio 4's Life Drawing, he came face-to-face with five figures who have influenced his work and wider life.
Here he reflects on some top tips from the series to help you draw a characterful caricature.
Look deep into their eyes...
When you are drawing someone's face, whether straight or as a caricature, the first thing you need to do is look.
The great art critic John Ruskin said that drawing is not about drawing, it's about looking. In this case you need to look at the person with the intensity you would look at someone who you are either in love with or about to thump.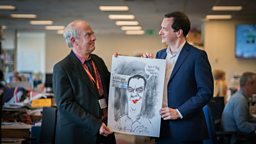 Martin Rowson with ex-chancellor George Osborne having drawn and interviewed him for Radio 4's Life Drawing.
Defining features
You then need to isolate the defining point of their face: their wonky nose, big eyes, pointy chin or gappy teeth.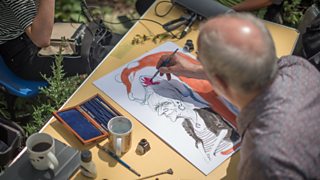 A cartoon tiger became a defining feature of Rowson's portrait of Sarah Christie, drawing on her area of expertise as a zoologist.
Scribble and scribble and scribble until you feel satisfied...
Occasionally, someone comes along who has far too many features defining their face and you don't know where to start. Or, for that matter, where to finish.
Ken Clarke and Ed Miliband both fall into this category and it took me a long time to capture them to my satisfaction.
Take a line for a walk
Now you need to take a line for a walk, to use the Swiss painter Paul Klee's turn of phrase. Scribble and scribble and scribble until you feel satisfied that there is a resemblance.
At this stage you know whether or not you have got it right instinctively. With a political cartoon, your ultimate aim is to take control of the person's face so that they become a puppet in your narrative.
The truth hurts
Never bother with what your subject thinks of it. Nobody truly knows what they look like and how others see them.
Famously, when the great 20th-century cartoonist David Low drew Albert Einstein from life, Einstein complained that the finished portrait did not look like him. Low replied, "It looks more like you than you do."
That's the point. Caricatures are visual parables. When drawing one, you need to exaggerate to get to a deeper truth.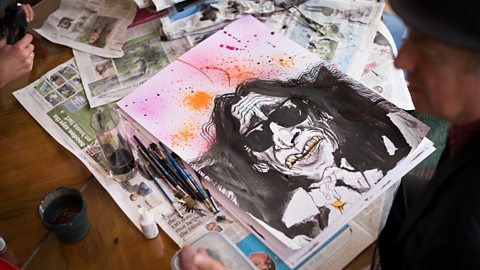 Martin Rowson puts pen to paper with punk poet John Cooper Clarke for an inky interview.
Make a mess
Do not worry about materials.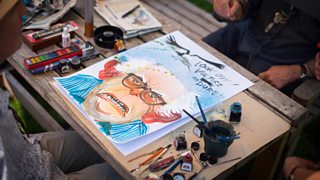 Rowson's drawing of famous illustrator Ralph Steadman proved there are no limits when it comes to materials, using the pub beer as a wash. Warning: this is not a money-saving tactic.
Use what you feel comfortable with and try to be as messy as possible. It's a lot more fun that way.
I once caricatured Tony Blair in cheese during a Cambridge college dinner. He was instantly recognisable and then I ate him.
Break the rules
When you are trying to capture a face, be prepared to break every rule you can think of during the chase.
Do not fret about perspective or balance. If you have captured them by exaggerating their bulbous nose and leaving the rest half-formed, that is brilliant.
I was once struggling to draw Stuart Maconie when he was broadcasting live on a festival stage. He kept eluding me until I had more or less caked the drawing with Tipp-Ex, but the little that was left on the page was him to a tee.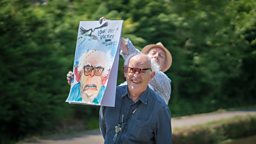 Rowson with his childhood hero Ralph Steadman after an inky interview for Radio 4's Life Drawing.
"Great artists steal"
If you are drawing a public figure, copy the style and observations that other cartoonists have made when drawing the individual in question, until you have wrangled your own vision.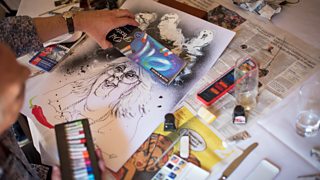 Pack up your beloved art supplies before you make a run for it.
When I drew and interviewed the great illustrator Ralph Steadman for Life Drawing, he regurgitated Picasso's widely quoted idea that "good artists borrow; great artists steal".
Needless to say, I was stealing a technique of his at the time.
A quick getaway...
Finally, be as mean as you like.
Remember, caricature is not portraiture – it is a tool of satire. Like voodoo, its purpose is to do damage with a sharp object – in this case a pen.
That said, if you are drawing from life and the subject is particularly tetchy, always be prepared for a quick getaway...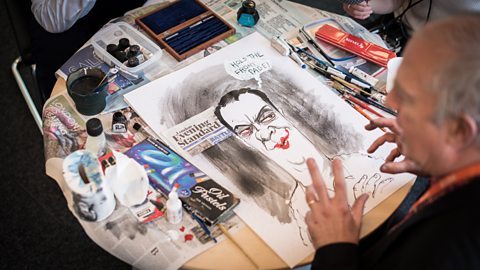 Martin Rowson puts pen to paper with ex-chancellor George Osborne for an inky interview.