Main content
8 reasons Justin Bieber is the most fly popstar in the world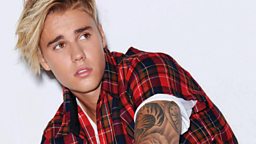 Credit: Justin Bieber / Virgin EMI
Justin Bieber holds the No.1 and No.2 single in the UK this week with his DJ Snake and Major Lazer collaborations Let Me Love You and Cold Water.
Not only is he the biggest pop star on the planet, he's also the most fly. Here's why.
1. He doesn't even need to try
Let Me Love You has raced up the charts, just a week after its release with little radio play, no promotion, no fanfare and no video. It almost made No.1, which would really have been something.
2. He doesn't need to star in his own videos
Sorry and Love Yourself are two of the biggest hits of his career, but there was no official video for either. Instead, JB promoted these mega-hits with videos from various directors as part of his PURPOSE: The Movement project.
(Warning: Third party videos may contain adverts)
3. He's doing Live Lounge
We have a lot of incredible artists through the doors of the Radio 1 Live Lounge, but when Justin performs in September, it's going to be a little bit special. He will be performing from his actual home (!!!) in LA, live. We're feeling faint just thinking about it.
4. He's body confident
Justin was snapped naked in a hot tub in 2015 and it broke the internet. Most other stars would keep themselves covered up, but not Justin. He was seen splashing around in Hawaii this week with girlfriend Sofia Richie wearing nothing but a smile.
5. More importantly, he knows how to work a pink flamingo
6. His collaborators are the bomb
As well as DJ Snake, he's has collaborated with Diplo, Skrillex, MØ, will.i.am, Carly Rae Jepsen, Halsey, Nas, Future, Chance The Rapper, Tyga, Nicki Minaj, Big Sean and Drake.
That is one hell of a squad.
7. The hottest new stars support him on tour
If you don't know who Vic Mensa and The Knocks are already, then you've got a real treat heading your way.
8. And while we're talking about live shows...
Justin knows a thing or two about owning the stage. There is some serious swagger in this performance.
(Warning: Third party videos may contain adverts)