Main content
12 celebrities who are as obsessed with Harry Styles as you are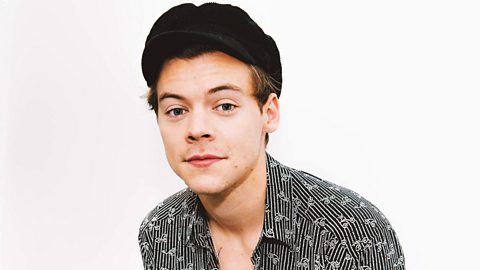 Harry and Grimmy talk about the day they spent filming in Manchester.
Consider yourself a Styles superfan? Firstly, you're going to want to catch his one-off special, Harry Styles at the BBC (Thursday 2nd November at 8PM on BBC1; add it to your diary, stat!) It's a chance to see Hazza playing some amazing music, hosting a game of Bingo, trying a spot of axe throwing and more in all his glittery suited, kiwi dodging glory.
Secondly, it turns out you're in pretty good company - anyone who is anyone is equally obsessed. Here are 12 celebs who are swooning hard over the Brit heartthrob....
1. Ed Sheeran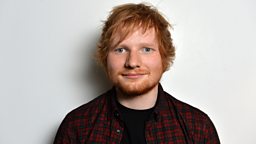 "We were in LA about three months ago and he had a day off. [Harry] spent two or three grand on Domino's pizza and drove around giving them out to homeless people. That's an amazing story. People write about Harry in a negative way because of his love life but he does stuff like that a lot. He's a pretty genuine guy," Ed told The Mirror.
BROMANCE.
Chris performed a Harry-written track, Just A Little Bit Of Your Heart, with Ariana Grande at the Global Citizens festival opening with, "This was written by the most handsome man in the world". Sounds about right.
Oh and how can we forget the time Chris dropped Harry a message, via Grimmy's Breakfast Show, to ask if he could head up the official Harry Styles Fan Club?!
3. Emma Roberts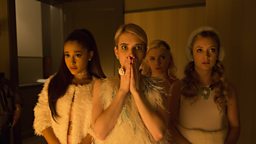 Emma admitted to Chelsea Handler: "Literally, my little sister and I talk about One Direction all day. I'm scared if someone ever saw my phone, I'm like 'delete these messages!' It's like we're talking about something bad. It's like Harry Styles, Harry Styles, Harry Styles."
4. Louis Tomlinson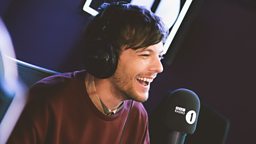 Louis Thomlinson is always full of praise for his 1D bandmate. "I have forever had a very, very high level of respect for Harry," he told The Sun. "He's great on stage, he's a great musician and artist." AW!
If you, like us, fancy re-watching the momentous occasion again over (and over and over and over and over and over) again, here's your chance...
5. Kesha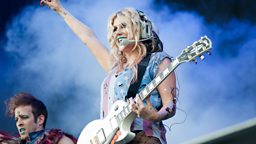 Kesha is all about his luscious locks, admitting to Heat magazine: "He's a beautiful thing, isn't he? I actually gave him an award at some show, so I got to give him a little squeeze. [His hair] smells like roses and tropical lotions mixed with butterflies."
She got to smell him with her actual face. JEALOUS.
6. Rita Ora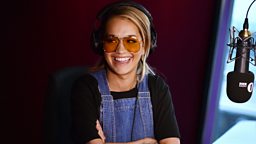 Rita Ora told The Sun, "I mean, me and the whole music industry probably have a crush on [Harry]. Everyone's acting like it's a shock, but I'm sorry, I think I'm just the only one admitting it! I like his hair! I just think he's funny and cute!"
7. Nick Grimshaw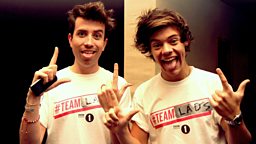 Grimmers told Now magazine: "It seems totally normal to me, a DJ being mates with a pop star. It's not like he's some weirdo who can't talk. He's really funny. When anyone meets him, it's like, 'Oh yeah, he's really nice and interesting'. And they immediately understand."
8. Meghan Trainor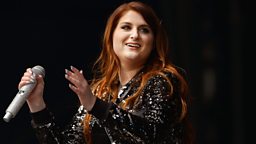 "He's an amazing dude. He's really chill. When I first met him, I was scared that he'd be like a big pop star and like super famous guy. But he was just like, 'What's up?' And he's like a 21-year-old dude, and I'm 20. So we bonded. It's great…I think he's an amazing writer," she told Ryan Seacrest.
9. John Legend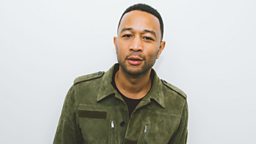 He's not just a pretty face, a magnificent head of hair, an eye-wateringly cute set of dimples and a charmer. No, no. He's also somewhat of a lyrical whizzkid, as confirmed by none other than John Legend.
After penning a winners song for X Factor USA in 2013, John Legend laid compliments galore at Harry's door: "I'd love to write with him again as he is a great guy and very talented. He has some really great lyrical ideas and is a very good songwriter."
Miley Cyrus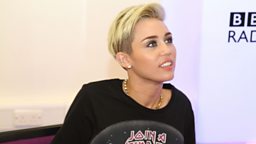 The world discovered Miley's love for the long-locked dreamboat after she tweeted a photo of her cradling a cardboard cut-out of the man himself. Need we say more?
11. Rihanna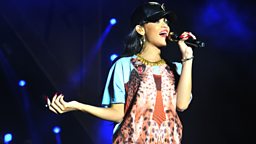 Ri told The Mirror: "Harry, yeah. I watch their videos and I remember thinking, 'Wow, he's a star! He seems very sure. It seems, like, it's so natural to him."
12. Elton John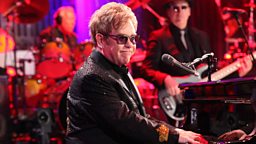 Harry Styles is such a big deal that even Elton John - wearer of eccentric spectacles and real life Rocket Man (sort of) - thanks him for turning up to his gigs.
When Haz showed his beautiful face at Elton's iTunes Festival set in 2013, Elton gave him a personal shout-out: "Thanks to the fabulous Harry Styles!"
Iconic.
Harry Styles at the BBC will air on BBC One on Thursday, November 2 at 8PM.
This article was amended on the 1st Nov 2017.