Main content
BMW deny engine failures are due to manufacturing fault
In the last year Watchdog has heard numerous cases of total engine failure in the BMW 1-Series, 3-Series and 5-Series vehicles built between 2007 and 2009. The cause of which have been because the timing chains have snapped causing the engine to come to a complete stand still.
Published 12 June 2013: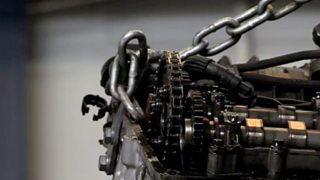 The timing chain links all the moving parts of an engine that work together in order to drive a car forward. They must all work in perfect harmony.
The positioning of the timing chain link on the N47 engine is hidden away at the back, which according to engineers is a part of the engine which is supposed to last the life-time of the car and for that reason, is never serviced.
But if the timing chain fails, it causes catastrophic engine failure that can happen without warning.
It's not an easy fix. At the very least drivers have to replace the chain, but it's more likely that a whole new engine needs fitting, costing anywhere between £500 and £8,000.
Dan Greenwood bought a used BMW 3-Series 320D in 2011. Although it had done nearly 100,000 miles it came with a full service history. Along with knowing the cars history, the BMW name gave him confidence that he would be buying a trustworthy vehicle.
Whilst driving in slow moving traffic with his young daughters the engine cut out without warning. After being towed to a nearby garage where they inspected his vehicle, he was given the news that he would need a complete engine rebuild costing in excess of £2,000.
The reason: his timing chain had snapped.
Mr Greenwood explained, 'I was just shocked, the car's out of warranty as it's 5 years old now, so from what looked like a simple fault I was looking at something that'd cost thousands of pounds.'
Not an uncommon occurrence
Anthony Staples and his partner were driving on the M4 at speed when their engine suddenly cut-out. They lost all power and were forced to veer across the motorway onto the hard shoulder.
Anthony told us they had, 'Nothing from the engine, no breaking, no power steering. Everything seems to have gone. It was quite terrifying.'
After inspection by a local garage he was informed that the engine was ruined as a result of a snapped timing chain, and his car would require an engine rebuild at a cost of over £3,000.
Mr Staples told us, 'they said my timing chain had broken and I was looking at probably damaged valves, broken camshaft. Might even be a right off due to the cost of replacing the engine. I was like "oh my god" what am I going to do now?'
Aware of the problem
BMW offer 'goodwill gestures' towards some of the cost of repairing the timing chain. So are clearly aware of the problem.
But this goodwill gesture is only extended to customers who have maintained a regular BMW service history, and who have had repair work carried out at BMW-approved garages.
In both Mr Staples and Mr Greenwood's case, BMW refused to contribute towards the cost of repair as they had instructed repair work from non-approved BMW garages.
Mr Staples and Mr Greenwood insisted that they had no choice but to accept a lower quote for repair since BMW's quotations were so high.
When Barry Ireland's chain snapped on his BMW 1-Series, BMW did meet some of the cost as he used an approved garage. But that still left him facing a bill of nearly £5,000 for parts and labour.
For many other owners like Mr Staples and Mr Greenwood's they have been left to pay up or face writing off their car.
Peter Devlin had to meet the full cost of rebuilding the engine in his BMW 5-Series costing him £4476
Roger Walkden had to pay over £4,000 to get his BMW 3-Series back on the road.
And it's not just vehicles that have racked up the miles that face the timing chain fault.
Watchdog has heard from a driver affected by this same problem who only had 26,000 miles on the clock.
Principal of Forensic Engineering Associates John Dabek told us that, he is concerned that there is a manufacturing design fault with the N47 engine.
Mr Dabek explains that by placing the timing chain at the back of the engine, meaning that to access it requires the total removal of the engine, BMW are expecting the timing chain to remain untouched for the lifespan of the vehicle.
As such, it would appear that BMW do not expect the timing chain to fail.
Therefore when it does fail, BMW should take greater responsibility.
But despite the mounting number of cases what will BMW do about it?
Company Response
BMW offers a comprehensive, full three-year warranty on all new cars sold in the UK. Outside of this warranty period, while there is no obligation to assist with the costs of repairs, BMW operates a generous goodwill policy and will consider financial help, depending on the specific circumstances of each case.
Reviewing the customer cases which you have mentioned, the circumstances of each vary widely, as has the response from BMW. Where a fault has occurred on a vehicle with relatively low mileage, which has been serviced within the BMW network, the company has covered most of the repair out of goodwill, despite being outside of the warranty period,
Older vehicles, which have not been serviced or repaired by BMW-authorised technicians, where there can be no certainty as to the quality of the work done or whether genuine BMW parts were used are typically not covered. The use of non-genuine parts, which don't match BMW specifications, can actually damage other components in the car or harm the performance of its vital systems. Whilst we appreciate the disappointment this will have caused, we cannot provide an indefinite guarantee against engine or component failure, as no manufacturer can.
BMW is committed to ensuring the best possible customer satisfaction and takes all customer concerns extremely seriously. In the case of unusual engine noise, or a more serious fault, there can be a wide variety of causes and further information is required before any conclusion can be reached. If any of your viewers is concerned about their car following your programme, they should call BMW Group UK directly on 08000 93 56 56, where we would be happy to advise them.
The lines will be open between 9.00 am and 6.00 pm on weekdays.