Main content
How Tiny Tim blew my mind: The story of an obsession
13 May 2016
The glory days of the late, falsetto-voiced ukulele strummer Tiny Tim were long gone when high school student JUSTIN MARTELL had his mind blown by the '60s entertainer. Before long he found himself among a subculture of Tiny obsessives, with a mission to rescue his hero from obscurity. After eight years hard graft, 100 interviews and the unstinting aid of Alanna Wray McDonald, his exhaustive 450 page biography on the bizarre phenomenon has just been published. Here he explains why Tiny Tim deserves more than a footnote in the annals of American pop culture.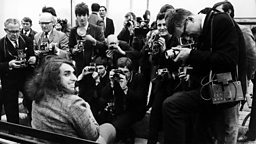 Tiny Tim surrounded by photographers, October 1968 | Archive Photos / Getty Images
I was not alive during the height of Tiny Tim's celebrity. I can't tell you where I was when he married Miss Vicki on The Tonight Show hosted by Johnny Carson in 1968, because I was not born until 1987. In fact, our mutual existence on earth lasted only nine years. I saw him once, in 1994, at a Halloween theme park called Spooky World, and have only a fleeting memory of a tall man in a tuxedo with wild hair.
I was a freshman in high school in 2001 when I heard Tiny's "Tip-Toe Through the Tulips". Intrigued, I downloaded the only two Tiny Tim songs available on Napster. YouTube wasn't around yet, so I was relegated to scouring ebay for memorabilia and recordings. I dug out my mother's old record player and bought a copy of his debut album, God Bless Tiny Tim. It blew my mind.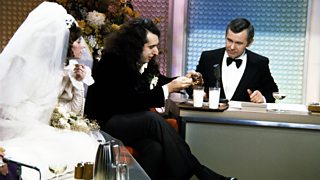 Getting married on The Tonight Show in 1969, watched by 40 million people | Getty Images
Tiny Tim seemed like a pop culture incarnation of the submerged island of Atlantis, only more polarizing
I began to look into Tiny's back story and found that, at one time, many had shared my sentiments.
In 1968 the New York Times called God Bless Tiny Tim, "one of the most dazzling albums of programmed entertainment to come along since the Beatles introduced the new genre of pop with Sergeant Pepper's Lonely Hearts Club Band".
Unfortunately by the time I was catching on it seemed that he, and these accolades, had long since been forgotten.
When I asked those old enough to remember Tiny, often just the utterance of his name was met with a peculiar ire. "He was despicable!" my grandfather hollered.
Tiny Tim seemed like a pop culture incarnation of the submerged island of Atlantis, only more polarizing.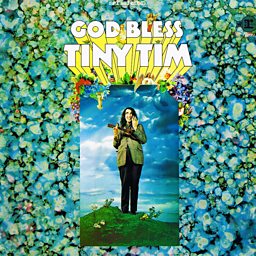 Tiny Tim's debut album, God Bless Tiny Tim, contained his hit Tip-Toe Thru' The Tulips With Me
However no man is an island, and soon I found a small but loyal online community of devoted Tiny Tim appreciators, each seeming to possess a different piece of the lost civilization of Tiny. They dealt in a currency of memories and artefacts.
Tiny once described himself as the "master of confusion"... an apt description
Most were twice my age and had known Tiny personally in some capacity. Much of their activity was centered around one super-fan, the late Ernie Clark, then webmaster at tribute website tinytim.org.
We became fast friends, and suddenly I was the recipient of his painstakingly assembled CD compilations of Tiny's obscure recordings, unofficial VHS compilations of TV appearances, binders of xeroxed newspaper clippings, hours of unreleased concert footage, and home videos of Tiny shot by friends and fans.
In a way it was these dedicated fans, through their dogged preservation of Tiny's history, who began my book.

Tiny Tim with Dean Martin's daughters Deana (left) and Claudia after a performance at Caesars Palace, Las Vegas, 16 August 1968 | Bettmann / Getty Images
In 2008, by then a junior in college, I decided to write about Tiny, and make the case as to why he deserved more than a footnote in the annals of American pop culture. My first interview was with Tiny's manager from 1968-1970, Ron DeBlasio. He was easy to reach and friendly.
Others on the hit list, however, proved elusive - and some hostile. "GET LOST!" barked Jimmy Cappy, Tiny's thumb-breaker road manager from 1969-1976. Tiny's second wife Miss Jan called New York TV / radio host Joe Franklin and demanded that he not speak to me. Famed producer Richard Perry told me, "I had to turn down an interview with the BBC, so I certainly don't have time for you."
Though I did not get everyone on my list, persistence paid off and and, between 2008 and 2015, I conducted over 100 interviews with Tiny's friends and associates including his first wife, Miss Vicki, and his widow, Miss Sue.
Tiny once described himself as the "master of confusion", which was, I discovered, an apt description. Though he was often shockingly forthright about his personal habits and sex life, he also routinely contradicted himself on a wide variety of topics. Many of Tiny's associates who I interviewed seemed to have come to terms with his peculiarities, and offered the interview equivalent of shrugged shoulders in regards to his inconsistencies.
The media had largely focused their efforts on tabloidal exposés of Tiny's already fairly well-known eccentricities, and had long since admitted defeated in their attempts to "ferret out the secrets of Tiny Tim's bizarre origin".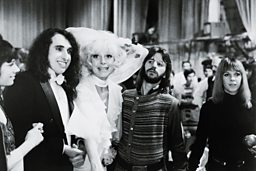 (l-r) Miss Vicki, Tiny Tim, Carol Channing, Ringo Starr and Maureen Starkey | Ringo, Tiny and Carol Channing were recording an episode of Rowan and Martin's Laugh-In at NBC's Burbank studios, 27 January 1970 | Bettmann / Getty Images
I kept digging. For years there was speculation as to the location of Tiny's diaries, my diamond in the rough. Sure, there were rumours that Penn Jillette had one of the later books. And Tiny's ex-manager, Gil Morse, scolded me when I asked to see the one he claimed to have, saying, "It's a matter of honour. Tiny trusted me with it, and I won't show it to anyone," adding, "unless Howard Stern wants to give me a million dollars." (Morse perhaps wanting to recoup losses on the single he produced, Tiny singing The Chicken Dance.)
And so began a relationship with Tiny's personal thoughts
After years, I tracked down the nephew of Jimmy "Get Lost" Cappy, who revealed that he had Tiny's diaries in a corner of his (thankfully dry) basement in Arkansas. In total, Joe Jr. had nineteen of Tiny's personal diaries dating intermittently between 1952 and 1978.
And so began a relationship with Tiny's personal thoughts. After I mastered reading Tiny's handwriting (entries written with either his right or left hand or—I am not kidding—left hand AND backwards), my understanding of Tiny took on a much more personal nature. Tiny had filled the ledgers and margins of accounting books with his thoughts, and I filled my own notebooks with new insights.
Thusly the scope of my project was transformed. Together with my co-author Alanna Wray McDonald, we tamed my tall, tuxedo-wearing and wild account of Tiny Tim into Eternal Troubadour.
Some of Tiny's greatest fans believe it was in poor taste to publish his diary entries and dredge up his personal life, but I disagree. Reading his words, I cannot help but feel as though they were written for someone to find, to remember his incredible career, and write his book. This is, after all, the same man who, before a phone conversation, would ask, "do you have the tape recorder going?"

Eternal Troubadour | The Improbable Life Of Tiny Tim by Justin Martell with Alanna Wray McDonald is published by Jawbone Press.
Justin Martell is an independent filmmaker and writer. In 2013 he put out a previously unreleased Tiny Tim track on a limited-edition Edison wax cylinder, which Time magazine called 'the most retro record release ever'. Alanna Wray McDonald is a poet, writer and freelance art director for film and television. They both live in New York City.
An unreleased album, Tiny Tim's America, is coming out on the Ship to Shore PhonoCo. label as a limited edition vinyl record on 17 June 2016. The music is taken from a tape Tiny Tim recorded in 1974, and is produced by Bongos front-man Richard Barone with arrangements by pianist Eddie Rabin, who is also Tiny's cousin.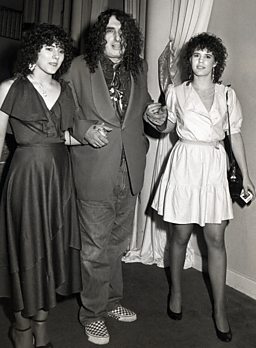 Tiny Tim and guests, Shirley MacLaine's 50th Birthday Party at Limelight, New York, April 1984 / Ron Galella Collection / Getty Images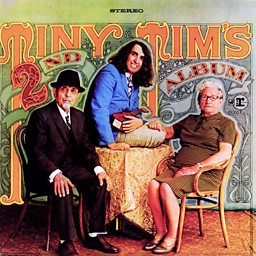 Tiny Tim's 2nd Album featured his parents Butros and Tillie Khaury on the cover. They were often disparaging about his career.
Who Was Tiny Tim?
Tiny Tim was born Herbert Khaury on April 12, 1932 to immigrant parents. His mother, Tillie, was from Belarus and Jewish. His father, Butros, was from Lebanon and Catholic.
Tiny Tim had long hair as early as 1954, almost a decade before the Beatles introduced the moptop. His first gig was at a freak show in Times Square where he was billed as "Larry Love: The Human Canary".
Tiny had an encyclopaedic knowledge of songs from the early 20th century and idolised crooners such as Rudy Vallee, Bing Crosby and Russ Columbo. His connection with music from that period was so intense he described himself as feeling like "a vampire sucking blood from the past".
In 1968, Tiny Tim's first album, God Bless Tiny Tim, peaked at No. 7 on the US Billboard chart, and its single, Tiptoe Thru The Tulips With Me, peaked at No. 17. Later that year, his cover of Great Balls Of Fire peaked at No. 50 in the UK following Tiny's historic concert at the Royal Albert Hall.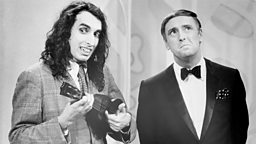 Tiny Tim and comedian Dick Martin on Rowan & Martin's Laugh-In on NBC, c. 1968 | Bettmann / Getty Images
On December 17, 1969, Tiny Tim married his first wife Miss Vicki on The Tonight Show starring Johnny Carson. It is the second highest rated television broadcast of the 1960s, second only to man's first walk on the moon.
Tiny Tim performed a rousing rendition of There'll Always Be An England to 600,000 music fans at the 1970 Isle Of Wight Festival. The press, which had wondered why he had been booked for a rock festival, announced that he had stolen the show "without a single electric instrument." He performed between Joni Mitchell and Miles Davis.
Tiny Tim died in 1996 after suffering a heart attack on stage in Minneapolis, Minnesota after singing his hit Tiptoe Thru The Tulips With Me
Tiny Tim's Diary
"I saw three psychiatrists at medical centre who suggest I go to Belleview hospital. Tho' they did not say, if I went it would have meant I would have stayed there. But for the good Lord's grace I did not go. I told them about how I believed in Christ, His sweet blessed mother, His church, my instruction in Catholicism, my beliefs in not kissing or dancing with girls until marriage for Jesus' sake, that is, I believe it to be an occasion to sin, my poetry writing to girls, wrestling in my younger age with sperm falling, my diet, that is my food eating, hair style, cleansings etc. All of which my folks find 'funny'."
From Tiny Tim's diary, 1957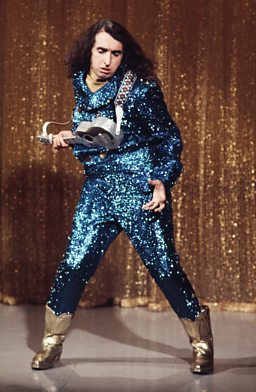 Tiny Tim performs on a TV show in Los Angeles, 1969 | Michael Kochs Archive | Getty Images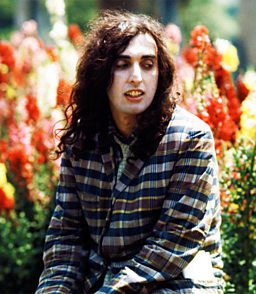 Tiny Tim in Los Angeles, 1968 | Baron Walman / Hulton Archive / Getty Images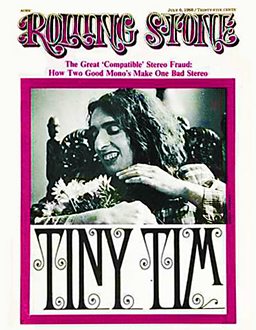 Tiny Tim on the cover of Rolling Stone, July 1968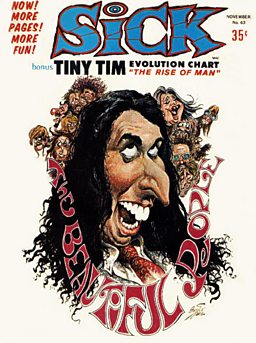 On the cover of satirical magazine, Sick, November 1968
BBC Arts celebrates the Ukulele
Watch the story of Tiny Tim's favourite instrument through the decades, featuring bonus tracks including Kraftwerk's The Model
Arts highlights on BBC iPlayer
Exploring the work of the first black female film director to direct a $100-million film

Highlighting the work of artists with disabilities to mark the signing of the Disabilities Discrimination Act

The Oscar-nominated actress gives a singing masterclass