Main content
In 2016 I'll get creative by... writing
1 January 2016
"The scariest moment is always just before you start" says Stephen King in On Writing: A Memoir of the Craft.
A blank page can seem ominous, and the idea of trying to start a novel impossible. But you don't have to have a 500 page blockbuster mapped out to have a go at creative writing: recently, short stories have enjoyed a comeback and flash fiction challenges you to write a scene that can be as short as 100 words.
If you've resolved to get writing in 2016, we've got the tools to help you do it. To make the idea of putting pen to paper - or more likely, fingers to keyboard - less daunting, we've asked writer Anstey Spraggan to share her top tips and some quick writing exercises to get you going. We've talked to two people who took up creative writing for the first time this year, and we'll share the writing habits of some of our best-loved authors. Write on!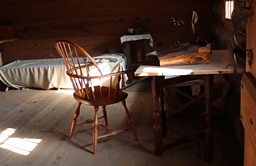 A room of one's own?
Anstey's top tips for starting to write
Get Creative has asked published author and founder of champion Writing Matters, Anstey Spraggan, to share her top five tips for getting going on creative writing. Anstey's novel When Ali Met Honour, co-authored under the pseudonym Ruth Ahmed, was published by Dahlia in 2015. Anstey teaches creative writing in Kent and is an associate lecturer at Christ Church University Canterbury. She was the winner of the 2015 H G Wells Short Story Prize.
Writer Anstey Spraggan
Believe that writing is for you. You want to do it and that's literally all that you need to start
1. Write. Your stories will never happen if you don't write them. Believe that writing is for you. You want to do it and that's, literally, all that you need to start. Classes really help. Ask around for a good teacher that people would recommend. In one fell swoop you gain encouragement, a tutor, an editor, and a writing tribe of new friends who are on the same journey as you. There are lots of online courses and forums of writers if you prefer to do things over the internet.
2. Read. And then read some more. And then some more. The more you read, the more you will be able to write. Don't worry that you'll end up copying someone else's style – you simply won't. Name your own project. As soon as you tell people you're writing, they'll ask you what you're working on. If you can say, 'I'm writing a short story called '___' or a novel about '________' you'll feel much more confident in yourself as a writer. Reading will improve your writing. Writing will also improve your writing; practice really does make perfect.
3. Speak. When you say the words on the page out loud, you can instinctively feel which phrases sparkle and resonate, and which are less engaging. Your brain has been working hard on sorting out words and sentences all your life; listen to this finely tuned instrument and take notice of what it tells you.
4. Think. Use your experiences and other people's to build stories and characters. In schools this is known as 'magpie-ing', collecting shiny details and interesting traits from wherever you might find them. Carry a notebook everywhere you go.
Make your characters rounded and deep. Find a real-life stranger who looks interesting and ask yourself, what is their name? Where do they come from? What do they carry in their pockets and why? What do they want more than anything else in the whole world? Dress your characters in the clothes you see people wearing, add real life characteristics – a hand gesture from one, a voice from another, the way they run their fingers through their hair. Remember that hands are every bit as expressive as faces.
When your characters speak, keep it neat and short. In real life we splutter and repeat ourselves and use the same words over and over, those things don't work in print. Use 'said' rather than 'exploded' or 'spat' or 'whined'. Believe it or not 'said' becomes invisible in writing – check in some of your favourite books.
5. Trust. Believe in yourself and your ability to write. Just get words onto the page. You can chop out things that don't work later on and no one will even know they were ever there. The beauty of writing is that it's infinitely revisable. No character, phrase or storyline is ever lost. Keep the things/people you've cut from a story in a file of clippings. I'm about to write a novel using a character I developed and then cut ten years ago. And always remember, you don't have to know how a story ends when you start it.
Write on: exercises to get you going
Describe your walk from home to somewhere familiar. Make sure you use all five senses. What did you smell? What did you touch and how did it feel in your hand? What could you see, which colours, shapes, surprises? Where there tastes in your mouth, what were they like? If you include all these things in your short journey, you will be showing, not telling. This will keep your reader right in the action. Now change your story from first person to third person (or vice versa depending which you instinctively used)
Look at first and last lines books you love. See how much of the promise of the book they carry. Write a story that starts with someone else's first line
The rules, rhythms and shapes of 'art' are the same across disciplines. Go to an art exhibition, a concert, a dance, then write a story based on the feelings it invoked. The Greeks called this ekphrasis
Put two characters together and let them swap some dialogue about something simple like a meal Make them have different opinions and speak in different ways (perhaps one is mousy and one bombastic - maybe one is loquacious and the other curt)
Write a short passage about something you know and others might not. Perhaps you have climbed a mountain or been inside a castle. Imagine that the person you're writing for has never seen this place and tell them about it
Get Creative Writing Champions
Providing creative writing teaching and learning in the South East of England. Activities are varied, from play-in-a-day courses for primary pupils to adult classes held in local arts venues. Writing Matters is committed to providing engaging and entertaining tuition to all age groups, waking an interest in writing and giving students the confidence to access their imaginations

Creative writing courses and retreats for schools, groups and individuals. The courses, across a range of genres, are held at three rural writing houses, in Shropshire, Yorkshire and Devon

Writers' Centre Norwich run events, from The National Conversation to the International Literature Showcase, workshops and online creative writing courses, have brilliant resources for readers, information on England's first UNESCO City of Literature, writers' resources and more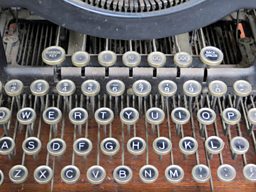 A tale of two (new) writers: Phil and Ruth
Phil is a former social worker, who until his retirement had only written the odd poem, song lyrics for his university band and a half-finished play.
The main thing I've got out of it is a lot of fun, and a surprising amount of laughter

Ruth
Ruth runs a holiday home and, before May 2015, had wanted to get into creative writing but was put off by the blank page and her feeling that every story had to have a beginning, middle and end before putting pen to paper. She still remembers her first email asking about joining a creative writing class, where she said: "I just want to find out if I can put words together that make sense".
Since they both picked up their pens for creative writing they've barely put them down again, penning short stories, flash fiction and with their sights set on one day writing novels and even screenplays.
"I'm really enjoying writing - when we're in class and we get given a prompt, I just start writing and twenty minutes later have scribbled down a story and have to find a way to wrap it up... it's made me think that this is something I can do - it's possible, and I can do something I really enjoy," says Phil of his new creative passion.
And Phil hasn't just shared his work with his fellow classmates. He recently traveled to Liverpool to collect a runners-up prize in the Poised Pen flash fiction competition, having got down to the final three of 175 entries. Inspired by Anthony Gormley's statues and a visit to the Orkneys in the 80s, his story 'Man on a Beach' captures a few moments in the life of a stone age man.
Phil doesn't have a particular style or genre he favours, instead just hoping to create a world you can get lost in: "I can write like me, and get better and better at it - and that's what I find I am doing". He credits his passion for creative writing with his new-found enjoyment of retirement. "I can't recommend it highly enough as a way of staying alive and being alive – it keeps your mind alive and motivates you. There's so much going on in my life now and it's all about creativity. I hope to still be doing this when I'm 90!".
Ruth agrees. "I've enjoyed every minute of it. I've gone from never having written anything to entering competitions - my advice is to go on and try it, have fun, and don't take it too seriously...you don't have to have a beginning, middle and end planned out: you just have to write.
"The main thing I've got out of it is a lot of fun, and a surprising amount of laughter. I'm losing my fear of words. I know that if I keep practising I might get to be on the printed page - and if not, I've had fun".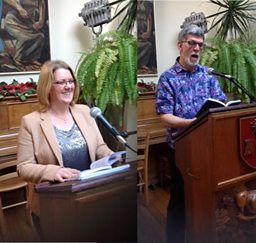 Ruth and Phil reading from their work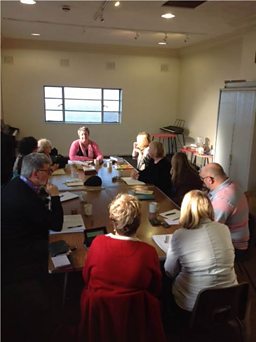 The writing group deep in concentration
One from the vaults: Elmore Leonard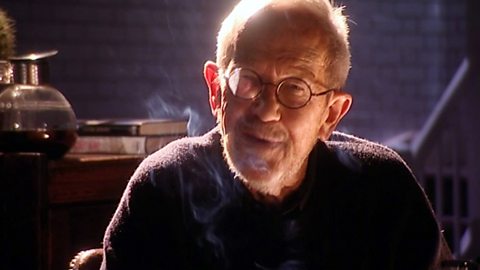 The crime novelist shares his personal writing tips on the Culture Show in October 2006.
Trains, sheds and cafés: how the pros of prose write
Proving that you can channel inspiration anywhere - and that each writer is different when it comes to their work - we've dug up the writing habits of some of literature's biggest superstars.
JK Rowling: In a café
Probably the most well-known author's story out there, but how could we leave JK off the list? Nicolson's Café in Edinburgh became a second home to Rowling when she started writing Harry Potter.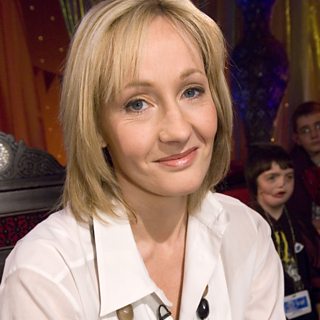 Speaking to the Telegraph, Rowling recalled her days of ordering espresso and writing a novel in longhand with her baby daughter sleeping there in her pram: "Writing and cafes are strongly linked in my brain.
"I still write in longhand; I like physically shuffling around with papers; and you don't have to break off and go in the kitchen to make coffee."
Hilary Mantel: On trains
When asked where she writes, Mantel replied: 'usually on public transport'.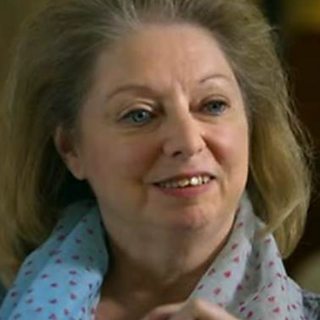 Mantel told Radio 4's Front Row:
"I do a lot of little notes, obviously not knitting the text together… but I've always got a notebook with me, there's something about being on the move, and being freed from the constraints of your desk and your sources, your files and so on, and that's when the little ideas spring up, when your mind's got a moment of vacancy and then you get those a-ha moments. It does mean that when I come to sit down and put a book together, I have hundreds, maybe thousands of bits of paper.... I once actually put a whole book together in my mind on a complicated rail journey between Sunningdale and Stratford on Avon, via Blackpool."
Philip Pullman: In his shed
A fan of the strict, disciplined approach, Pullman wrote three pages a day in his shed while still working as a teacher, telling Scholastic: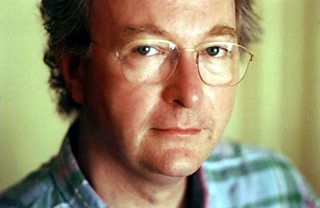 "I write in my shed, at the bottom of the garden. It's quite comfortable in there, but because of my superstition about not tidying it during the course of a book, it's now an abominable tip. I write by hand, using a ballpoint pen on narrow lined A4 paper (with two holes, not four). I sit at a table covered with an old kilim rug, on a vastly expensive Danish orthopaedic chair, which has made a lot of difference to my back. The table is raised on wooden blocks so it's a bit higher than normal.
I write three pages every day (one side of the paper only). That's about 1100 words. Then I stop, having made sure to write the first sentence on the next page, so I never have a blank page facing me in the morning."
Of course, if you're feeling more hardcore, you can follow Haruki Murakami's well publicised - and well-disciplined - writing routine, from his memoir What I Talk About When I Talk About Running:
"When I'm in writing mode for a novel, I get up at 4:00am and work for five to six hours. In the afternoon, I run for 10km or swim for 1500m (or do both), then I read a bit and listen to some music. I go to bed at 9:00pm. I keep to this routine every day without variation. The repetition itself becomes the important thing; it's a form of mesmerism. I mesmerise myself to reach a deeper state of mind."