Main content
Watch Eugene Onegin from Garsington Opera
7 July 2016
Tchaikovsky's Eugene Onegin gives exquisite voice to the casualties of love, the victims in the battle between raw emotion and social convention. Conductor Douglas Boyd, director Michael Boyd and designer Tom Piper have brought the fateful romance to life in a critically acclaimed production at Garsington Opera this summer, with Roderick Williams and Natalya Romaniw making their role debuts. BBC Arts has partnered with Garsington Opera to make the complete performance available online. You can watch the two parts below, and read a synopsis of the plot plus an interview with Douglas Boyd and Michael Boyd.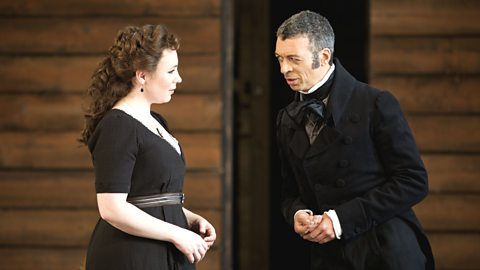 The first half of Garsington Opera's 2016 production of Tchaikovsky's fateful romance.
ACT ONE
Scene One: An estate in the country, late summer
Madame Larina and the old nursemaid, Filippyevna, remember their youth while the peasants on the estate are hard at work bringing in the harvest. Tatyana, the widowed Madame Larina's eldest daughter, spends her time reading and dreaming, while her younger sister, Olga, plans to marry the poet Vladimir Lensky, their nearest neighbour. Lensky comes to visit, bringing with him his friend, Eugene Onegin. Tatyana is convinced that he is the man of her dreams.
Scene Two: Tatyana's bedroom
Tatyana stays awake throughout the night, writing a love letter to Onegin. When morning comes she persuades Filippyevna to deliver it.
Scene Three: A corner of the Larin estate
Onegin returns Tatyana's letter, telling her that he is unable to respond to such an impetuous outpouring of emotion: love and marriage are not for him.
ACT TWO
Scene One: The Larin home, winter
It is Tatyana's nameday and friends and neighbours have gathered to celebrate. A Frenchman, Monsieur Triquet, sings an ode to Tatyana. Angered at being dragged to the party by Lensky and maddened by the guests' assumptions, coupling him with Tatyana, Onegin dances all night with Olga. Lensky is furiously jealous and, losing his temper, challenges his friend to a duel. Onegin accepts.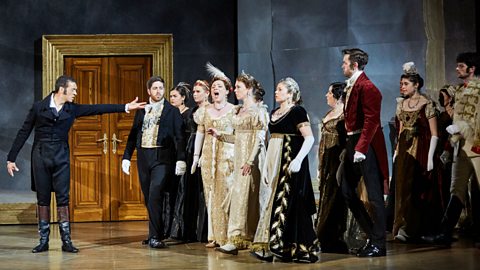 The second half of Garsington Opera's 2016 production of Tchaikovsky's fateful romance.
ACT TWO
Scene Two: A lonely spot, early morning, three days later
Zaretsky, Lensky's second in the duel, complains that their opponent is late. Lensky meditates on his love for Olga and the prospect of death. Onegin arrives and, although both he and Lensky are full of remorse and regret, they are unable to reach a reconciliation to avoid the duel. Lensky is killed.
ACT THREE
Scene One: A ballroom in St Petersburg, six years later
Onegin has been travelling abroad since the duel. On his return to St Petersburg he attends a grand ball and encounters Prince Gremin, who introduces his young wife, Tatyana. Onegin falls hopelessly in love with her.
Scene Two: A room in Prince Gremin's place, some time later
Tatyana reads a love letter from Onegin, which has stirred up the memories of everything that has gone before. When Onegin implores her to respond to his passion Tatyana admits that she still loves him. But it is too late: she is now married and must honour the promises she has made to her husband. Onegin despairs.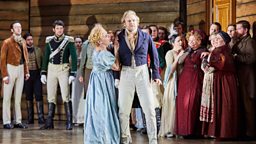 Jurgita Adamonytė (Olga), Oleksiy Palchykov (Lensky) Louise Winter (Larina), Kathleen Wilkinson (Filippyevna) | All photography by Mark Douet
In conversation: Michael Boyd and Douglas Boyd talk to Henrietta Bredin
This production of Eugene Onegin is a first for both Douglas and Michael Boyd (no relation), as conductor and director. They were able to work through the piece together in detail, looking at the score and at a literal translation of the Russian text, sitting at each other's kitchen tables and discussing dramatic ideas and musical responses.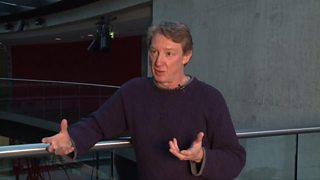 "It's the sort of dialogue that Tchaikovsky set up with Pushkin, even though of course they weren't actually alive at the same time," says Douglas. "Tchaikovsky rather had the upper hand there," remarks Michael.
It is an opera – one of quite a few – that disproves the so-called wisdom that librettos are best fashioned from second-rank source material. Pushkin's novel 
in verse is one of the greatest and most influential works of literature in any language and Tchaikovsky was both nervous of and inspired by the text.
For Michael, there is a particular appeal in "the tension line between the cooler, more objective, sardonic view that Pushkin affords and the white-hot emotional strength of Tchaikovsky's music and the dramaturgical shaping that he imposed, bringing us into the opera via Tatyana, a young girl, through her enclosed, restricted world and her point of view. It's only later on that you pan out and see a wider social context."
Douglas is interested in the way in which Tchaikovsky turned away from what he saw as overblown and over-dramatic opera plots to focus on what he saw as a story of everyday life, despite the central, highly dramatic duel between Onegin and his friend Lensky, who does not survive the encounter.
"It was everyday life in a sense, for Pushkin," says Michael, "in that duels were part of his social world and he himself died, pointlessly and too young, 
as the result of a duel."
All the emotions of the human condition are contained within this opera

Douglas Boyd
"And for Tchaikovsky," says Douglas, "there was the similarity between Tatyana pouring all her feelings into her letter to Onegin and the letter declaring passionate love that he received from one of his music students." That student was Antonina Miliukova, with whom Tchaikovsky went on to contract a disastrous and extremely brief marriage.
For Michael, the opera is "a great piece of work, 
for which you can seek, and find, biographical 
clues, but in the end it's its own beast, with its 
own independent life.
"As an artistic enterprise it's incredibly bold of Tchaikovsky to take on Pushkin's central and iconic work and completely change the original narrative point of view, introducing us to the opera through Tatyana's rather than Onegin's eyes, right up until we get involved in Onegin's anxiety at Tatyana's name day party, as he wonders what the hell he's doing there at all.
"They're both victims of the engineered and inappropriate social coupling that's going on around them. Tatyana responds by completely imploding and Onegin by completely exploding – and with that explosion we start to see his inner life and we travel with him for the rest of the opera."
That shift is, for Douglas, clearly reflected in the music. "The opening bars set up the whole opera. It starts very simply and for me that's Tatyana's theme: it's symbolic of her longings to experience love, passion, to escape from her stultifying country life.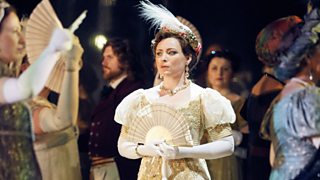 Natalya Romaniw as Tatyana
"Wherever the music goes in that section, it's always finished off with the same sound – bahm bahm – it's like a door closing softly but with complete finality. All that emotion trying to set itself free but something is going 'no'. Fate, premonition, whatever you want to call it."
Language and musical response to text are paramount for both Boyds. As Michael explains, "the push-me-pull-you dilemma for Russians, of feeling drawn to Europe and the liberalism of the West, but proudly and consciously Asiatic Slavs, was a burning cultural issue for Pushkin.
"He was writing at a time when French was the first language in Russian high society and he broke with convention by writing high literature, enduring, powerful literature, in Russian – that's his greatest achievement."
And for Douglas, "I've been having sessions with our Russian language coach, Lada, and it may sound blindingly obvious but if there's a stress in the music, it relates directly to a stress in the language. You can feel the phrasing of both, inextricably linked, and that's why it's wonderful that we're performing this in the original Russian."
Credits
Cast

The daughters of Madame Larina:
Tatyana - Natalya Romaniw
Olga - Jurgita Adamonytė

Madame Larina, a widowed landowner - Louise Winter

Filippyevna, an old nursemaid - Kathleen Wilkinson

Peasant leader - Adam Temple-Smith

Vladimir Lensky, a poet - Oleksiy Palchykov

Eugene Onegin - Roderick Williams

A captain - Martin Häßler

Monsieur Triquet, a Frenchman - Mark Wilde

Zaretsky, a retired officer - Andrew Tipple

Guillot, Onegin's manservant- Adam Torrance

Prince Gremin, a retired general - Brindley Sherratt

Garsington Opera Orchestra and Chorus
Crew

Conductor - Douglas Boyd

Director - Michael Boyd

Designer - Tom Piper

Lighting designer - Giuseppe di Iorio

Movement director/choreographer - Liz Ranken

Acrobatic choreographer - Lina Johansson

Assistant conductor - Jack Ridley

Assistant director - PJ Harris

Chorus master - Susanna Stranders

Surtitles - Jonathan Burton

Sound Supervisor - Andy Rose

Television Facilitites - EyeTidy / PLN

Television Director - Sonia Lovett

Generously funded by Arts Council England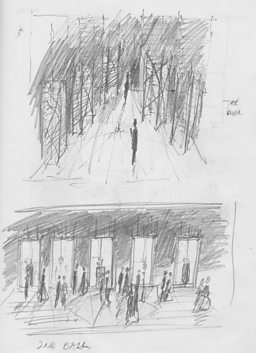 Production design sketches by Tom Piper
About Garsington Opera
Garsington Opera stages a summer opera festival each June - July in the romantic setting of Wormsley, a traditional English country estate owned by the Getty Family. The very best singers from around the world perform at the festival each season, as well as many rising stars from the UK.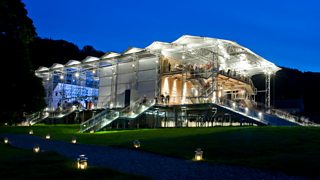 Just an hour from London, near High Wycombe, Garsington Opera is renowned for productions of the highest quality, housed in a spectacular Opera Pavilion with superb acoustics and unique views of the beautiful gardens and Chiltern Hills beyond.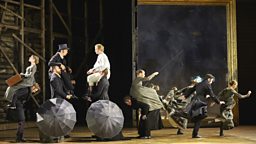 Roderick Williams as Onegin and Oleksiy Palchykov as Lensky
Latest from BBC Arts
Here's a selection of the images you sent in to the show and shared on social media

Including performance dramas, dance, comedy, spoken word poetry and animation

Experimental music, soundscapes, spoken word and documentary from emerging British artists