Main content
Coracles: The surprising history of Britain's strangest boat
The coracle is one of the simplest and strangest-looking boats ever designed for use on our rivers.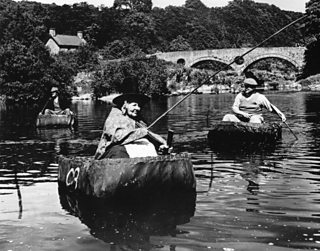 It has been used by hunter gatherers for many centuries and is thought to date back to pre-Roman times.
The coracle is also one of the most unusual boats to paddle along Britain's inland waterways.
Down the centuries it has been used for everything from fishing and transport to postal deliveries and poaching.

The coracle was designed to be carried on a person's back, with a chest strap holding the boat steady.
This small, round-shaped, lightweight boat was traditionally used in Shropshire, Scotland, south Wales, Ireland and parts of west and south west England.
The humble coracle has had many unusual uses down the years and here are 12 of the most surprising.
1. Recovery of footballs
During the mid 20th Century 'coracle man' Fred Davies had the job of recovering footballs from the river which lay behind Shrewsbury Town Football Club.
Fred was nationally famous for retrieving footballs from the river on match days.
The balls would often fly over the stand and splashed down in the River Severn.
It was not uncommon for Fred to have to return the ball to the ground five or six times during a game.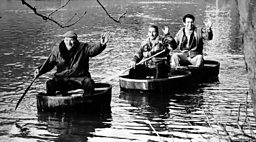 The football catchers c/o Shropshire Star
2. Commuting by Coracle
The coracle may have been the first form of human water transportation - it was easy to build and used naturally-found materials such as wood and animal hide.
Coracles provided an easy way of crossing a river without travelling considerable distances to reach a bridge or paying a toll.
During the early Industrial Revolution in England, local workers from Ironbridge had to cross the River Severn to get work in Coalbrookdale.
There were very few bridges to the start of the 20th Century so the coracle proved to be a quick and cheap alternative.
In the 19th Century, it was common to see coracles outside people's homes in Ironbridge where nearly every villager had their own coracle, hung in a tree when not in use.
The coracle men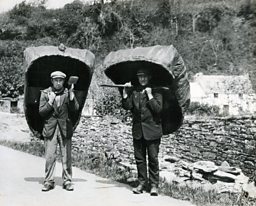 Traditional coracles c/o The National Coracle Centre
3. Fishing coracles
Coracles are ideal for fishing because they move quietly and fish can't detect them after dark.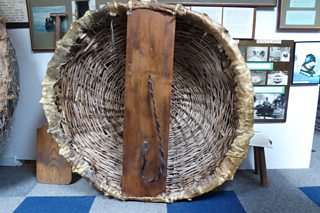 This tiny boat can float in just a few inches of water and has good stability if a fisherman is trying to land a large, struggling fish.
Coracles have been used for net, pole and line fishing for many centuries in Britain. At one time, it would have been relatively common to spot people net fishing from a coracle.
The Severn once boasted more coracles than any other British river. The boats were also used to lay 'night lines' to catch eels on the river.
Wales also has a proud history of coracles being used, often for river fishing with one man paddling at the front of the boat whilst another cast a net over the river bank.
Some communities adapted the designs of these boats so they had a flat front end, enabling the fishermen to avoid snagging their nets.
But over-fishing led to restrictions being placed on coracles and net fishing. Today, coracle fishing is restricted to a limited number of licence holders only.
Wales is one of its last bastions with three rivers - the Taf, Towy and Teifi - continuing to net salmon and sewen (sea trout) this way.
Video: Coracle fishing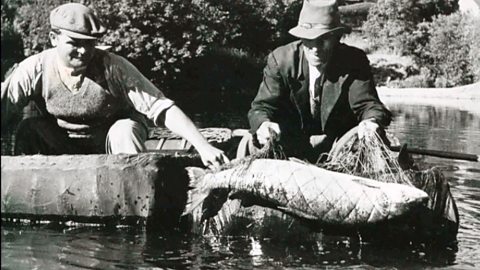 How coracles have been used for fishing in Wales for centuries.
4. Poaching
Coracles were the ideal boat for poaching because they were quiet, small and it was easy to creep up on unsuspecting prey.
During the 19th Century, Ironbridge in Shropshire boasted a band of poachers with names like Fussler, Big Neddy, Hellfire Jack and Pottery George.
Many of these men made a living from poaching for rabbits and salmon, even though it was illegal.
Video: Poaching and the 'coracle family'
5. Cave discovery
Coracles are small and versatile and can get into confined spaces where larger boats would struggle.
In 1912 the Morgan brothers from the Brecon Beacons discovered the opening to the Dan-Yr-Ogof Show Caves.
They used a coracle, oil lamps and candles to light their way, and managed to find their way in and out of the network of tunnels and caves.
Their journey was recreated in 2004 by Martin Fowler from the National Coracle Centre using a replica coracle for a TV programme.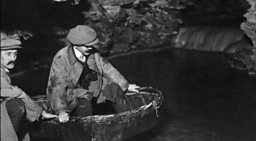 Copyright and courtesy of Dan-Yr-Ogof Show Caves of Wales
6. Crossing the English Channel
One of the most surprising feats ever carried out in a coracle was a solo crossing of the English Channel in 1974 by Welshman, Bernard Thomas.
It took him 13 and a half hours but he succeeded despite the tide changing against him a mile from the French coast.
There were two earlier attempts to cross the English Channel in a coracle but these were aborted due to bad weather and landing problems.
In 1972, Denzil Davies from Wales undertook a stunt to get publicity for his trip by paddling out just before the start of the Boat Race on the Thames, but was turned back by the river police.
Instead he paddled his coracle around the Trafalgar Square fountain in London to raise funds for his attempt at the Channel crossing, before being stopped by a policeman.
Coracle paddling at Trafalgar Square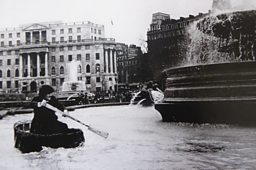 Coracle publicity stunt c/o The National Coracle Museum
7. Flood rescue and body retrieval
When rivers flooded, the coracle came into its own, rescuing stranded people and marooned animals in tricky currents.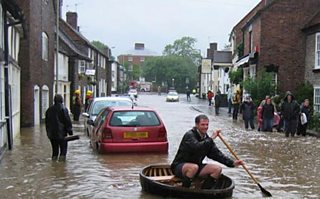 Coracle being used for flood relief today
The famous Rogers coracle family in Shropshire were renowned for visiting marooned cottages by coracle to deliver food, post and fuel when the River Severn flooded.
Coracles were also used during floods in Shropshire and Wales to move animals such as sheep from one stretch of land to another.
They also had the grim task of recovering bodies from the River Severn in the days before the emergency services were as well organised as today.
The Rogers family recalled two of their members recovering 80 bodies from the river between them.
Over the years, coracles have also been used for securing driftwood and removing felled timber from the River Severn to prevent danger, if left to float downstream.
8. Coracle racing
Coracle racing has become a popular leisure activity in recent years with the World Championships being held annually in Shrewsbury.
Teams of four paddle traditional coracles take part in a relay race across the River Severn, with the winners being crowned world champions.
Coracles are not easy to move quickly through water which can result in capsizes and dramatic moments.
Coracle regattas have also become popular in modern times, although this tradition actually dates back to the Victorian era.
Video: Coracle racing at Ironbridge
9. Sheep washing
Strange but true... coracles were once used on the River Teifi for the annual washing of the sheep until the late 1960s.
The location just below the bridge at Cenarth was perfect as the sheep could be forced to leap into the river at 'Flat Rock' and then they would swim across to the other side of the bank.
They were taken back over the bridge and the whole process was repeated three times with the help of coracle handlers to ensure the sheep's safety.
Farmers believed that this sheep dipping process made the animals' fleeces cleaner and added value to the wool after shearing.
Sheep washing by coracle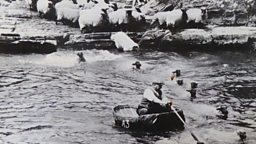 Sheep 'dip' c/o The National Coracle Centre
10. Biblical coracles
Baby Moses is thought to have been hidden in an ancient version of the coracle in Egypt around 1393 BCE.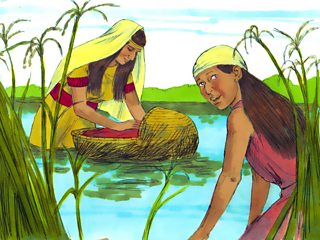 Was Moses hidden in a coracle? Courtesy of Sweet Publishing
The Bible describes how Moses' mother daubed a papyrus basket with tar and pitch when she was trying to hide the child:
"When she could no longer hide him, she took a papyrus basket for him, and coated it with tar and with pitch. She put the child in it, and laid it in the reeds by the river's bank." – Exodus.
A Babylonian tablet, on display in the British Museum, suggests that Noah's Ark might have been a giant version of a coracle, made from a huge rope basket strengthened by wooden ribs and bitumen.
It contains precise instructions on how to build the ark which would have been two thirds the size of a football pitch. Most historians believe this is purely a story and it is unlikely that Noah's Ark ever existed.
St Piran, the patron saint of Cornwall, is reputed to have made the crossing from Ireland to Cornwall in a boat similar to a coracle called a curragh.
11. Coracles in war zones
Coracles have often been used for covert military operations and escape operations as well as for exploration and laying land mines.
The most famous example is the Vietnamese Boat People, the refugees forced to escape hundreds of miles across the South China Sea to Hong Kong.
The Boat People used lightweight bamboo coracles to make this perilous journey.
Buildings inspired by coracles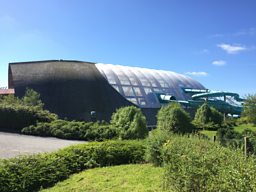 Coracle-shaped swimming pool
12. Coracles in the community
Coracles have been the backbone of many traditional communities in England and Wales.
In parts of Britain, coracle families like the Davies' and the Rogers' in Shropshire have handed down the tradition of building the boats from generation to generation.
Several are also involved in training people to build their own coracles using traditional methods and materials.
Coracles have also taken on new lives with some being used as glamping 'pods' or public house signs. A swimming pool in west Wales has even been designed to look like a coracle.
This versatile boat continues to inspire future generations in surprising ways.
Coracle pub sign in Wales