Main content
Chiles Cartwright
Chiles was the first casualty of this year's boardroom after failing to sell the item with the biggest mark-up in the selling task: the T-shirts. Lord Sugar said it was a fundamental business mistake. In his taxi home, Chiles said "I'm gutted that I've been fired. If Lord Sugar had given me a little bit more time, he'd have seen the potential of running a successful business with me."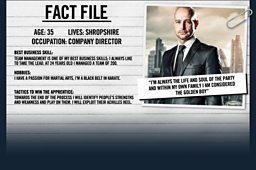 About Chiles
Chiles currently owns two companies, a consultancy business and a building materials supplier. Prior to owning his own businesses, he spent nine years working in management for international consumer brands and at 24 was managing a team of 200 and therefore says team management is one of his best business skills.
Chiles, who describes himself as self-motivated, loyal and committed to everything he does, already has a game plan for the later stages of The Apprentice, planning to exploit his fellow candidates' 'achilles heels' once he gets to know their weaknesses. Outside of the office, Chiles has a passion for martial arts, holding a black belt in karate.