Main content
Spoken Word Explained
These days poetry is a lot more than Shakespeare sonnets and posh accents. Led by ambassadors such as George the Poet and Polarbear, the world of spoken word is set to explode! Here's your lowdown on the scene...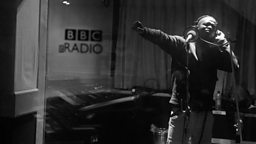 So what actually is it?
'Spoken word' is a tricky one to define. On the surface, it's just poetry that's written to be performed, but in reality it's so much more. Spoken word can be delivered in a variety of styles and can even involve collaboration and experimentation with other art forms, including music, theatre and dance. It can be used to tell your own stories or to explore the stories of others.
But how's that different from rapping in hip hop?
Hip hop and spoken word do cross over a lot, with both sharing influences and audiences, and following similar themes in the topics they cover. Some spoken word artists even incorporate raps and hip hop beats into their work.
The main way that they differ is that spoken word tends to be a lot more straight to the point, avoiding complicated metaphors in favour of stripped back and straight to the point lyrics.
Where has it come from?
Spoken word first kicked off with the American Beat Poet movement that took place in the 1940s and 1950s. This saw a group of authors in New York using their work to exploring and influence the American culture of the time.
Venting their frustrations with society, these poets started a tradition that has continued for many years, moving into the 1970s with punk poets like the UK's John Cooper Clarke and famed dub poet Linton Kwesi Johnson, all the way up to today, where new social issues have brought upon a completely new era of spoken word.
Where in the past 'spoken word' might have been viewed as uncool or irrelevant, the new class of poets have given poetry a new sense of cool with stripped back promo videos and gigs in some of the most well-renowned venues.
Over the last decade Essex's very own wordsmith Scroobius Pip has found success after forming a hip hop duo with Dan le Sac. Together, they've been able to launch a career that's seen them top the podcast charts and put on sell out tours around Europe.
This clip contains some strong language.
The BBC is not responsible for external and third party content.
Who's big in the scene today?
LionHeart, GREEdS, Talia Randall, Deci4Life - there is SO much great British talent out there right now! Here are our profiles for some of the biggest names...
"He's really really intelligent but his poetry is accessible – he doesn't alienate people, he talks about real stuff and he also fuses it with music, which is really exciting and and I think people can relate to that."

Cecilia Knap on George the Poet
George the Poet
Who: George Mpanga aka George The Poet
Where: North London
How: Began rapping at 15 year and later adapted his rap to poetry
3 Things to note:
Studied politics, psychology and sociology at Cambridge university
Finished no. 5 on the BBC Sound of 2015 poll
Ambassador for IDEA - Prince Andrew's digital business idea charity
Find out more: @georgethepoet on Twitter // www.iamgeorgethepoet.co.uk
Kate Tempest
Who: Kate Tempest – spoken word artist, playwright and poet
Where: South east London
How: Started out as a rapper, toured the spoken word circuit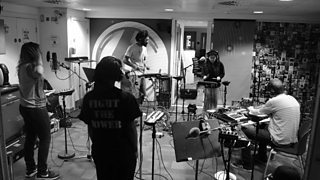 3 things to note:
Nominated for the Mercury Music Prize 2014
Debut novel will be published in 2016
Won 2 poetry slams at the renowned Nuyorican Poets Café in New York
Find out more: @katetempest on Twitter // www.katetempest.co.uk
Polarbear
Who: Steve Camden aka Polarbear – one of the most respected in the UK
Where: London via Birmingham
How: Accidentally got into it (an incident involving a broken P.A system)
3 things to note:
Spent 4 years delivering a spoken word course at Roundhouse
Performed all over the world including Glastonbury and the U.S
Twice published author
Find out more: @homeofpolar on twitter // www.bearheart.org
Hollie McNish
Who: Hollie McNish aka Hollie Poetry
Where: Cambridge, London & Glasgow
How: Started scribbling poems at age 4, but didn't perform them til age 23
3 Things to note:

Previous UK slam poetry champion
First poet to record an album at the world famous Abbey Road studios
Her performances have clocked up over 4 million views on YouTube
Find out more: @holliepoetry on Twitter // www.holliepoetry.com
This clip contains some strong language.
The BBC is not responsible for external and third party content.
What's special about it?
It gives people a voice
You don't need a big fancy studio to lay down a track - unlike regular music, spoken word requires just two things - you and your voice.
As it's so easy to launch yourself into spoken word, we've been able to hear unique stories from people and communities that might not normally reach the spotlight.
This clip contains some strong language.
The BBC is not responsible for external and third party content.
Jack Rooke is a stand-up poet from London who mixes spoken word with his unique style of comedy. In this video he tackles the issue of bereavement, explaining how finding humour in his darkest moment helped him work through everything.
There are no rules
This clip contains some strong language.
The BBC is not responsible for external and third party content.
Rhyme, or don't rhyme; do it fast, or do it slow - it's your call!
Joshua Idehen uses this freedom in My Love to catch the audience's attention, changing the rhythm and style while he tells his story. The beauty of spoken word is you never really know what you're going to get!
It can make you sit up and pay attention
While spoken word poetry can just involve telling stories, it generally tries to provoke some sort of reaction.
Without the distraction of big beats and fancy sets, a spoken word audience really has to take on board the words being said.
Performers such as Amaal Said use this to their advantage, cutting through silences to speak about the challenges and triumphs of being a young Muslim woman of colour growing up in the 21st century.
Speaking about this difference, George the Poet told an interviewer at The Guardian:
"I'd observed, as an MC and as a grime rapper, how people always glazed over the quality of the lyrics and lyricism of a lot of grime and rap and that always bothered me. So I always thought, well, if I take away the beat, slow down the delivery and give people the chance the digest every lyric, it might be received differently. People took it as poetry mainly because it always had strong social messages."
Suli Breaks is another big name on the scene at the moment. The twenty-something from London shot to internet fame with his poem Why I Hate School But Love Education, with his video reaching over 6.5 million views.
Sounds good. How do I get involved?
So you're ready to get stuck in? Great!
There's a whole range of spoken word groups up and down the UK, all ready to welcome you and to help guide you to your first performance. We've picked out some of our favourites on the right →
If you don't have a group in your area, the internet is also a great place to get started - simply search for 'spoken poetry' or 'performance poetry' online and start taking inspiration from the many spoken word artists that are already showcasing their work. When you've put decided what you want to say, prop yourself in front of your webcam, record a video of you performing and share it online - not only will help you to build your confidence ahead of hitting the real stage, it will also give you chance to receive that all important feedback.
If you're lucky enough to live in the right area, you could even brave a spoken word open mic night. These see new and established artists taking to the stage to try out new material in front of supportive and hyped-up crowds. Either way, give it a go - you never know where it might lead!
More spoken word across the BBC
Deci4life star in this film celebrating 1Xtra's relationship with Birmingham.