Main content
Living sculptures: At home with Gilbert & George
21 September 2017
As a pair of new exhibitions celebrate 50 years of personal and professional collaboration, WILLIAM COOK meets artists Gilbert & George at their London townhouse to talk partnerships, inspiration and revisiting the past. The artists are featured in the first episode of Front Row on BBC Two, on Saturday 23 September.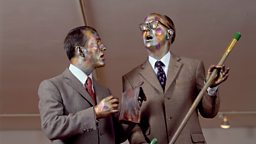 The Singing Sculpture, Sonnabend Gallery, New York, 1991 © 2017 Gilbert & George
Visiting Gilbert & George at their home in London's East End is a bizarre experience. It feels like stepping into a British version of that Jim Carrey film, The Truman Show. You can't put your finger on it, yet it feels theatrical - artificial. Now I understand why they call themselves Living Sculptures.
"We don't do anything else – we never did anything else," says Gilbert. Over 50 years, their shared lives have become a seamless work of art.
Where does the world of Gilbert & George end, and where does the real world begin?
In The Truman Show, Jim Carrey finally escapes from his reality TV bubble, but Gilbert & George never want to leave.
They've lived here for nearly 50 years, and it's as perfect as a film set – a Georgian townhouse with shuttered windows, wood panelled walls and a fine array of antique crockery. All the other houses in the street look strangely similar. Where does the world of Gilbert & George end, and where does the real world begin?
I'm here to talk to them about one of their earliest artworks, The General Jungle, which is on show at the Lévy Gorvy gallery in London's West End. If you only know their later work, it's an amazing revelation. Gilbert & George are notorious for their Dirty Words and Naked Shit artworks (the titles are self-explanatory). This work reveals their softer, gentler side.
Gilbert & George made The General Jungle in 1971 to accompany their Singing Sculpture, which consisted of the two of them singing Underneath the Arches for hours and hours on end. This spectacle took them around the world and made them famous, but it vanished after each performance. They wanted to make something to leave behind.
The General Jungle consists of 23 huge sketches, of Gilbert & George strolling around the parks and gardens of central London. Each sketch has a written caption, like illustrations in an old-fashioned book.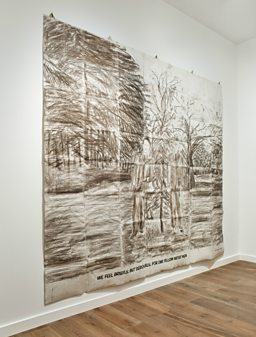 We Feel Briefly, But Seriously, For Our Fellow Artist Men. Photo by Stephen White. © 2017 Gilbert & George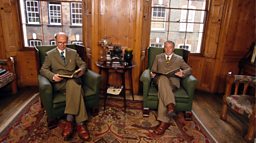 Gilbert & George at their home in London in 1997 (Photo: Alain Benainous/Gamma-Rapho via Getty Images)
It's like a gigantic comic strip, a day in the life of two young artists in the springtime of their lives, but these sketches were all sold separately, and ended up in lots of different collections. Lévy Gorvy have reunited them for the first time since 2005. It's the first time they've been seen together in the UK.
"It was the most weird and wonderful thing for us to see them again after all these years," says George. "It was very emotional." It was the first artwork they sold. Suddenly, they had money. "That was a disaster, because after that we had to do ten years of Drinking Sculptures," says Gilbert. They both laugh.
Gilbert Proesch was born in 1942 in the Dolomites - he still speaks with an Italian accent. George Passmore was born in Devon in 1943 – he talks like a BBC newsreader from the 1950s.
Like a married couple, they talk in tandem, finishing each other's sentences
They're dressed today as they've always dressed, in smartly tailored woollen suits. They're never seen without a shirt and tie.
Even though they dress almost identically, they're easy to tell apart. George, who's bald with glasses, looks like Eric Morecambe. Gilbert looks like Ernie Wise.
Like a married couple, they talk in tandem, finishing each other's sentences, but there's no marital tension between them. They seemed to me like two of the most contented people I'd ever met.
They met in 1967, in London, at St Martin's School of Art. Was it love at first sight? "No," says George. "We never thought 'Let's do art together!'" He describes their relationship as a friendship, something that came about slowly and imperceptibly, "like an atmosphere – or a cloud."
"George has an interest in everybody that doesn't fit in – he always had," says Gilbert. "Not for one single moment!" protests George. Again, they both laugh.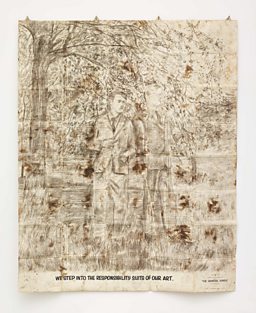 We Step Into the Responsibility Suits of Our Art, 1971. Photo by Stephen White. © 2017 Gilbert & George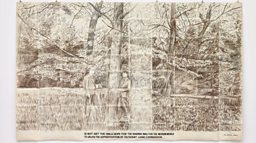 Is Not Art the Only Hope for the Making Way for the Modern World to Enjoy the Sophistication of Decadent Living Expression, 1971. Photo by Stephen White. © 2017 Gilbert & George
"He took me around London and so it became an extraordinary friendship," continues Gilbert. "We walked the streets of London, day and night." Being in a partnership has sustained them, both professionally and personally. "It's the greatest strength in the world," says George.
I ask them about their artistic inspirations. "I wanted to be an artist because, in our family, I saw books on Michelangelo," says Gilbert. "I was a teenager in darkest Devon and found a copy of the first edition of Van Gogh's letters to his brother," says George.
When George read Van Gogh's letters he made a thrilling discovery: "He did it all wrong, and got it right! He trained in the wrong field, he was very unpleasant to other people, he died young, he went with prostitutes, he was very badly behaved – but he won."
However what's really remarkable about the two of them is how separate they seem from other artists. Their art is timeless and rootless. They don't belong to any school.
"We want to be inspired by life," says Gilbert. "We want to be influenced by the human condition." When he came to London, he found a city bursting with the best and worst of humanity. "When George took me to the East End, it felt like moving into a Dickens play."
The East End is a lot smarter now, but it's still gritty. "The tramps are still here," continues Gilbert. "That's exciting. They're in front of our door every single day. The drug dealers are here as well, every single day. Nothing has changed really."
We had to develop something different... that's why we were in some way untouchable

George
They incorporated these tramps into their artwork, and gave these wounded people a certain dignity. They're not sentimental, like Dickens, but they show similar compassion for the poor.
When they left St Martin's, most of their classmates got grants or teaching jobs, and were absorbed into the system. "None of those things were available to us," says George. They were too eccentric – but this was a blessing in disguise.
Without subsidies or bursaries, they were forced to engage with the wider world, rather than the art world. "We had to develop something different," says Gilbert. "That's why we were in some way untouchable." "We had a lot of help from our enemies," says George.
They've always documented the world around them, in all its foul, frenetic glory. Their Dirty Words artworks sparked outrage, but they didn't invent these obscenities. They were written on the walls outside their front door.
"We always used to say that the centre of the universe was Liverpool Street station, because everything happens there," says Gilbert. "We were doing art about life." "We felt we were part of the world," adds George.
What would have become of them if they'd never met? It's hard to imagine them apart, and they seem to find the idea inconceivable. It sounds as if they believe they were destined to be together.
"We do believe in forces that don't have names, or hands that play a part in things," says George. "We're great believers in the spiritual world." It may be a grim thought, but when they die, I hope they die together.
Enough of that. Now in their mid-seventies, they both still seem in fine fettle. I'm sure they'll be around for decades yet. And unlike a lot of artists, I'm sure their art will outlive them.
George tells a story that bears this out. They were walking through the East End one day when a lorry drove past and the driver wound down his window. "Oi!" yelled the lorry driver. "My life's a f***ing moment – your art's an eternity!" And then he drove off.
The General Jungle or Carrying on Sculpting is at Lévy Gorvy, London W1, from 13 September to 18 November 2017.
Gilbert & George at White Cube
Gilbert & George will also present a major exhibition of new work at White Cube Bermondsey. The Beard Pictures and Their F***osophy runs from 22 November 2017 to 28 January 2018.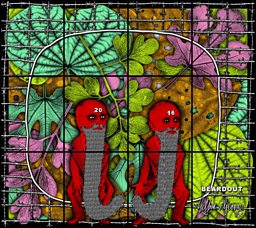 Beardout (2016) © Gilbert & George. Courtesy White Cube
Beardtoast (2016) © Gilbert & George. Courtesy White Cube