Main content
Rolled up sleeves and dirty hands for Hey Clay!
7 December 2015
Potteries, studios, schools and colleges across the UK opened their doors this weekend for a host of free taster sessions as part of Hey Clay! Organised by The Crafts Council, and as part of Get Creative, the weekend hoped to capitalise on the enthusiasm generated by BBC2's Great Pottery Throw Down.
Get Creative's Sally Taft went along to a session at Westbury Arts Centre in Milton Keynes to get her hands dirty and throw her first pot.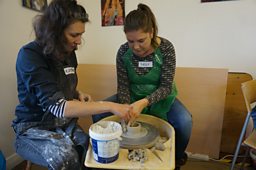 Sally throwing her first pot under the guidance of Kirsteen
I'm really enjoying watching the Great Pottery Throw Down and wanted to have a go at throwing a pot so when I found out that an arts centre near to where I lived was offering a Hey Clay session I jumped at the chance. I took along my best friend Clayre, her daughter Elle and her friend Bea who were all really excited about the chance to get behind a potter's wheel.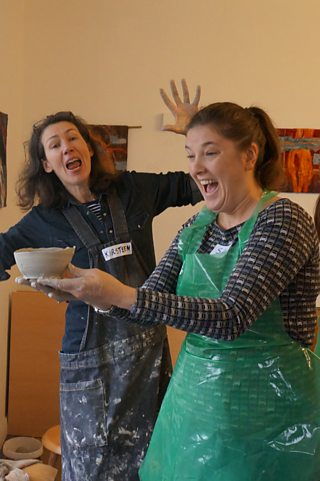 The potter's wheels were both occupied by people with faces deep in concentration as they were guided by the resident potters
When we arrived at Westbury Arts Centre we found a hive of activity in the studio. There were two long tables, all with people sitting around them busily playing with clay, and two potter's wheels at the side of the room.
The potter's wheels were both occupied by people with faces deep in concentration as they were guided by the resident potters.
It was so busy we had to wait to be able to get a seat at one of the tables. And people of all ages were queueing up to take their turn on the wheel.
We were handed aprons, name badges and a lump of clay each. Our first task was to make a clay thumb animal. We were given a quick lesson on what to do and then had to decide on what we were going to make.
We were given a selection tools we could use to put marks and shapes into our clay.
There were wooden sticks, a pen lid that made nice shapes when you rolled it over your clay and my favourite, a garlic press. Not only was it oddly satisfying squashing clay through it, it made excellent spines for the hedgehog thumb animal I had decided to make.
Westbury offered to fire our creations, for a small fee, so I'll get to show off my work. The same can't be said for the first pot I threw.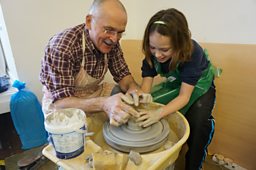 Bea at the potter's wheel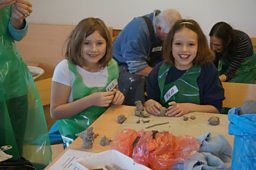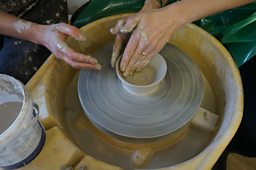 The Great Pottery Throwdown
Filmed at Stoke-on-Trent, the undisputed home of pottery, 10 clay enthusiasts compete to be Britain's top potter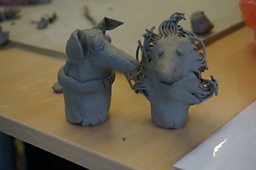 Clayre's dog and Sally's hedgehog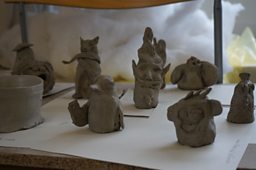 Clay animals ready to be fired
With resident potter Kirsteen as my teacher I took my place behind the potter's wheel.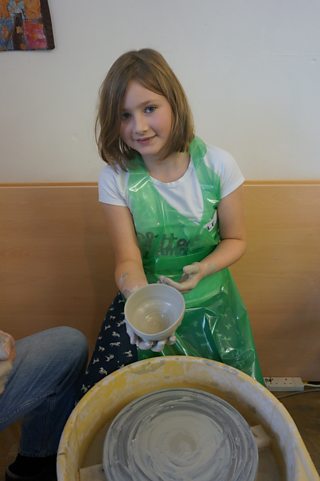 With expert guidance (and patience) anyone can do it
I was given clay to throw into the middle of the wheel and then with Kirsteen's help was shown how to turn my lump of clay into a bowl.
First shaping the outside and then creating the inside by slowly making an indentation with your finger and moving it outwards and upwards.
With expert guidance (and patience) anyone can do it, even this novice. Once you get going you do start to get a feel for it and begin to understand where to put pressure and how to guide the clay. Mine ended up being a bit thin because I was a bit overenthusiastic with applying pressure to the sides.
And after you had thrown your pot you were asked to throw it on to a board in the corner. Creating an artwork all of its own.
As I was collecting my belongings to head home a little boy, perhaps only three or four years old, was standing over this board with a handful of clay and was laughing and shouting splat as he threw it down, picked it back up and threw it again. Proving that you are never too young to experience the joys of clay.
I haven't had my hands on clay since my school days and I'd forgotten just how much fun it is but also how easy to shape and mould. It was certainly a hit with the group I went with, all four of us are going to look for classes in the new year.
Great Pottery Throw Down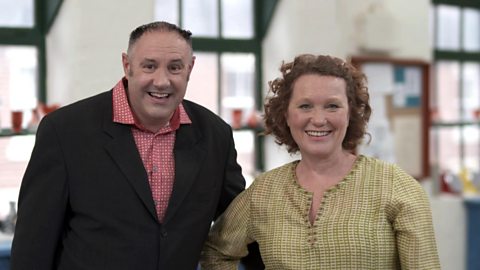 Great Pottery Throw Down judges say making pots is addictive.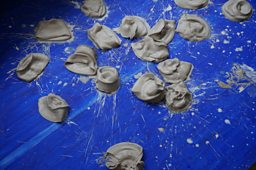 Thrown pots
Meet the world-record holding crafters making a crochet Christmas project

One of a handful of aspiring artists whose painting was chosen for the Royal Academy's Summer Exhibition

A retired designer who painted a Canaletto-style painting, replacing the buildings with those of his home town

A jewellery designer who discovered a love for digital printing and uses it as a way to relax and to cure jet-lag

A dedicated mum and knitter who makes retro tank tops for her rugby- mad son and his friends to add a splash of style to the stands

A stitcher who joined a sewing group to meet like-minded people. She's made tea cosies and draught excluders as gifts and hopes to move to dressmaking

A stroke survivor who has used painting, music and writing to rehabilitate. He shared his first self-portrait using his affected hand with Get Creative

A keen cross stitcher and crafter who uses it as a way to relax and wind down after a day content producing for Get Creative