Main content
Great makes from the nation's crafters
Make! Craft Britain, a brand new programme looking at the talents of the country's crafters, is coming soon to BBC Four.
An army of makers heard the call to send in photos of their creations and to whet your appetite we're sharing their inspiring works of art.
Shadowbox by Katie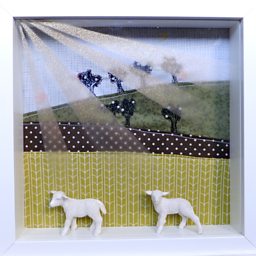 A scene to put a spring in anyone's step, Katie's seasonal design is made using both machine and hand-stitching on the background landscape. The lambs were spray painted and she made a stencil for the sunrays before using gold glitter directly onto the inside of the glass to add depth
N is for Nuthatch by Chloe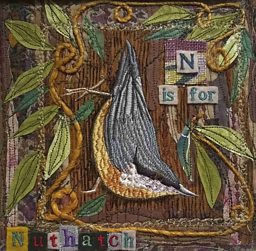 "This piece was inspired by the nuthatch I see sometimes on a particular oak tree when out for my daily walk. He is the central focus but I also love the craggy bark and twining bits of ivy and dead oak leaves that surround him. Making him and my other work I combine machine embroidery with scraps of old and collected papers, fabrics and prints, paint and over stitched details"
All the fun of the fair by Sachiyo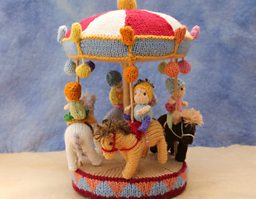 Knitted with double-knit yarn, some of the parts of the ride were constructed using cardboard. And it's not just the carousel Sachiyo has made, she has also created more rides, animal music band, entertainers and a circus to form an entire knitted amusement park
Flora and fauna by Margaret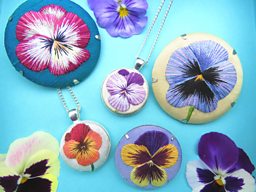 These hand-embroidered jewellery pieces are made with cottons, silks and vintage beads, using tiny pieces of fabric that would otherswise be thrown away. Often featuring flowers, Margaret says that people comment that they think it is a painted piece of work and can't believe it is made with needle and thread. They are stitched one thread at a time to fill in the design
Being in flow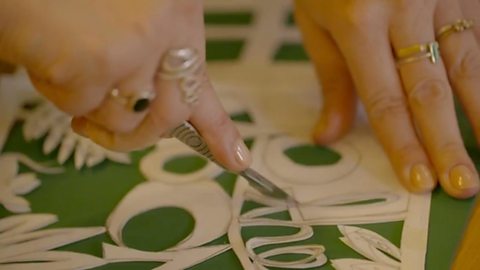 Martha Kearney talks to psychologist Dr Itai Ivtzan about being 'in flow'.
Aquatic necklace by June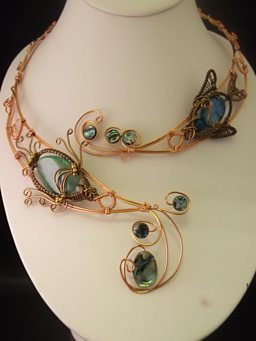 The design of this torque necklace is made from copper with gemstones agate and abalone and depicts two fish swimming in the waves. It took quite a few hours over the course of a week to make. June entered the necklace into a competition on Jewellery Maker TV and won an award for Viewers Design of the Year
Blackthorn Reborn by Louise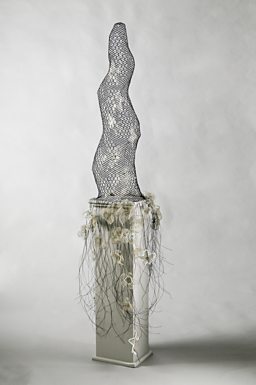 Using traditional techniques, exploring new materials and formats, the designs for these 3D sculptures explore the 19th Century plant hunter's influence on lace and contemporary plant issues. The work was made using bobbin lace techniques with the wire wound onto bobbins, but worked in 3D rather than the traditional way of being flat on a pillow
Dream big dreams, little one by Pat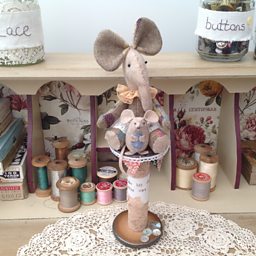 This piece took a couple of full days to make, from the original idea to collecting materials and construction. It was inspired by Pat's love of using recycled, vintage materials that have seen better days and making something new that someone can enjoy all over again. The elephant was made with vintage tweed scraps, felt and lace. The mouse was then completed in felt next came the mini bunting made from vintage French fabric. The bobbin itself was decorated and the bunting attached, then the saying was hand stamped onto more plain vintage French fabric and glued on. The last pieces to be attached were the elephant and mouse and a few mother of pearl buttons
Sweet treats by Katie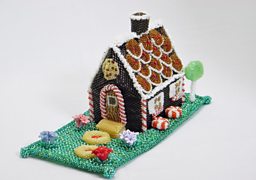 This beaded gingerbread house was made using thousands of beads. Each bead measures from one to 3mm in size and took about three months to make. It was made by stitching beads together using needle and thread, a technique called bead-weaving. It is a self-supported 3D structure, no stiffening materials have been used – just beads and thread
More from Make! Craft Britain