Main content
Can you get drunk on boozy food?
Whether it's mussels in white wine, beef and ale pie, or a brandy-soaked Christmas pud, we love food that's laced with alcohol. But could we actually send ourselves over the drink-drive limit with too much trifle?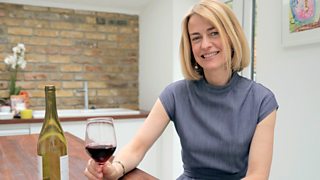 The boiling point of alcohol is just 78 degrees Celsius, so we tend to think that as we cook it, the alcohol evaporates, leaving us to enjoy the flavour of the drink without becoming tipsy. However, a study published in the Journal of the American Dietetic Association reported that a surprising amount of alcohol can still be found in our food after cooking.
The study found that adding alcohol to a hot liquid for a short time before serving, as you might with mussels in a white wine and garlic sauce, could leave as much as 85% of the alcohol in the finished dish. With flambéing, though it looks as though the alcohol is burning off, the study found that a surprising75% of it remained in the meal.
The least boozy cooking methods were found to be baking or simmering – the researchers found that doing either for 30 minutes left just over a third of the original alcohol behind, and that after 2 hours this was reduced to approximately 10%.
Cooking methods
| Cooking method | Percentage of alcohol retained | Heading 3 |
| --- | --- | --- |
| No heat, stored overnight | 70 | |
| Stirred into hot liquid | 85 | |
| Flamed | 75 | |
| Stirred, baked/simmered 15 mins | 40 | |
| Stirred, baked/simmered 30 mins | 35 | |
| Stirred, baked/simmered 1 hour | 25 | |
| Stirred, baked/simmered 1.5 hours | 20 | |
| Stirred, baked/simmered 2 hours | 10 | |
| Stirred, baked/simmered 2.5 hours | 5 | |
| Not stirred, baked 25 mins | 45 | |
These figures are only a guide, as the precise amount of alcohol that's left in any given meal will depend on a combination of factors:
The type of alcohol used
How much you use
The cooking method
The cooking time
Researchers have also found that whether or not you cook with a lid on your pan can make a difference – with some finding that using a lid can actually REDUCE the final alcohol content.
Conclusion
So, does this mean that consuming boozy food can actually make you drunk?
The answer is probably not, unless you're trying really, really hard! All the experts we consulted on this subject agreed that it would be very difficult to eat enough boozy food to push your blood alcohol content (BAC) over the drink-drive limit.
However, if you're drinking alcohol alongside your meal, any extra alcohol contained in the food could help to push up your overall blood alcohol levels.
So you can probably tuck into that trifle guilt free – just be careful about what you decide to drink with it…