Main content
Here's looking at you: Why is Casablanca so very quotable?
17 September 2020
"It has a life of its own", said Ingrid Bergman. "There is something mystical about it. It seems to have filled a need". Love and friendship are at the heart of Casablanca – which is now available to watch on BBC iPlayer. NATALIE BUSHE still finds it eminently quotable.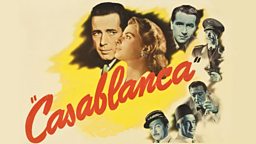 Casablanca is the story of a woman, Ilsa Lund (Ingrid Bergman), torn between two lovers, and between duty and love during World War II. The love story is set against the backdrop of the Vichy-controlled Moroccan city; a place for escapees from the Nazis to try and secure transit papers for an onward journey to Lisbon, and ultimately the freedom of the United States.
Will Ilsa choose her husband, the Czech resistance leader Victor Laszlo (Paul Henreid), or the cynical American bar owner Rick Blaine (Humphrey Bogart), who won't stick his 'neck out for nobody'.
"Play it, Sam. Play As Time Goes By."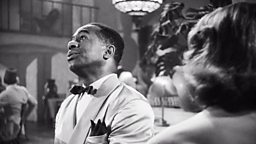 Dooley Wilson as Sam and Ingrid Bergman as Ilsa in Casablanca. | Scene from Casablanca
Not, as many people think, "Play it again, Sam."
It's one of the most misquoted lines from a film, due in part to Casablanca's success. Two films that capitalised on its fame: a 1946 Marx Brothers spoof, A Night in Casablanca; and Woody Allen's, Play it Again, Sam (1972) may have aided in the mis-remembering. The deliverer of the line is also often confused as Rick, rather than the misty eyed Ilsa asking Sam to revisit the song, though Rick does ask Sam to "Play it!" later on in the film.
Dooley Wilson signed from Paramount to play Sam. He was a drummer and his collaborator Elliot Carpenter dubbed the piano playing behind the scenes. Sam's piano from Rick's Café was auctioned by Bonhams for US$ 3,413,000 (£2,560,971) in November 2014.
The film's composer Max Steiner wanted to replace As Time Goes By with a composition of his own, but to remove the song would have proved costly to re-shoot as Bergman had already cut her hair to play Maria in For Whom the Bell Tolls, and producer Hal B. Wallis quashed the idea.
"Of all the gin joints in all the towns in all the world, she walks into mine."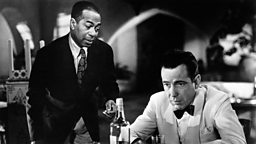 Humphrey Bogart as Rick Blaine, drowning his sorrows with Sam (Dooley Wilson). | Photo by Michael Ochs Archives / Getty Images
Casablanca launched Bogart as a Hollywood romantic lead. On film, he'd been levered into gangster roles and Casablanca was an opportunity to play a cynical but ultimately romantic hero. This scene underscores Rick's heartbroken vulnerability; an aspect of Bogart's acting skill few had recognised up to that point. Bogart himself didn't think he had offered anything different, and actually thought Rick too self-pitying, but as his wife Lauren Bacall pointed out later, "When Ingrid Bergman looks at you, you have sex appeal."
"Here's looking at you kid."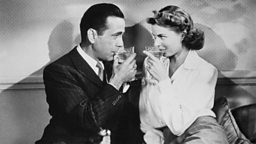 Rick and Ilsa toast Paris and each other before the Nazis invade. | Sunset Boulevard / Corbis via Getty Images
Casablanca was the product of the combined writing skills of Howard E Koch, who provided the political heft, twins Julius and Philip Epstein, who brought the wit, and latterly an uncredited Casey Robinson whose skill lay in strengthening the love story.
Although the phrase "Here's looking at you" had been in recorded use since at least the 1880s, it was Humphrey Bogart who improvised the line while filming the Paris flashback on the Warner Bros. back-lot. This inspired the Epsteins and Koch to pepper the phrase a further three times through the script.
"We'll always have Paris"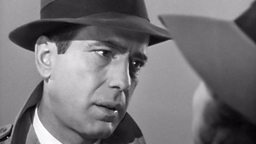 Rick reminds Ilsa of the good old days in Paris. | Scene from Casablanca
This line featured in the finale of Casablanca: one of the slickest-written and most quotable scenes produced by the Hollywood studio system. Uttered by Rick as he sacrifices his love for Ilsa for the greater good, the scene played against the backdrop of an aircraft hangar and a waiting plane to Lisbon. However, the production didn't have access to an airport due to the war and a small plywood model was constructed for the scene. It was placed in the background and surrounded by short men to fool the audience with scale. With added fog, who could tell the difference?
And who would Ilsa end up with - Rick or Victor? As they filmed, even Ingrid Bergman didn't know. She asked the writers and they told her they were undecided, but said "Don't give too much of anything. Play it in between, you know, so that we can decide at the end." Many believe this aspect of Bergman's performance gave Ilsa's quandary added realism.
"Round up the usual suspects."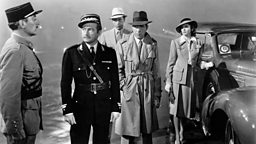 Prefect of Police, Captain Louis Renault (Claude Rains) takes a stand. | Photo by Michael Ochs Archive / Getty Images
The Epsteins had been struggling to find an ending for the film that would work. While driving on Sunset Boulevard they stopped at a red light. With an eerie subliminal connection taking place between the twins, they simultaneously shouted out the now famous line. Their subsequent discussion around why Renault would say the line resulted in one of the best character turnarounds in cinema history, and the beginning of a "beautiful friendship". Julius later recalled, "Whenever I drive past the spot, I raise my hand in salute."
Like many of the quotes from this film, it has entered our day-to-day language with most people unaware of its origin. The line proved to be the inspiration behind the title of Bryan Singer's film The Usual Suspects.
"Louis, I think this is the beginning of a beautiful friendship."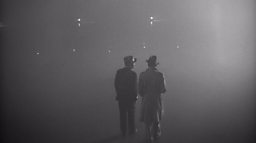 Rick (Bogart) and Louis (Rains) make a break for the Free French in Brazzaville | Final scene from Casablanca
It's the last line of the film. Rick and Captain Louis Renault (Claude Rains) walk across the tarmac of the aerodrome, away from camera, and Bogart delivers the line to the unscrupulous Vichy Prefect of Police who "goes the way the wind blows". It was a line that hadn't been in the final script at all.
Producer Hal B. Wallis wanted an upbeat closing line (although retaining the cynicism) to be added after filming had completed. He offered two suggestions: "Louis, I might have known you'd mix your patriotism with a little larceny"; or "Louis, I think this is the beginning of a beautiful friendship. "They went with the latter, and Bogart had to be called back in to dub the line.
Although Renault represents the self-serving Vichy government who collaborated with the Germans, Rains delivers his hypocrisy with wit, a twinkle in his eye and ultimately a decent heart. Warner Bros considered shooting a sequel to Casablanca called Brazzaville, which would follow Rick and Renault with the Free French, but the timing was never right.
In a time of war, Warner Bros. took a stand
Casablanca wasn't just a love story. It was a paean to anti-isolationism charting an American who makes money on the back of refugee migration, a character who openly states on two occasions "I stick my neck out for nobody", and turned him into a self-sacrificing, anti-Nazi freedom fighter.
As a Hollywood studio, Warner Bros. took a stand and created a world populated by real refugees escaping the war in Europe. According to Noah Isenberg in his book about the film, "Nearly all of the some seventy-five actors and actresses cast in Casablanca were immigrants."
This compelling mix of performances, memorable music, solid plot-lines and intelligent script-writing certainly amounts to much more than "a hill of beans". It's little wonder that this film regularly tops classic film polls; not too bad for a script still being written as the film was being shot.
Watch now on BBC iPlayer
Rick's Cafe is a centre for criminals, refugees, resistance fighters and Nazis. Its cynical owner takes risks for no-one - until the arrival of Ilsa