Main content
All Together Now: The Great Orchestra Challenge
All Together Now: The Great Orchestra Challenge is a nation-wide search for the orchestra that best captures the spirit of great British amateur music-making in the UK.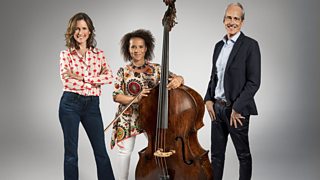 The four part series is part of BBC Music Get Playing. It starts on Tuesday August 30 on BBC Four at 9pm with the final being broadcast on BBC Two.
BBC Radio 3 and Proms presenter Katie Derham presents the four part series.
Each week's episode has a distinct musical theme, from the symphony to opera. The orchestras will present a performance based on the week's theme in every episode, which will be judged by renowned conductor Paul Daniel.
Mentoring the orchestras through the process will be the celebrated double-bassist Chi-chi Nwanoku.
The winning orchestra will be crowned the UK's most inspirational amateur orchestra and will perform on stage at BBC Proms in the Park, in Hyde Park, filmed for broadcast in the final episode of the series.
More about Katie, Chi-chi and Paul