Main content
Sussex Community Heroes Awards 2018
We're proud to announce the finalists for the eighth year of the BBC Sussex Community Heroes Awards.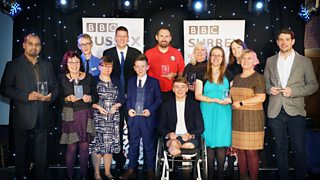 Finalists or not, everyone nominated should feel incredibly proud of their achievements

Mark Carter, BBC Sussex Assistant Editor
The Awards are dedicated to celebrating unsung heroes from across the local area. Over recent months, listeners have been making their nominations across nine categories including Fundraiser, Volunteer and Young Achiever of the Year.
This year's shortlist:
Animal Welfare
Maru Garcia - Maru is the main vet at the Wildlife Aid Foundation. She takes in and patches up every last creature she possibly can, from the smallest frog to the biggest badger!

Robert Groves - Robert, from Crawley, was part paralysed in 2006 at the age of fifty, but has campaigned tirelessly to improve the lives of animals, both here and abroad.

Carol Jackson - Carol founded and runs Kilmarnock Horse Rescue in Charlwood, near Gatwick. Carol mucks out and cares for over 20 horses and donkeys that are at the yard at any one time.
Carer
Agnes Kwiatowska - Agnes has transformed the The Chestnuts Care Home, adorning it with original artwork created by the residents with her support.

David Lambert - David works at Rascals Childcare in East Preston. He's always going out of his way to make children happy.

Jim Deans - Jim of Sussex Homeless Support is a Brighton man with passion and bags of energy. Single-handedly he cooks and delivers meals every Monday to Anti-Freeze, catering for over 50 homeless people.
Fundraiser

Mikey Neville – Mikey, from Bosham near Chichester, has completed around 200 triathlons after his 4 year old daughter was diagnosed with an extremely rare cancer.

Roy Payton - Roy from Eastbourne lost his daughter at a young age and has channelled his grief into fundraising to help people of all ages have a better life.

Alex Eades - In February 2016, Alex from Brighton lost her daughter Charlotte, aged 19, to a terminal form of brain cancer. She set up a charity in her memory, already raising over £160,000.
Good Neighbour

John Best - John is a qualified electrician and voluntarily maintains and repairs all the electrical equipment in two historic Sussex churches.

Horsell Care - The Horsell Care volunteers provide a driving service to pick up elderly members of the community from home, taking them to and from doctor and hospital appointments.

Impetus Neighbourhood Care Scheme - This special scheme covers a large area of Brighton and Hove, helping to alleviate loneliness and providing companionship for several hundred people across the city.
Music and Arts

The Revelaires - The Revelaires were formed over 60 years ago to provide live, free, entertainment to those in need.

Superstar Arts - Superstar Arts run by Jo Sullivan and Jo Telling is a not for profit Community Interest Company based in Worthing, providing creative projects for young people and adults with learning disabilities.

Emily Bollon - The Topic of Cancer choir is made up of over 50 people affected by cancer. Leader Emily has worked wonders with this and many other local choirs.
Sport

Lewes Football Club Volunteers - There is only one full-time person at Lewes Football Club, the rest are volunteers. On match days, over 60 fans, owners and local residents turn up to make each game extra special.

Nicola Tweedie - Nicola set up Newhaven Gig Rowing club, working tirelessly as its Chair for 2 years, and under her leadership it is going from strength to strength.

Greg Stallard - Greg founded Stallard's Boxing Gym. The local police send troubled teens his way and he works closely with a local school setting up a Boxing GCSE exam, helping students gain a qualification.
999
Special Sergeant David McLean has been a valued member of the Special Constabulary for 11 years.
PC Simon Fahey is an outstanding police officer with over twenty years of service.
Police Sergeant Garry Botterill has worked tirelessly to improve the mental health of police officers.
Volunteer

Christine Moon - Christine has been a volunteer-trustee with Home-Start East Sussex based in Newhaven for a decade, creating a feeling of 'team' between staff and trustees.

Ken Griffiths - Ken gives so much of his time to the local community with the most extraordinary humility, including overseeing the ever popular Haslemere Fringe.

Purple People Kitchen - The Purple People Kitchen in Brighton is a food bank, catering for the needy and the homeless.
Young Achiever

Edward Pearce - Edward's father, Andy, had a severe haemorrhagic stroke in May 2013. Edward chose to remain with his dad, and became his primary carer.

Honour Hewett - Honour joined Sussex Downs College in Lewes in 2016. Honour experienced some significant difficulties at home, and was made homeless but got back on track and is now starting university.

Amira Hanna - Despite being just 16 years of age, Amira from Brighton has already been a carer for most of her life. Against the odds, Amira has completed more than many do in a lifetime.

Otto Barwell - Six year old Otto from Hove was born with cerebral palsy that affects his legs and his ability to walk. Otto raised £20,000 for others in a similar situation, through a triathlon!
BBC Sussex Managing Editor and judge Sara David said: 'It's an honour and a privilege to judge these awards each year, and to discover the amazing work that's happening locally. The list of nominees this year was as competitive and inspiring as ever.'
BBC Sussex Assistant Editor and presenter Mark Carter, who oversees the Awards, commented: 'We've once again been bowled over by the quality of the nominations. Finalists or not, everyone nominated should feel incredibly proud of their achievements.'
All of the shortlisted nominees will now attend a prestigious awards ceremony at the Gatwick Crowne Plaza Hotel on Monday, 26 November, when the overall winners in each category will be announced. They'll be online coverage of proceedings on the night and a special programme of highlights will be aired in December.
If tweeting about the awards, please use #BBCHeroes