Main content
15 handy hacks for cooking the perfect Christmas dinner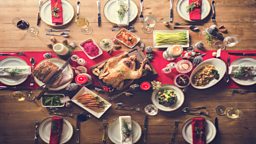 The Christmas Dinner has a long and interesting history. We've been gobbling turkey at Christmas as far back as the 16th century, with Henry VIII famously the first English monarch to eat the bird on Christmas Day.
Now served up in homes across the nation, a big bird with all the trimmings is as much a part of Christmas as decorating the tree or squabbling with the relatives. But with so many different elements to juggle, cooking the traditional festive feast can seem like an intimidating task.
Luckily we've pulled together some handy tips that will help make preparing and cooking the Christmas meal a piece of cake. (Not literally, of course.)
1. Enlist some vegetable peelers
With so much to do, if you're the head chef you'll probably want to avoid getting tied up scrubbing and peeling potatoes, parsnips or carrots. If you can, rope in some children to take on the task. As well as taking the strain off you, they're more likely to want to eat veggies that they've prepared themselves. Cunning!
2. Keep on top of the washing up
Try and keep the veggie peelers on as kitchen porters. If there are helpers to wash up as you work it will give you more valuable surface space. You can even think about bribing the kids with a bit of pocket money or chocolate!
3. Take the cheese out of the fridge in advance
If you're having a cheese course, don't forget to take it out of the fridge earlier in the day so it can reach room temperature. Clearing room in the fridge means more space for Champagne of course.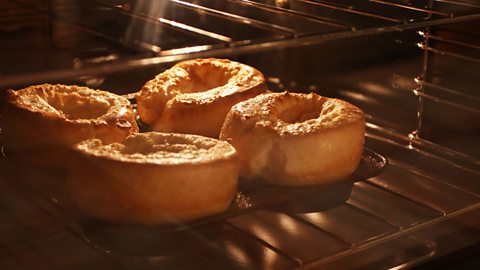 A panel of chefs share their favourite tips for cooking Yorkshire puddings.
4. For roasties, get the oil nice and hot
Roast potatoes are an essential part of Christmas dinner. And no one wants a soggy spud. Dusting them in semolina or flour will help to add a bit of crunch, but the real key is to get the oil in the tray as hot as possible before tipping in the tatties. Try using goose fat for a richer flavour.
5. Try roasting your sprouts
Brussels that are roasted taste completely different to those that are boiled, steamed or microwaved. Roasting them caramelises the natural sugars that are found in the veg, resulting in a much sweeter sprout. And smaller sprouts are sweeter still. Try roasting them with some chestnuts and bacon and don't be afraid to let them get brown and crispy round the edges.
6. Don't score your sprouts
If you are going to go ahead and boil the blighters, there's no need to score a cross in the bottom – it just makes them more waterlogged. Keep your eye on the timer and don't go over eight minutes to retain some bite in your brussels.
7. To keep it moist, cook the turkey upside down
Popping the turkey breast-side down for the first hour or so of roasting means the bird essentially bastes itself. And if you can manage to turn it a few times throughout the cooking process it will encourage the juices to stay inside.
8. Or try using a butter muslin
Many people baste the bird with melted butter as it cooks, top it with streaky bacon or wrap it in foil, but a "butter muslin" is great for keeping the meat moist. Just soak the material in melted butter, season the turkey, and drape the muslin over the bird.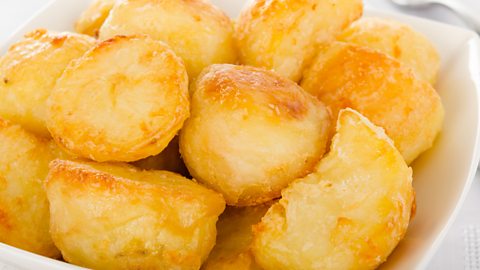 Tips and tricks for the best methods for creating a tray of perfect roast spuds.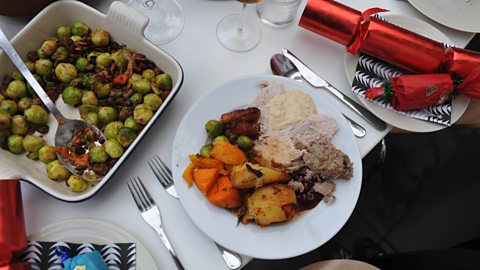 Chefs are coming up with all sorts of exciting new ways to serve this seasonal veg.
9. To stop bits burning, deploy the foil
If the whole turkey is browning too quickly, you can cover it with a loose foil tent. And if it's just certain bits of the bird, like the legs, then localise your foil wrappings!
10. Let the turkey rest
The heat of the oven forces the juices into the middle of the bird so, once you've extracted it from the oven, let the turkey rest for around 20 minutes under some foil before carving it. The juices will redistribute, and you'll have moister meat.
11. Glam up your gravy
A roast dinner just isn't the same without gravy. Try making it richer and especially festive by stirring in some cranberry sauce or a splash of port.
12. Dollop some clotted cream in your bread sauce
If you're feeling decadent, stir some clotted cream in to your bread sauce. Another fun idea is to sprinkle the finished sauce with cayenne pepper. It adds a wonderfully festive splash of red and a little extra zing.
13. Grate some zest into your Christmas pudding
Grating orange, lemon or grapefruit zest into your Christmas pudding mix adds a lovely, refreshing citrus note to the finished product.
14. Heat the brandy before pouring it on the pudding
The key to a flaming pudding is to get the spirit you're going to set alight really hot beforehand. Pour the brandy, rum, whisky or vodka into a metal ladle and heat it over a gas flame. Light it using a match (taking care not to set fire to any eyebrows in the process) and immediately pour it over the pudding. Remember to wait for the flames to go out before serving!
15. Don't hit the mulled wine too early
Of course, have a small glass to supress the stress of feeding what feels like the 5000, but ensure someone in the family is sober enough to keep an eye on timings. It's a fine line between underdone and inedible. Good luck!
More Christmas from Radio 4
Champagne sceptic Dan Saladino heads to the French region in search of mavericks of fizz.

Drink up these fascinating facts about our favourite seasonal tipples.