Main content
Seven times the art world grappled with wrestling
29 June 2018
Let's get ready to rumble! As the acclaimed women's wrestling series GLOW returns for a second season, take a look at the other artists - from painters to playwrights - who've been inspired by the conflict and competition of the ring.
1. GLOW: Sisterhood and spandex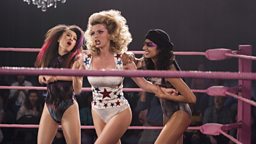 Betty Gilpin (centre) as wrestler Liberty Belle in GLOW | Image credit: Erica Parise/Netflix
GLOW is the critically-acclaimed Netflix series based on the real-life 1980s women's wrestling television show, the Gorgeous Ladies of Wrestling (GLOW).
A sensory explosion of synth-heavy tunes, neon lights, high-cut leotards, hairspray… and even a robot which dispenses cocaine.

The Telegraph
Alison Brie (Mad Men) stars as Ruth Wilder, a struggling actress who can't find any meaty roles for women in Hollywood, and after refusing many other options opts to become the main 'heel' (i.e. villain) of the gimmicky wrestling show directed by Marc Maron's sleazy and washed-up film-maker.
However, she is forced to perform opposite her former best friend, an ex-soap star played by Betty Gilpin, who now hates Ruth after catching her sleeping with her husband. Despite not wanting to be around each other their tense chemistry in the ring wows audiences, and their conflict forms the heart of the story.
The show boasts an impressive ensemble cast, including UK singer Kate Nash, and mixes its fun wrestling set-pieces with more nuanced themes like exploitation and racial stereotyping.
Season 2 of GLOW is available on Netflix now.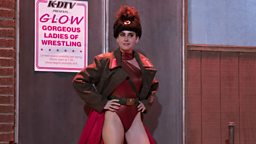 Alison Brie as wrestler Zoya the Destroyer in GLOW | Image credit: Erica Parise/Netflix
The singer tells Front Row about learning wrestling for her role in the Netflix series.
2. Progressive painting: The Wrestlers by William Etty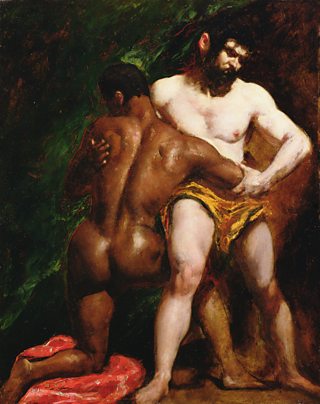 The Wrestlers is an oil painting by York-born artist William Etty, who was the first significant British painter of nudes and still lifes.
Estimated to have been painted in 1840 while Etty was attending London's Royal Academy, The Wrestlers was likely made in a life drawing class.
It is not known who the models are in the picture, but many believe the sweat glistening off their bodies was not just added for dramatic effect; the Trafalgar Square studio where this class was held was poorly ventilated and would have been incredibly hot.
Etty's painting is typical of the artist's studies of the human body, and of the way the art world was becoming fascinated with sport portraits in that period, often painting physically-strong men to counteract the fears that the industrial revolution would lead to male workers getting less exercise.
However, what is unusual is the way the painting depicts race relations.
Art historians have pointed out that though the white wrestler appears at first to be dominant, the two figures are in fact equally matched; this was counter to British attitudes towards black people at the time, when many believed they were physically weaker than white people.
The painting is currently on show at York Art Gallery.
Image credit: The Wrestlers, 1835-45 (oil on millboard), Etty, William (1787-1849) / York Museums Trust (York Art Gallery), UK / Bridgeman Images
3. The Wrestler: Mickey Rourke's comeback fight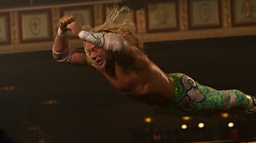 Mickey Rourke in 2008's The Wrestler | Image: Moviestore collection Ltd / Alamy
The Wrestler is a 2008 film directed by Darren Aronofsky which stars Mickey Rourke as an ageing professional wrestler.
I knew 10 days into making The Wrestler that this would be the best movie I ever made, and I knew after three days that it would be the hardest movie I ever made.

Mickey Rourke
Randy 'The Ram' Robinson's heyday came in the 80s, but this story picks up decades later with the broken man living in a trailer park but clinging to his former fame through fan appearances and the occasional match. However, his life sours further when he develops a heart condition that prevents him from continuing to fight, causing him to re-examine his identity and relationship with his estranged daughter.
The film hinges on Rourke's performance, as he appears in almost every scene. Rourke was apparently Aronofsky's first choice for the role, possibly because of the parables between the script and the actor's life.
By the mid-2000s Mickey Rourke had hit rock bottom; his face was ruined by botched plastic surgery and his interest in amateur boxing, his marriage had failed, he'd been in and out of jail, and he'd burned a lot of bridges with Hollywood.
However, for The Wrestler he found a kinship with Aronofsky, who allowed him to rewrite lines and entirely improvise other scenes. He physically bulked up for the part, enduring the physically-punishing fight scenes take after take, while still giving an incredibly raw and intimate performance that blew critics away.
He earned a Golden Globe for the film and became inundated with blockbuster roles in the following years.
4. Beat the Champ: The wrestling concept album
Beat the Champ is a 2015 concept album by indie-folk-rock group The Mountain Goats, that is entirely centred around wrestlers.
"When I was a kid, wrestlers seemed very glamorous," said the band's songwriter John Darnielle, talking to The Skinny in 2015 about Beat the Champ.
"[But] you grow up and you think, 'Oh wow, that didn't pay very well at all'. They had to work five days a week like everybody else, and fly where the work was.
"So I had this loose idea, telling the story, and when I went to write another song, I had a similar story in mind. I thought it would be pretty unusual for a record to have just two songs that were about wrestling, so I kept going."
The product of both Darnielle's childhood love of wrestling, as well as extensive research, the album has been praised as an accessible way into the world of professional wrestling, such that listeners don't need any experience to enjoy the music and stories the album features.
However, for wrestling experts, it does feature tracks about real people and stories such as The Legend of Chavo Guerrero, who appeared in a music video for his titular track; and the murder of American wrestler Bruiser Brody is featured in Stabbed to Death Outside San Juan.
The full Beat the Champ album is available on the band's Soundcloud page.
5. Staged fights: The Elaborate Entrance of Chad Deity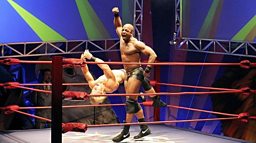 Christian Litke and Terence Archie in The Elaborate Entrance of Chad Deity | Image © Broadway.com
The Elaborate Entrance of Chad Deity is an award-winning play by Kristoffer Diaz about a Hispanic-American wrestler.
Has the delicious crackle and pop of a galloping, honest-to-God, all-American satire.

The New York Times
Lead character Macedonio Guerra's childhood dream of professional wrestling isn't working out so well. He is unhappy with his role as the guy who always loses to make the flashy champ look good, and yearns to rise in the New York wrestling scene.
When he meets a young Indian hip-hop protégé Vigneshwar Paduar ('V.P.') he suggests they team up. The wrestling execs go for it, but only by casting the minority actors as terrorist villains, and the pair must push through their stereotype personas to win over audiences.
The play was a finalist for the 2010 Pulitzer Prize, and was praised for its realistic fight scenes and for its satire of modern American politics and institutionalised racism.
6. Team Foxcatcher: Disturbing documentary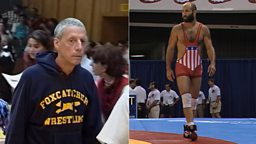 John du Pont, left, and Dave Schultz, right | Images courtesy of Netflix
Team Foxcatcher is a true-crime documentary about the American multi-millionaire wrestling aficionado John du Pont, who murdered Olympic gold wrestler Dave Schultz in 1996.
Du Pont used his money to build a training facility for the USA Olympic wrestling team on his home property, which was known as Foxcatcher. Schultz, the USA's most successful wrestler at the time, brought his family to live with him on this property for seven years, during which time the rich eccentric's behaviour spiralled out of control. Du Pont drove to Schultz's house, and shot him three times in full view of Schultz's wife.
A fictionalised version of this story was presented in the 2014 film Foxcatcher, which starred Steve Carrell in heavy prosthetics as John du Pont opposite Mark Ruffalo as Dave Schultz. The documentary, Team Foxcatcher, uses interviews, news clips and home video to give an in-depth look at du Pont's erratic behaviour in the years leading to Schultz's death, and the unsettling atmosphere within the Foxcatcher facility.
Team Foxcatcher is currently available on Netflix.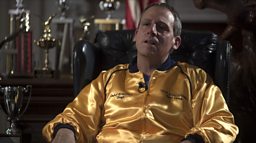 Steve Carrell played John du Pont in the 2014 film Foxcatcher | Image: AF archive / Alamy
7. The People's Rock: A Dwayne Johnson puppet musical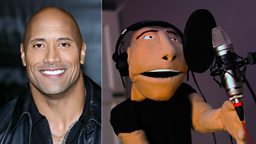 The real and puppet versions of Dwayne 'The Rock' Johnson | Left image: Allstar Picture Library / Alamy. Right image courtesy of Nevertheless She.
The People's Rock: A Musical debuted at London's Vault Festival in 2018, a bizarre genre-blending creation of women's collaboration project Nevertheless She.
The idea stemmed from a joke about their friend's obsession with wrestler-turned-moviestar Dwayne 'The Rock' Johnson, but evolved into an hour-long musical satire of Trump's America.
The story is set in a dystopian future, the year 2050, where democracy, religion and even the internet are no more and the country is ruled by Emperor Trumpus.
Teenage protagonist Tee, however, couldn't care less about what is happening in the world outside. She's focussed on her busy work and family life, as well as her hero, the People's Champion Dwayne Johnson, who appears to her in puppet form as her 'Fairy RockMother'.
When The Rock is inexplicably erased from society, Tee wakes up to the reality of the world around her, and won't rest until she discovers the truth about his disappearance.
Unfortunately for the all-female writer's group the real Dwayne Johnson couldn't make it to see their labour of love, although they did save him a seat.
However, he did tweet some typical words of support in advance of the run, saying: "Entertaining, with a strong 18yr old female voice. I love it! Break a leg and I'm there in spirit!"
Arts highlights on BBC iPlayer
Exploring the work of the first black female film director to direct a $100-million film

Highlighting the work of artists with disabilities to mark the signing of the Disabilities Discrimination Act

The Oscar-nominated actress gives a singing masterclass