Main content
5 times hip hop and the classical world collided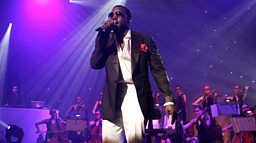 The Breaks, a special Prom taking place at London's Royal Albert Hall on Friday 6 September, pays tribute to the origins of hip hop and breakbeat culture, serving up reimagined takes of classic tunes from the time in a celebration of the Bronx streets where the scene first emerged.
But while the merging of hip hop and classical may seem a grand proposition, there's actually a rich history of the two musical styles combining. To get in the mood for this very special Prom, here are five times that the worlds of hip hop and classical collided.
Kanye West - Late Orchestration
Live Orchestration, Kanye West's 2006 live album that saw the Chicago rapper teaming up with a 17-piece all-female string orchestra for an ambitious concert that featured expanded and reimagined takes of his biggest tracks of the time, may be the most well-known instance of hip hop and classical music coming together.
Arguing that he wanted to dispel any snobbery still felt towards hip hop as an art form, Kanye explained in an interview at the time: "Being able to spit true, heartfelt rap lyrics in front of an orchestra is juxtaposing what's thought to be two totally different forms of music… it shows you that it's all music. We tried to alter people's perception of the music," adding: "I love pushing the envelope… I love to perform for those people who think they've seen everything before. But have you seen this? Can you get with this? That's the toughest crowd [and] I love the challenge."
It cemented Kanye's status as an artist from whom you can always expect the unexpected and one always seeking to push the genre boundaries placed around hip hop. Live Orchestration was also a performance that normalised rap acts performing with full-blown orchestras, with the likes of Kendrick Lamar, Migos and even Sir Mix-A-Lot following in West's footsteps since.
Guidance: This video contains very strong language and adult themes. Third-party videos may contain adverts.
Warren G and Sissel - Prince Igor
In 1997, almost a decade prior to Kanye's classical crossover, seminal rap label Def Jam Records released The Rapsody Overture: Hip Hop Meets Classic, a compilation album of original recordings that paired together rap artists with classical musicians or compositions. It saw Redman rap over Debussy, LL Cool J sample Léo Delibes' The Flower Duet, and both Mobb Deep and Xzibit taking on the works of Giacomo Puccini.
Its standout track, however, was Warren G's Prince Igor, the chorus of which incorporated Polovtsian Dance from Alexander Borodin's opera of the same name, and featuring Norwegian soprano Sissel. The soaring elegance of Sissel's chorus juxtaposed Warren G's slick classic-era West Coast hip hop, with the song proving a surprise hit in Europe - peaking at No.15 in the UK charts and reaching top spot in Norway and Iceland.
Nas ft. Puff Daddy - Hate Me Now
O Fortuna from Carl Orff's Carmina Burana may be hip hop's most-sampled piece of classical music, with scores of rap stars incorporating the famed opener from the German composer's 25-movement cantata in their work. The likes of Juelz Santana (Santana's Town), Cam'ron (Get 'Em Girls), Busta Rhymes (The End of the World), Three 6 Mafia (Dangerous Posse) and Meek Mill (On the Regular) have all sampled the iconic piece, but its most notable appearance in the rap canon might be on Nas and Puff Daddy's Hate Me Now.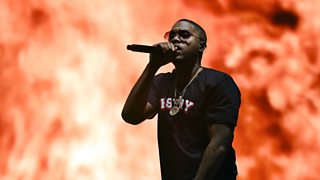 Nas at Reading and Leeds Festival 2016
Nas' sample made perfect sense. O Fortuna never fails to conjure triumphant feelings, so it was perfect, then, to be used as the backdrop for a star at the height of both his fame and acclaim, firing back at his detractors on the single that made it to No.14 in the UK.
It isn't Nas' only foray into the classical world either. His 2003 track I Can sampled Beethoven's Für Elise, while he would later perform his classic album Illmatic live with America's National Symphony Orchestra.
The Streets - Same Old Thing
It's not just US rappers taking inspiration from the classical world - The Streets' Same Old Thing (from 2002's Original Pirate Material) borrowed from Antonín Dvořák's beloved Symphony No.9 (a piece so popular that Neil Armstrong even took a tape recording of it to the Moon).
But while Dvořák's original was a work born out of invigoration for new experiences (the Czech composer was inspired by a trip to New York and the new rhythms he discovered whilst there), Mike Skinner and co. instead flipped it to soundtrack the mundanities of modern life, with the chorus: "Round here, nothing seems to change. Same old thing every day. Just gets played and replayed in different ways."
Dizzee Rascal ft. Giggs - Nutcrackerz
One of the more audacious classical samples in hip hop? It was certainly bold of Dizzee Rascal to borrow from Tchaikovsky's Dance of the Sugar Plum Fairy from The Nutcracker, a piece more commonly associated with Christmas at the ballet than it is the East London grime scene.
On Nutcrackerz, Dizzee harks back to his early days of growing up on Bow Road and fires back at all those doubting him since he found fame. It also virtually proved that Dizzee could rap over pretty much anything...
Guidance: This video contains very strong language and adult themes. Third-party videos may contain adverts.