Main content
The final frontier: why families are sending their loved ones' ashes on a space odyssey
For generations who witnessed the moon landings, the space shuttle missions and the progress of the International Space Station, extra-terrestrial travel has never seemed so tantalisingly close. But while we may never get the chance to enjoy space travel in our lifetime, it's now possible to head for the stars after death.
Hazel Marshall's father is one of the few who have reached the final frontier.
"He loved anything to do with space, he probably would have been an astronaut if he could," she explained on The Extra Terrestrial Funeral Service.
It seemed apt then that when he passed away, his family would send him where he had always wanted to go.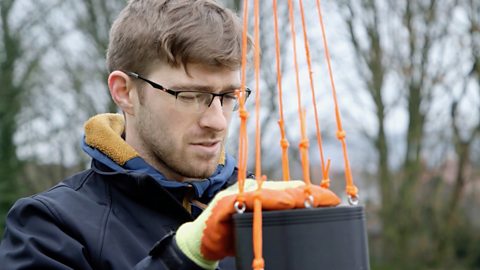 An insight into both a uniquely emotional and scientific method of saying goodbye.
They worked with a British company co-founded by Dr Chris Rose, which sends ashes into space via a balloon.
He explained: "We will reach an altitude of up to 37 kilometres above the Earth, almost twice the height of the Armstrong Line which is the commonly accepted gateway to near space. That's the point at which you'd need a spacesuit to survive".
The ashes are sent skywards in a mechanism carried by balloon. On-board GPS and a microcontroller tell it when to operate, and at the appropriate moment the ashes are released.
"It's the beginning of a journey in itself because they're forming part of the weather system," says Dr Rose.
"They will be returning to Earth as snowfall and rainfall.
"What better than to go outside when it's raining or fresh snowfall and be reminded of that person because they are now part of that?"
"It a really nice feeling because he's everywhere," says Hazel of her father. "I can look up at the stars; I can look up at the moon… I think about him all the time."
On BBC iPlayer
Following near space explorers who provide a special and out of this world way to say goodbye to a loved one.
You may also like...
Film-maker Conor Reilly meets people that are making it their mission to spread the word of flat earth and discovers why they believe in this so passionately.
Latest features from BBC Scotland