Main content
KS2 Music: The Tempest - Info
Welcome to The Tempest! Whatever your musical experience these resources can help you and your pupils enjoy learning music - and then put on a stunning musical performance based on Shakespeare's play! There are eight songs and vocal coach Carrie Grant is here to help you learn them. The styles range from rap to rock anthem to ballad and back. There's an African vibe, lots of opportunity for percussion and some very tongue-in-cheek romance. Each song links to a separate episode of the story and these can be explored alongside the songs as you learn.
Stage your own performance of The Tempest in our musical specially-written for Key Stage 2
Shakespeare's The Tempest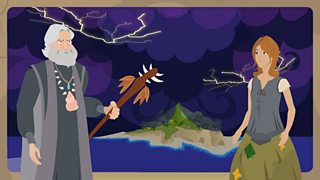 Prospero and his daughter Miranda
The Tempest dates from 1610/11 and is generally accepted to be Shakespeare's last play. The action begins out at sea before continuing on a remote island. Alonso, Sebastian, Antonio, Gonzalo and Ferdinand are nobles returning to Italy from a wedding in Africa when their ship is struck by a terrible storm and wrecked. The storm has been conjured up by Prospero who explains to his daughter Miranda how they came to be living on the island and the significance of the people who will be washed ashore.
Using The Tempest web pages
The content for The Tempest is structured on the eight songs to learn. Each song appears on its own dedicated page and includes the following resources (with links to examples from Song 1: 'Rock the ship'):
Additionally there is a Clips page where all of the video content has been aggregated and a Resources page where the following additional resources can also be found:
To download the videos you will need to right click on them and then select the appropriate option for PC or Mac.
Use the Tutorial video to begin learning each song: Carrie Grant guides pupils through each song methodically, giving extra attention to any difficult passages or activities in groups. Refer to the Teacher's Notes for each song to establish whether the class needs to be split into groups before starting the tutorial.
Use the Story video to watch an episode of the story. Each episode links to the song on the same page and is about 5 minutes long.
Use the Full vocal and Backing track versions of the songs to revise them in preparation for a performance.
Download the SFX file and use the cues for your performance of our Tempest musical. The cues have been labelled to match the titles used in the playscript.