Main content
Everyone's in love with Tove Lo's music, including Lorde and Chris Martin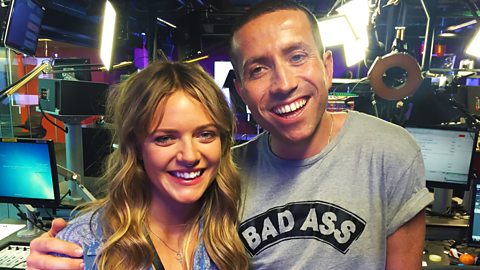 The Swedish artist talks about her new single, Cool Girl, and working with Coldplay.
The awesome Tove Lo stopped by the Breakfast Show this morning to chat to Nick Grimshaw about her new single, Cool Girl, that's out today.
As well as discussing the nerves of single release day and the what inspired Cool Girl (it was the movie Gone Girl, FYI), Grimmy shared some listeners' thoughts on her new tune, and the response has been hugely positive.
"I don't think you've released a song that we've not played and not loved," says Nick as he reveals he listened to Stay High so obsessively he ruined it for himself.
After sharing some listeners' lovely words about Tove's new music, Twitter's reaction was just as positive...
But it seems Tove is building quite the following, especially amongst fellow musicians, such as Lorde who bigged her up to her 4.3 million followers...
But it doesn't stop there, oh no, because none other than Coldplay's Chris Martin is a big fan. In fact, he decided to email her but she didn't actually believe it was him!
"He's so humble!" she says of the Coldplay frontman. "He was just, like, 'hi, this is Chris Martin from the British band Coldplay'," which she naturally thought to be a prank, before calling her up for a chat, which kinda convinced her it was really him.
Basically, we can't get enough of the mellowed summer vibes of Cool Girl, which is available now.