Main content
Student Broadcaster of the Year 2019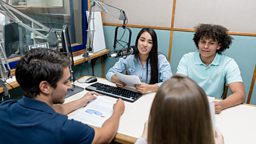 Are you a compelling student broadcaster with a nose for a good story? We're looking for someone who brings boundless enthusiasm and strong editorial judgement in video or audio broadcasting. You need to be able to communicate well, and have a fascination with news and current affairs.
We'll be looking for someone who embodies the BBC's values of impartiality, trustworthiness and excellence, and who's shown they can serve the needs and interests of a student audience.
If you win this award, you'll be offered a work experience placement with the Today Programme team in London, or elsewhere in the UK if you'd prefer.
About the judges:
MISHAL HUSAIN presents the Today Programme on BBC Radio 4 and the News at Ten on BBC One. She has reported from around the world for the BBC, and was the only journalist to interview Prince Harry and Meghan Markle when they announced their engagement.
MATTHEW PARRIS is an author and journalist. Matthew joined The Times in 1988 and writes a weekly columnist. He worked previously at the Foreign Office, as Margaret Thatcher's correspondence clerk and as Conservative MP for West Derbyshire. In 2015 he won the British Press Award for Columnist of the Year. He is also a regular columnist for The Spectator and presents the biographical program Great Lives on Radio 4.
How to enter:
This category seeks to recognise the best student journalism in broadcast media – radio, podcast or video channel. Entrants will need to submit three examples of work they have produced while in full- or part-time education and published or broadcast in media aimed either solely or predominantly at a student audience during the academic year 2018-19. Entries close at 23:59 on 31 August 2019.
Click HERE to enter