Main content
Pottery, poetry, pop-songs and paint: Will Gompertz gets creative
In a new four part BBC Radio 4 series, the BBC's arts editor Will Gompertz meets people who pursue a creative passion in their spare time, and joins them for a mini-masterclass, with leading practitioners offering help and advice.
In the first episode, Will joins a life drawing class in Brighton, with artist Humphrey Ocean on hand to give guidance. Humphrey remembers his own life drawing tutor – the late songwriter Ian Dury.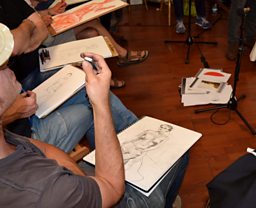 Also joining the class is Sue Tilley, who modelled for painter Lucian Freud. She recalls the experience, which led to portraits including 'Benefits Supervisor Resting', which sold at auction for over £35 million.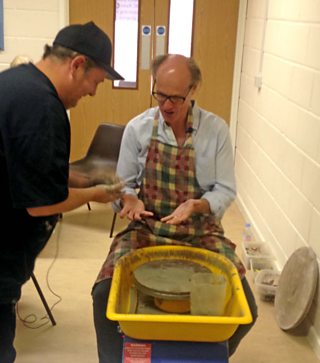 The sheer breadth, depth and vitality of the nation's burgeoning creative class is far beyond anything I'd imagined it to be

Will Gompertz
Elsewhere in the series, Will meets a group of young performance poets, with acclaimed spoken word artists Polar Bear and Hollie McNish taking the lead, and joins a gathering of budding songwriters in Coventry, where singer-songwriter Tom McRae, lends an expert ear, along with singer-songwriter Kathryn Williams.
Will also spends a morning with a pottery group in Hampshire. Here leading ceramicist Kate Malone joins the class, along with one of her former students – comedy performer and writer Johnny Vegas. Returning to a hands-on relationship with clay is, says Johnny, a liberating experience: 'I have complete freedom, and I love it.'
For Will Gompertz, it's been an eye-opening experience. 'Making this series has been a highlight of my time at the BBC,' he says. 'The people I've met and the groups I've joined have been a revelation. The sheer breadth, depth and vitality of the nation's burgeoning creative class is far beyond anything I'd imagined it to be. From pottery in Hampshire to pop in Coventry, I'm inspired and amazed by the capacity of communities to come together and create work of remarkable quality. It's been an honour - and a lot of fun.'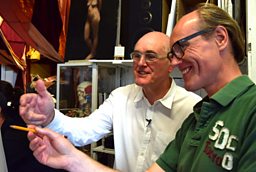 Will tries his hand at life drawing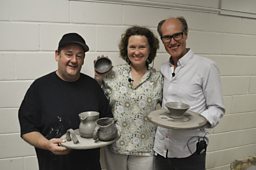 Johnny Vegas, ceramicist Kate Malone and Will Gompertz