Main content
The people helping extremely premature babies fight for survival
Celebrating the arrival of a new-born child is one of the most joyous occasions in a family's life, but what happens when a baby is born prematurely to a level that is considered life-threatening?
Tiny Lives follows the stories of some of the most extreme cases of premature birth faced by University Hospital in Wishaw – including the story of baby Charlie, who was born half-way through his mother's pregnancy at 23 weeks.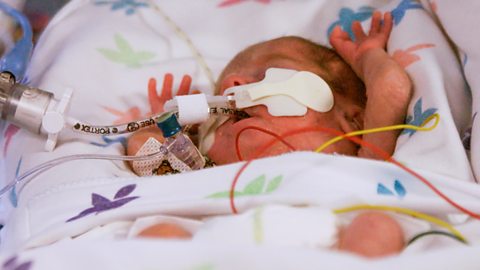 The staff at University Hospital Wishaw care for Charlie – who was born at 23 weeks.
The staff of the neonatal department of University Hospital Wishaw are often required to work on difficult cases involving extremely premature babies.
If you don't have hope you don't really have anything... you've just got to hold on

Charlie's mum
Consultant Lorraine McGrory explained just how serious it can be when babies are born before the end of a full-term pregnancy:
"This sort of gestation, you're talking about 3 babies out of 10 will survive – of them, about half will have at least a moderate to severe disability.
"You'll often see that these little ones, for the first few hours and even for the first couple of days, will be relatively stable and then there's a high chance that they may become more unwell or deteriorate so it's just kind of taking it each hour by hour."
As well as aiming to ensure the health of the babies, medical staff also help mothers and fathers connect with their babies who are often kept in incubators for a number of weeks. Avril is one of the nurses at University Hospital Wishaw who helps new parents connect with their child:
"Mums obviously get the cuddles to help with her hormones – to produce her milk – but dad's part of the family as well. We always find that dads don't want to [hold their babies] in case they break them. But, as you saw, he thoroughly enjoyed it."
The efforts of the staff at University Hospital Wishaw's neonatal unit have saved the lives of many young babies over the years, but Consultant Stuart Guthrie understands that there are some cases – like Charlie's – that have potential to be extremely touch and go:
"I do believe in miracles, but it's difficult to use these words in a healthcare setting without coming into difficulties. Charlie's an excellent example of somebody who was at points on quite a knife edge with regards to his survival chances but he is now very well. I fully expect his survival and I expect him to go home and live a full and active life."
What does it take to care for the sickest premature babies?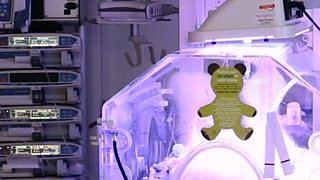 Take a look inside the Neonatal Intensive Care Unit at Burnley General hospital. (From 2017)
Caring for premature babies
Ivy-Rose was delivered 10 weeks early after she stopped growing, but there were more problems ahead.

Scientists are at the 'tip of the iceberg' in understanding the impact of early birth.

Mark Griffin MSP – whose daughter was born prematurely – called for help for low-income parents of premature babies in hospital.
Latest features from BBC Scotland