Main content
Five ways to dive into Radio 3's River of Music
On Sunday 30 October, BBC Radio 3 will be taken over by a great River of Music
Tune in (or log on) from 9am to bathe in an uninterrupted stream of glorious music: 70 handpicked pieces that reflect the diversity of styles championed by the Third Programme over its 70 year history.
On this day above all others, we really are all about the music. So unlike a typical Sunday, you won't hear any of our presenters talking on air. For the entire 12 hours of the River of Music, the only voices you'll hear on Radio 3 will be raised in song.
Here's how to find Radio 3's River of Music.
1. Listen live
FM radio, DAB digital or online. On FM or digital radio, on your computer or via the BBC Radio iPlayer app. In the kitchen while you're doing the roast, on the windowsill as you potter outside or in your pocket, on the move.
We'd love to see how the River of Music flows through your day – send us your messages and photos
It has never been easier to fit Radio 3 into your routine – and now we want to see how the River of Music flows through your day.
Tweet your photos and messages to @BBCRadio3, comment on our Facebook posts, email us at essentialclassics@bbc.co.uk, or drop us a text on 83111. (Texts will cost 10p to 12p each, depending on the network.)
2. Check the DAB text on your radio, TV, computer or mobile device
If you're listening on a digital radio or television, you can check the DAB text – the words that scroll across the screen – to follow exactly what music is playing out and when.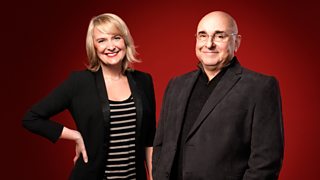 If you're listening online on the Radio 3 website or via the BBC iPlayer Radio app, you'll see this information come up on your screen as the music plays.
3. Visit the Radio 3 website
Our presenters may be disappearing from the airwaves for 12 hours, but they're resurfacing online. On 30 October, follow the River of Music live blog on the Radio 3 website, where presenters Rob Cowan and Sarah Walker will be posting regular updates about the music and the stories behind it.
Plus there are video appearances from five guest stars – including Gabriel Prokofiev, Mark Elder and Emma Kirkby – and a host of other digital goodies.
4. Follow Radio 3 on social media
Throughout the day, Rob and Sarah will be sharing their usual expert commentary and responding to listeners live on social media.
Want to ask a question, make a comment or share your River of Music photos and stories? Get in touch by tweeting us, leaving a message on our Facebook page, sending an email or texting the studio. We'll repost the best messages on the River of Music live blog.
5. Listen Again for 30 days online
As with all BBC radio programmes, you'll be able to stream the entire River of Music online for 30 days after the broadcast has finished – wherever you are in the world.
We're also making life simpler for mobile users by splitting the programme in to two sections after the broadcast, so it won't be a hassle to download to your devices.
Radio 3's River of Music runs from 9am to 9pm on Sunday 30 October 2016. See you then!
Contact Rob Cowan and Sarah Walker with your questions, comments and stories.

Discover definitive recordings of the world's greatest classical music with Rob Cowan and Sarah Walker.