Main content
Ai Weiwei at the Royal Academy: A refugee artist with worldwide status
By Natalie Bushe | 18 September 2015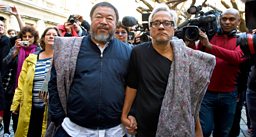 Ai Weiwei and Anish Kapoor walking through London in a show of solidarity with refugees around the world. Image: Ben Pruchnie, Getty Images.
Described as the most famous living artist, whatever Ai Weiwei chooses to do becomes news.
So when he and fellow artist Anish Kapoor chose to walk eight miles from the Royal Academy in London to Kapoor's Orbit in Olympic park, Stratford to draw attention to the worldwide refugee crisis, cameras automatically followed.
For him, the act of protest seemed as natural as breathing or creating his art. His battles with, and house arrest by, Chinese authorities are already the stuff of legend and – as his new show at the Royal Academy amply illustrates – the very substance of his art. What is surprising is that it's Britain's first major institutional survey of his provocative work.
Ai digs deep into Chinese culture and is also happy to embrace the flippancy of the Duchampian ready-made. But it's the political dimensions in his life and work which gives his artistic output heft.
His battles with the Chinese authorities are already the stuff of legend
Among the works on show, S.A.C.R.E.D depicts in dioramas the pressures of his detention for 81 days in 2011 by Chinese authorities, while Straight, his sombre meditation on the Sichuan earthquake in 2008, remembers the thousands of schoolchildren who lost their lives due to substandard construction of state school buildings.
For the latter, he mobilised readers of his blog to collect the names of more than 5,000 of the children who died in the earthquake. It is both an astonishing bureaucratic feat and an inspired work of art. It is also indicative of Ai's instinctive ability to take powerful ideas and express them with simple, iconic images. His trademark security cameras – rendered in marble or printed on golden wallpaper – are another obvious expression.
The exhibition, which has garnered saturation coverage, explores the light and shade of Ai Weiwei's body of work and presents both the throwaway and the unforgettable.
Ai Weiwei at the Royal Academy of Arts runs from 19 September to 13 December 2015.
Ai Weiwei at the RA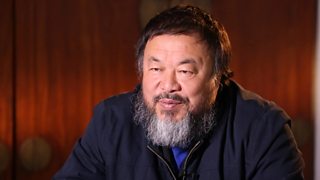 Ai Weiwei talks to Tim Marlow, the Royal Academy's Director of Artistic Programmes. Video filmed and produced by the RA.

Dropping a Han Dynasty Urn, 1995. Image courtesy Ai Weiwei © Ai Weiwei.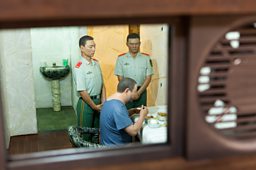 S.A.C.R.E.D., 2012, Supper. Image courtesy of Ai Weiwei Studio © Ai Weiwei.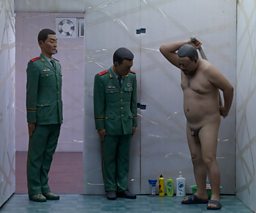 S.A.C.R.E.D., 2012, Cleansing. Image courtesy of Ai Weiwei Studio © Ai Weiwei.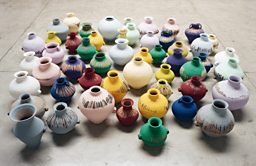 Coloured Vases, 2006. Image courtesy Ai Weiwei © Ai Weiwei. Fascinated by the ideas of authenticity and forgery, Weiwei explored how the same skills can be used to create real and 'fake' pottery.
Press reaction
Rachel Campbell-Johnston, The Times.
Ai the activist not only raises a brave artistic voice against a superpower, but has faced the frightening consequences. This is an exhibition that reveals art's greatest potential. Ai may not be a great artist in many senses, but in a postmodern art scene that fiddles about on the rarefied edges, he reminds us of the power of culture. He shows us why art matters. That is why this is a show you should see.
Matthew Collings, Evening Standard.
Sadly, sometimes he seems like a nit. He has purchased innumerable antique pots over the years, originally crafted during periods ranging from the early 20th century to prehistory, which he's dipped in industrial paint and repurposed as his own art, or had a Coca-Cola logo painted on the side or deliberately dropped and broken in an act of inane iconoclasm staged for the camera in three parts — holding, releasing and smashing.
Mark Hudson, The Telegraph.
Straight, for example, a field of rusting steel rods, undulating wavelike through the largest gallery, weighing 96 tons, is immensely impressive simply as an abstract physical object. When you learn that the metal was salvaged from schools destroyed by an earthquake in Sichuan province in which over 5,000 students were killed, with each damaged bar straightened by hand in Ai's studio, the work takes on an extra, vastly more powerful dimension.
Karen Wright, Independent.
This is a coherent and beautifully installed exhibition. It will give the viewer a chance to analyse this extraordinary artist in both his "activist" mode and also experience the pure aesthetic pleasure that is imbued through his use of materials, technical virtuosity, scale and repetition.
Adrian Searle, The Guardian.
How things are made matters in Ai's work as much as what is being made, unmade and remade. This is more than a matter of recognising or demonstrating the consummate skills of Chinese woodwork and cabinet-making, marble-carving, metal-working, modelling and casting. Such skills, with their long history, are not redundant, even though so much has been lost in China's surge to modernity, in a fog of pollution and destruction.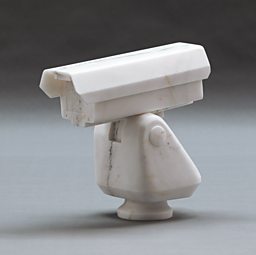 Surveillance Camera, 2010. Image courtesy Ai Weiwei © Ai Weiwei.

Straight, 2008-12. Image courtesy Ai Weiwei © Ai Weiwei. A sober monument to the 2008 Sichuan earthquake, Straight features over 100 tonnes of metal collected from destroyed Chinese schools.
Art and Artists: Highlights
Edinburgh's Dovecot Gallery is hosting two major exhibitions as part of the 2015 Edinburgh Art Festival

An astounding photographic collection by 'Speedy George' Douglas

A sculptural mystery tour which takes in several of Britain's finest galleries

Just who was the man behind some of the most memorable artworks of the last century?

The extraordinary work of award-winning American photojournalist Steve McCurry

A major Tate retrospective of the British sculptor, and the dedicated museums in Yorkshire and Cornwall
Arts highlights on BBC iPlayer
Exploring the work of the first black female film director to direct a $100-million film

Highlighting the work of artists with disabilities to mark the signing of the Disabilities Discrimination Act

The Oscar-nominated actress gives a singing masterclass