Main content
Streetwise art: How Keith Haring made New York City his canvas
10 June 2019
When Keith Haring died aged 31 he was one of the most famous artists in the world, with work adorning gallery walls, New York streets and all manner of merchandise. WILLIAM COOK explores the life of the artist ahead of Haring's first major UK retrospective at Tate Liverpool.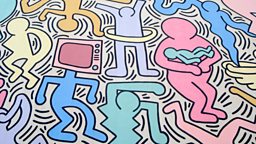 Keith Haring, Tuttomondo, 1989, Mural in Pisa | Photo: age fotostock / Alamy Stock Photo
It's nearly 30 years since Keith Haring died of AIDS aged just 31 but his joyous, streetwise artworks remain as recognisable as ever – familiar to people who've never been inside an art gallery, or even heard his name.
Haring took street art into the gallery, and fine art onto the street.
Haring bridged the gap between highbrow and lowbrow. He took street art into the gallery and fine art onto the street. He transformed subway stations into galleries and galleries into night clubs. In Britain he inspired countless artists, and even influenced rave culture and Acid House, but he's never had a major UK retrospective – until now.
The Keith Haring exhibition is a major coup for Tate Liverpool, which is mounting this show with Bozar in Brussels and the Folkwang Museum in Essen. With its musical heritage and lively streetlife, Merseyside feels like a fitting stage for Haring's work. His brief, prolific career revolved around New York. Gutsy and irreverent, Liverpool is a similar sort of city.
Haring was born in Reading, Pennsylvania in 1958, the first of four children. His parents were kindly and conventional. His mother was a housewife, his father worked for AT&T. It was a comfortable, conservative upbringing – the small town apotheosis of the American Dream.
As a child, Haring loved drawing cartoons with his father. He retained this bold and simple style throughout his life. A teenage trip to the Hirschhorn Museum in Washington DC was a key inspiration. He saw some work by Andy Warhol, and decided to become an artist.
Haring took his parents' advice and went to art college in Pittsburgh to study graphic design but he soon realised he wanted to be a fine artist, rather than a commercial one. He abandoned this vocational course and created his own syllabus, inspired by painters like Klee and Dubuffet. He staged his first solo show at a Pittsburgh gallery when he was only 19.
Keith Haring, Untitled, 1983, Woodcut | © Keith Haring Foundation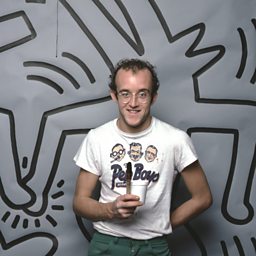 Artist Keith Haring with one of his paintings featuring his iconic barking dogs, 1984 | Photo: Jack Mitchell/Getty Images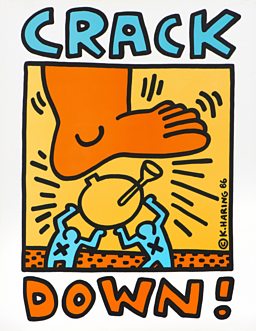 Keith Haring, Crack Down!, 1986, Poster | © Keith Haring Foundation/Collection Noirmontartproduction, Paris
When he was 20 Haring moved to New York. He enrolled at New York's School of Visual Arts but the biggest draw was the city. "It was the only place where I would find the intensity I needed," he said. He abandoned his studies at SVA after a couple of semesters and turned his attention to a bigger canvas – the streets and subway walls of his adopted hometown.
New York was the only place where I would find the intensity I needed.

Keith Haring
New York in 1979 was very different from New York in 2019. Back then the city was depressed, rundown and dangerous, but like Berlin between the wars this made it a dynamic place for artists. Apartments, studios and galleries were cheap to rent and the city was full of creative young people who weren't so bothered about the crime and squalor. Haring made his home in Greenwich Village, the most bohemian part of town.
What made Haring different from other artists was that he engaged directly with the city, and its inhabitants. Rather than confining his work to galleries he worked like a graffiti artist, leaving his iconic designs in public spaces all over town, like Banksy did in Britain a generation later. "My paintings themselves are not as important as the interaction between people who see them and the ideas they take with them," he declared.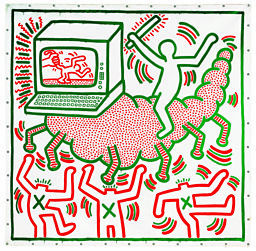 Keith Haring, Untitled, 1983, Vinyl paint on tarpaulin | © Keith Haring Foundation/Collection of KAWS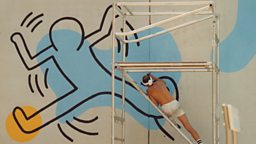 Artist Keith Haring paints a mural on a 150ft wall at Clarkson St and Seventh Ave in Manhattan on 20 August, 1987 | Mark Hinjosa/Newsday via Getty Images
Haring's street art made his name. He was invited to exhibit in prestigious galleries but even in these conventional spaces he adopted an unconventional approach. Rather than simply hanging paintings on the walls, he painted the walls, floors and ceilings.
Like his hero Andy Warhol Haring had no hang-ups about becoming a commercial brand.
He collaborated with DJs. He had as many shows in night clubs as he had in galleries. His feelgood pictures captured the frenetic energy of dance music. He hung out with hip young artists like Jean-Michel Basquiat but he was equally intimate with the club scene.
New York's thriving gay underground was part of what made this time and place so special. New York was a place where Haring could come out, and express his sexuality.
He led a liberated life and this sense of liberation was reflected in his paintings. "Sexual energy may be the single strongest impulse I feel – more than art," he said. His art wasn't confined by his homosexuality. On the contrary, it gave his work a cosmopolitan appeal.
Easy to enjoy and easy to understand, Haring's imagery knew no boundaries. He was big in Japan. He was feted throughout Europe. He painted the Berlin Wall. Sexy and accessible, his art encapsulated the 1980s. He opened Pop Shops in New York and Tokyo. His Radiant Baby and Barking Dog designs were emblazoned on all sorts of merchandise. Like his hero Andy Warhol he had no hang-ups about becoming a commercial brand.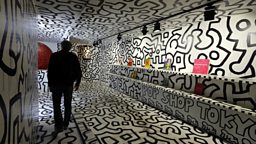 'Tokyo Pop Shop (Container)', an art creation by Keith Haring, displayed at the Cenquatre art center Paris in 2013 | Francois Guillot/AFP/Getty Images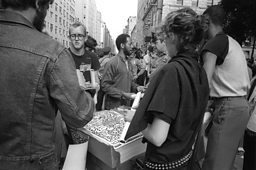 Joseph Szkodzinski, Keith Haring handing out No Nuke Posters at a No Nuke Rally, Central Park, NYC, 12 June 1982 | © Joseph Szkodzinski, 2018, thefoundimage.com
Political activism played a key role in Haring's art. Compelled to speak for his generation his work responds to many prevalent issues of the 1980s. He addresses drug addiction and the crack cocaine epidemic in New York city in his 'Crack is Wack' mural, now a designated landmark. His Free South Africa poster of a black silhouetted man trampling a white silhouetted man who holds a noose around his neck speaks out against racism and apartheid. He encouraged AIDs awareness with posters that praised safe sex and for an anti-nuke rally in 1982, he produced 20,000 copies of a poster he freely handed out.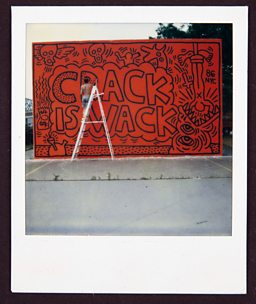 Crack Is Whack | © Keith Haring Foundation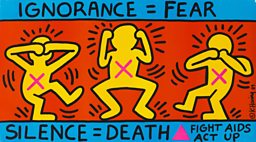 Keith Haring, Ignorance = Fear, 1989, Poster | © Keith Haring Foundation/ Collection Noirmontartproduction, Paris
By the time Haring turned 30 he was one of the most famous artists in the world but in 1988 he discovered he was HIV positive. Today, with the right treatment, this condition can be controlled but back then it was a death sentence.
To live with a fatal disease gives you a whole new perspective on life.

Keith Haring
Haring knew he only had a short time to live but he faced his mortality with equanimity. "I arrived, fresh from coming out of the closet, at the time and place where everyone was just wild," he said. "If I didn't get it, no-one would – so I knew it was just a matter of time."
Haring's last few years were among his most productive. Some of his later work was darker and more complex but he never lost his joie de vivre. He died in 1990, six weeks into the new decade.
"To live with a fatal disease gives you a whole new perspective on life," he said. "I always knew, since I was young, that I would die young, but I thought it would be fast – an accident, not a disease. I live every day as if it were the last. I love life."
Keith Haring is at Tate Liverpool from 14 June to 10 November 2019; Bozar, Brussels from 6 December 2019 to 19 April 2020; and the Folkwang Museum, Essen from 22 May to 6 September 2020.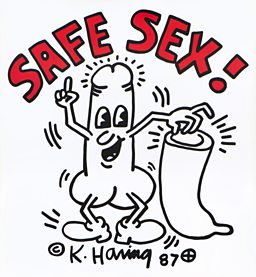 Keith Haring, Safe Sex!, 1987, Poster | © Keith Haring Foundation/Collection Noirmontartproduction, Paris