Main content
Eight things we learned from Lily Allen's Mastertapes
Confessional singer-songwriter Lily Allen was just 21 when her first single, Smile, reached number one in the UK singles chart. Her debut album Alright, Still went on to reach triple platinum sales. A Brit Award for British Female Solo Artist and three Ivor Novello Awards later and she's back with her latest album, No Shame, which picked up a nomination for 2018's Mercury Prize.
1. She was really young when she started writing songs
Lily says it's hard to pin down exactly when she started creating songs: "I wrote silly things in my head… when I was a teenager." Before that she used to make things up in the car with her mum: "She definitely got me into the rhyming couplets thing." By the age of just 19 Lily was writing and recording professionally.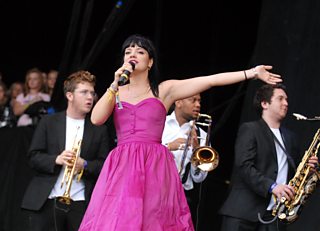 A 22-year-old Lily at Glastonbury in 2007
2. Her family were shocked when she became a performer
Lily's mum is film producer Alison Owen and her dad, Keith Allen, is a comedian and actor. However, despite the showbiz genes, there was certainly no expectation from her family that she would be a performer. "I think they were quite shocked," says Lily, "I wasn't that kind of character actually as a child… I don't think anyone saw it coming at all… I don't think I even really saw it coming."
3. Lying makes her anxious
Although the songwriter recognises the risks of being so candid in her work, she's a "big believer in truth". She doesn't like the feeling she gets when she lies: "It gives me anxiety," says Lily, "so I just sort of spray out the truth because I don't want the other stuff!" Autobiographical song writing also comes naturally to her: "It just seems logical… If you're going to write a piece of music then it should be about something you feel… Of course you're going to write about your experiences," she says, "that's all I've got to offer!"
4. She once unwittingly stole a Take That song
Stealing from another artist's work is something she would never knowingly do. "If I've taken something from someone else's [song]," says Lily, "I would never try and hide it." But when it came to one band's work, she didn't actually clock that she'd copied it. Her record company visited the cottage where she was working and she told them she'd written "a hit" – but when she played it to them they said, "Yeah, it's number one in the charts right now." It was Take That's Shine. "I didn't realise I'd stolen it," says the singer.
5. She's a better writer when she's angry
In her memoir, My Thoughts Exactly, Lily says she writes best when she's upset, hungover, sleep-deprived or driving. "I've got a lot to say when I'm angry... and sad. I'm not very good at expressing joy!" Lily says she's "in a much better place" than when she wrote No Shame, and has worried that contentment could make the songs dry up, but takes comfort from knowing she can always write musicals or songs for other people.
6. She is really proud of No Shame
"I didn't know who I was then… I was a kid and I was just doing what I thought pop stars should do."

Lily Allen
"I'm proud of the whole album," says the singer. "There's a reason that it took so long and there's a reason that it is the way that it is and sounds the way that it sounds and that's because I really cared about it and I wanted it to be brilliant, and I think it is brilliant." She explains: "I think it is the best version of me and I'm not saying that everything that went before that was not good, but I didn't know who I was then… I was a kid and I was just doing what I thought pop stars should do."
7. She used to have a poster of Stephen Gately from Boyzone on her wall
Lily says she didn't really have role models when she was younger ("I just never really put people up on a pedestal") but she does admit that she had one lone poster of Stephen Gately from Boyzone on her wall. She also recalls how Mike Skinner from The Streets inspired her as a songwriter. She loved the way he could "paint a picture of inner city life" and it led her to think, "Oh, I could do this."
8. Her most "useless talent" involves socks
Lily says her most useless talent is taking her socks off and wrapping them in a ball with just her toes. However, she refuses to demonstrate it because it would mean revealing her feet and that's her "worst nightmare!"