Main content
Olly Murs reveals when the new album 24 Days is out and the inspiration behind it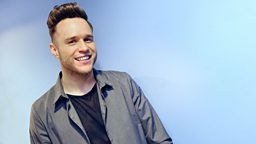 We caught up with pop star Olly Murs this week where he gave us the lowdown on career plans, songwriting inspiration, and when we can finally get our hands on his fifth studio album, 24 Days.
How did the single 'Don't Know Love' take shape & what's the story behind it?
"Basically, I went through a breakup last year so I wanted to write the album and put some of those emotions across in my music – I didn't expect a song like that to be my first single. But it's not just about me talking to her; I'm talking to everyone.

"It's explaining that you don't know love until it feels like your heart's getting cut up! It's me saying to people that's how I feel and it's obviously quite personal. Everyone's been through a breakup and had a relationship that's not quite worked."
The above trailer may contain third party adverts.
Why was it the preferred single to return with?
"I've never really written anything like that before. Everything I've ever written has been positive and happy and the production of this song and the energy keeps it there; the core of the song, however, has a real emotional lyric that people can relate to.
The aim was to come back with something completely different.

Olly Murs
"It's sad but it's kinda like 'I'm moving on' and I wanted to do a different song for my first single and not the same as it's always been. As an artist you need to evolve, you need to change, you need to move forward. It was nice for me to express that to my fans and move my music forward."
Over the past seven years you've had a successful pop and presenting career, what can we expect over the next seven?
"I don't know! It's a big blur at the minute, obviously TV and music are my two loves and I love radio too. For me, I just love being in the entertainment industry. Music's the focus but I've dipped in and out of TV before and done a bit of radio.
"I think my future is to keep releasing music – I've got an amazing label, Sony and RCA, and I've a contract with them for the next 3 or 4 years so the plan's to just keep going, keep releasing music and albums as long as people want me here!"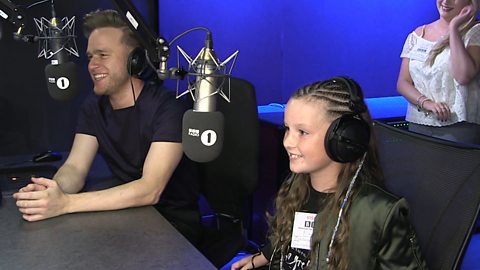 Greg invited Millie to the BBC and found herself singing a surprise duet with Olly Murs!
And finally, what can we expect from 24 Hours and when do we get to hear it?
I've been working my hardest and I think it's the best album I've done.

Olly Murs
"The album's going to come out at the end of the year, we've finished it all now so its all ready to go out near Christmas. It's exciting for me because the last three albums that've come out have all gone to number one, so the pressure's there for this one to go to number one as well! I cant wait for people to hear it!"
So it seems Olly's going to have the album out for Christmas, woop! There's no official release date yet, so keep your eyes peeled...