Main content
Filming self-medicating dolphins
By Jonathan Smith, Producer of Blue Planet II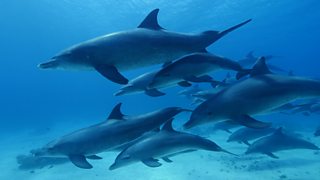 For One Ocean we wanted to show how important the oceans are to us. When series researcher Yoland Bosiger came to me with the story of bottlenose dolphins engaging in what was thought to be self-medicating behaviour in the Red Sea, I was intrigued. Then when she told me that the bush-like corals, called gorgonians, that they were rubbing against may potentially provide drugs and medicines for humans, I knew that it was a story that we had to try and film. But it would turn out that this, as with many of our sequences for Blue Planet II, would only be possible through a close collaboration with a scientist at the cusp of cutting edge research.
In Egypt's Red Sea a group of bottlenose dolphins head to one particular gorgonian and begin their unusual behaviour. Dolphin researcher Angela Ziltener is discovering that this unique behaviour is likely for much more than just a fun rub. Studies on gorgonians have proven that they are covered in a mucus layer that contains anti-microbial properties. Therefore when the dolphins run through the gorgonian it is likely this mucus will be applied to their body, which in turn, could potentially protect them from infection.
We will have to wait for the results of further tests being carried out on these Red Sea gorgonians to know specifically what their mucus contains. But it is possible that along with anti-microbial compounds they could also have anti-inflammatory and even anti-cancerous properties.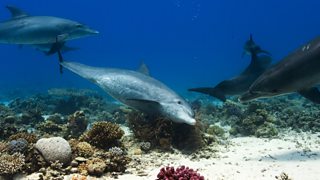 Angela has spent years studying these dolphins and through her incredible insights - and the unique access she gave us through her intimate relationships with these dolphins - we were able to follow them into their world - and reveal that coral reefs may become our medicine chests of the future.
But collaborating with Angela was not the only special relationship that unlocked a unique angle on these reefs. To fully take the audience to the wonderful world of the Red Sea, we wanted to show the reefs from the air. To achieve this assistant producer Rachel Butler, production coordinator Jodie Allt and cameraman Ted Giffords would find themselves doing something that very few civilians have ever done - joining forces with the Egyptian Military and taking to the air in a Chinook helicopter.
Through Angela's work studying the dolphins, she has gained help from the Governor of the Red Sea in protecting the dolphins and their coral reefs. The Governor kindly facilitated our access to the giant sized helicopter, enabling us to film Egypt's reefs from the air showcasing the incredible juxtaposition of a barren desert right next to some of the most colourful reefs of all.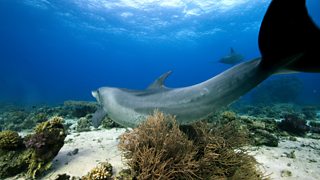 It is wonderful collaborations such as these that have enabled us access and opportunity to film in some of the most inaccessible locations and to document the most extraordinary new discoveries throughout the oceans of the World.