Main content
The Witterlist - 6th December 2019
It'd only been a week since Knives Out was released and Mark and Simon were already back getting sleuthy with Edward Norton's new detective noir, Motherless Brooklyn. They also took a trip into space and back again and delved into familial relationships, both sweet and sour.
The Interview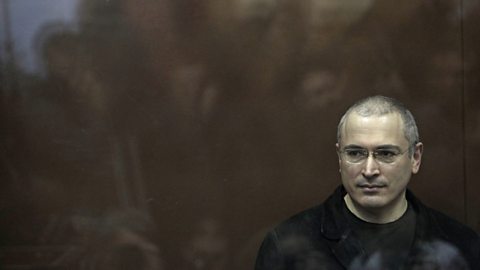 Simon Mayo and Mark Kermode talk to Alex Gibney about his new film, Citizen K.
Alex Gibney joined Mark and Simon down the line to talk about his new documentary, Citizen K. The film explores post-Soviet Russia from the perspective of Mikhail Khodorkovsky, an exiled Russian businessman who is a vocal critic and enemy of Vladimir Putin. Alex told Mark and Simon about the history of oligarchs in modern Russia and why Khodorkovsky in particular made a good subject for a documentary – in a story he says is a mix between a gangster film and a western.
Edward Norton spoke to Simon last week about his second directorial effort – and his first in 20 years – Motherless Brooklyn, a 1950s-set noir that stars Norton as a detective with Tourette's syndrome on the hunt for a murderer. It has a star-studded cast – Willem Dafoe, Bruce Willis, Gugu Mbatha-Raw, Alec Baldwin – and a terrific Thom York score. It's a passion project for Norton that took him about two decades to get made, but it mostly escapes the traps of a vanity project with enough talent brought in to make it a genuinely interesting and intriguing mystery.
In Ordinary Love, Liam Neeson and Lesley Manville star as a married couple whose long and happy life together is thrown into turmoil by a cancer diagnosis. Mark loved it on pretty much every level, but in particular writer Owen McCafferty's smart, insightful and emotionally resonant script that marries life-changing events with the minutiae of everyday life.
Noah Hawley is best-known for his work in television – including Fargo and Legion – but he makes the transition to the big screen with his directorial debut, Lucy in the Sky. It's had some fairly pungent reviews ahead of its release, but Mark thought Natalie Portman's performance was completely convincing as her character's grip on reality slips in the face of an incomprehensible experience.
Shia LeBeouf stars as a version of his own father in Honey Boy, a fictionalised account of his childhood – which he also wrote – that follows a young child actor struggling with his mental health and a stormy relationship with the aforementioned dad. As a semi-autobiographical work starring the actor who wrote it, it could have easily slipped into something off-puttingly navel-gazing, but is in fact a thoughtful, well-played confessional ably directed by Alma Har'el.
Next week
Next week, our special guests are Hugh Grant and Matthew McConaughey talking about Guy Ritchie's latest film, The Gentleman.
Mark Kermode joins Simon Mayo to give his verdict on the week's movies