Main content
The Aboriginal Australian artist who found international fame with his unique vision
7 September 2018
Albert Namatjira was a pioneer of Indigenous Australian art who learned to paint aged 32. Lauded by critics and admired in galleries, his fans included a young Queen Elizabeth. His unique vision of the outback set in motion an art revival that ultimately re-imagined Australia.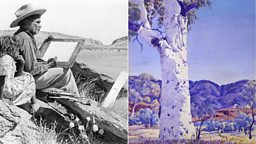 Albert Namatjira photographed by Alan Lambert in 1954 / Getty Images | Still from episode one showing detail of an untitled painting by Namatjira depicting a gum tree in the outback, a favourite subject
In his new series for BBC Four, James Fox traces the momentous impact of the west's contact with the peoples and cultures of the Pacific. Episode one focuses on Australia's indigenous culture, the oldest continuous culture anywhere in the world.
The arrival in 1770 of Lieutenant (later Captain) James Cook at Botany Bay would have a seismic impact on Australian history. Over the following centuries Aboriginal peoples were destroyed or marginalized as the new nation developed. But a 20th century revival through art enabled them to re-imagine an Australia of their own.
By 1900, Aboriginal people had been written out of the story of modern Australia and its art. But that began to change, and in an unlikely place. Australia's Western Desert is a vast, arid landscape in the country's interior. It is isolated and inhospitable. In this supposedly barren landscape the seeds of an Aboriginal revival were sown; an artistic revival that would first be recognized in Australia and then around the world.
The revival began in Hermannsburg, a small Aboriginal settlement 80 miles from Alice Springs. At its centre is a Lutheran mission, which from 1877 offered indigenous people accommodation, education, and some protection from white settlers - in return for conversion.
Many boys and girls grew up in its peaceful surroundings. One of these, Elea Namatjira, was born at the mission in July 1902 and grew into a studious young man who worked as a carpenter, a blacksmith, a stockhand and a camel driver, and who knew the landscape inside out. His Arrente heritage meant he was a traditional custodian of the lands in the area.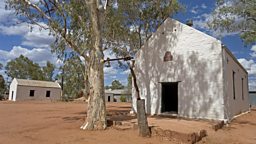 Hermannsburg Lutheran mission in 2006 / Getty Images
Oceans Apart
James Fox's series traces the west's impact on the cultures of the Pacific. A story of exploration, encounter and exploitation.

James Fox argues that Aboriginal people are recolonising Australia with their imaginations.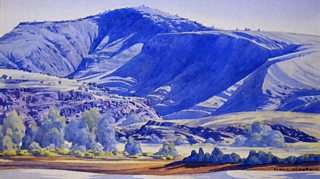 "This is Mt Hermannsburg, the great guardian mountain that towers above the village in which Albert Namatjira was born. He's tried to capture the low, milky light that transfigures this arid landscape into a kaleidoscope of hues. The mountain becomes an irresistible pattern of blues, teals, turquoises and purples."

James Fox in episode one of Oceans Apart, BBC Four Monday 10 September at 9pm.
But in 1934 his aspirations changed dramatically when two artists arrived in Hermannsburg for an exhibition. Elea was transfixed by the paintings he saw. Later he begged his pastor to purchase a small box of watercolours, and when it finally arrived he started making his first paintings.
Namatjira's work was soon being shown in Australia's cities, and the white public was captivated.
Two years later one of those artists, Rex Battarbee, returned to Hermannsburg on a painting trip. Elea acted as his guide to scenic areas and in return Battarbee taught him the priciples of watercolour landscape painting. The two painted alongside each other, and Elea quickly developed his own unique style of landscape painting and began signing his pictures 'Albert Namatjira' (his baptismal name at the mission).
Battarbee included three of Albert's works in his 1937 exhibition in Adelaide, and arranged a solo Namatjira show in Melbourne the following year. The white public was captivated and sold-out events in Sydney and Adelaide followed, although Namatjira consistently returned to his homeland in the outback.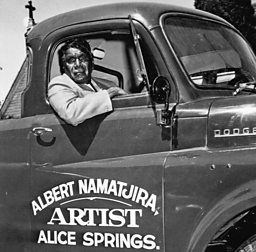 Albert in his branded pickup / Getty Images
James Fox examines three key Namatjira watercolours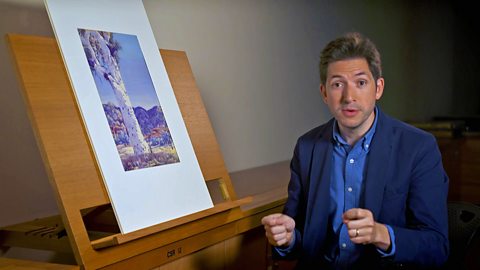 Three key Namatjira watercolours, housed at the National Gallery of Australia in Canberra.
Namatjira's paintings have in the past divided opinion. Some think they are sad symbols of Aboriginal assimilation. But for others they are powerful hybrid artworks - a Western-style vision of Australia that no Westerner could have produced. What's certain is that by the 1950s they had made him famous, with Namatjira reproductions adorning the walls of many Australian middle-class living rooms. He was awarded the Queen's Coronation Medal in 1953, and the following year he met the young Queen Elizabeth in Canberra.
Like Albert before them, Namatjira's descendants seem to have a rare ability to capture the vivid colours of the Australian desert.

James Fox
In 1957, as amazing as it seems, he became the first Aboriginal person to be granted full Australian citizenship. But it was this that led to his downfall. As a citizen he was now allowed to drink alcohol, but his friends and relatives who came under the Welfare Ordinance were not. When a drunken fight at a party at Namatjira's camp at Morris Soak led to the death of a young woman, Namatjira appeared at the inquest to give evidence.
Some months after this tragedy, Namatjira was charged with allowing Henoch Raberaba, a relative, access to a bottle of rum. He was found guilty and sentenced to six months in prison. Douglas Lockwood, a journalist on Melbourne paper The Herald, remarked: 'in my 20 years experience... I have never witnessed a more deeply moving drama. Albert was a heartbroken old man, bewildered by events, for which, so it was implied, he was to blame'.
Albert Namatjira was broken by these events. Although his sentence was reduced for good behaviour, and he was reunited with his wife of 38 years, he seemed to have lost the desire to paint. Less than a year after his release, he died of a heart attack. The Australian public expressed shock and outrage at the time of his trial and his subsequent death.
Yet Namatjira left a legacy. Throughout his life he encouraged his family and friends to take up painting. And they are still doing so today. James Fox says, "I accompanied Albert Namatjira's grandchildren on one of their regular watercolour trips near Alice Springs. Like Albert before them, Namatjira's descendants seem to have a rare ability to capture the vivid colours of the Australian desert. And I have seen first hand how important art has become to them."
Other Aboriginal artists would do something completely different. Watch the first episode of Oceans Apart: Art and the Pacific to discover how Aboriginal motifs have come to symbolize modern Australia itself.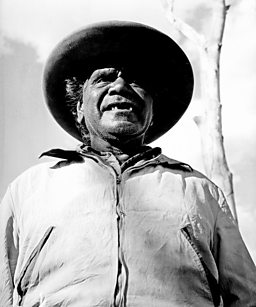 Albert Namatjira in September 1958 / Getty Images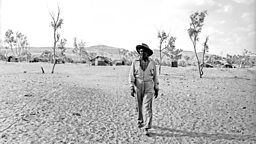 Albert Namatjira in 1958 / Getty Images
Arts highlights on BBC iPlayer
Watch 12 mesmerising performances from Dancing Nation, a sampler of UK dance in all its forms.

Chizzy Akudolu presents a new collection of dramatic short films.

The Oscar-nominated actress gives a singing masterclass.