Main content
Meet the Artist
Karrie Fransman
Karrie Fransman is a comic artist who has produced two graphic novels, Death of the Artist and The House that Groaned, with Penguin Random House. She has also created comics for many clients including The Guardian and The Times.
I tend to pencil the whole story first, then paint and then photoshop the whole comic. This is the fastest way I work. I always make a detailed, rough sketch
She collaborated with BBC Radio 3, Somethin' Else, the award-winning writer Naomi Alderman and animator Adam Zygadlo to create a short film for Wolf in the Water. This gripping drama follows Jessica, Shylock's daughter from Shakespeare's Merchant of Venice, as she becomes entangled in a murder.
Karrie was excited to see how illustrations could bring this dark and thrilling radio play to life and allow it to reach a new audience. We asked Karrie to document her drawing process in creating the animation.
Here, she talks us through the process: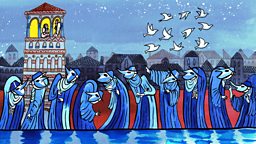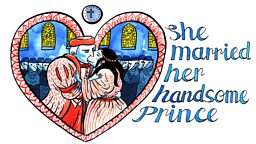 A major part of creating visual stories is the planning and art directing of each page. Fitting in all the important elements can be tricky. So I spend a surprisingly long time on these ugly sketches!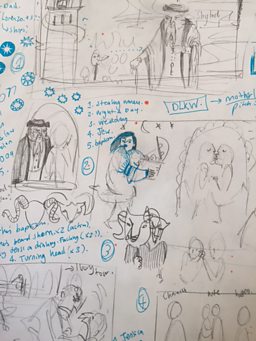 I loved Jessica's character: she adopts many roles, and is not to be trusted. The image of Jessica wearing a mask seemed to fit nicely in with the murder mystery story and the setting of olden day Venice.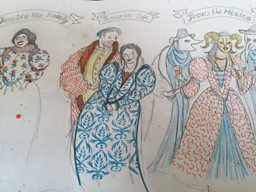 I drew on the title Wolf in the Water by adopting an inky style that allowed me to splash colours around the page. I drew an outline in ink and then painted watercolours on to a separate page using a light-box. I scanned both these pages into my computer and merged them on Photoshop.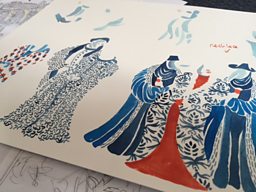 Here you can see the progression of this page from idea doodle to rough sketch, inked page, painted and the final merged image on the computer. You can see how I adjusted the murdered man's body as I went and added some ink splashes and textures in the final image.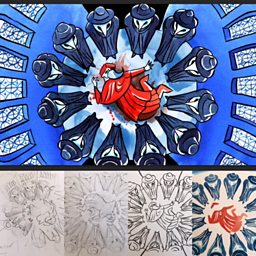 It was great fun to work with such a talented team to bring Naomi's story to life. Here's the final result!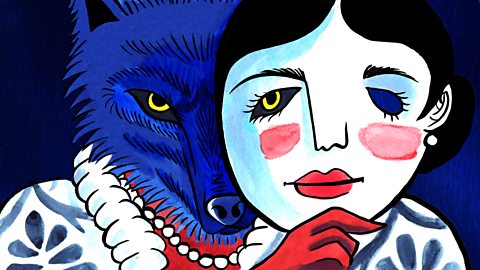 A bold new drama inspired by Shakespeare: The Wolf in the Water by Naomi Alderman.
Exceptional readings and dramas, available to hear online or to download to your tablet or smartphone in the iPlayer Radio app.