Main content
Schools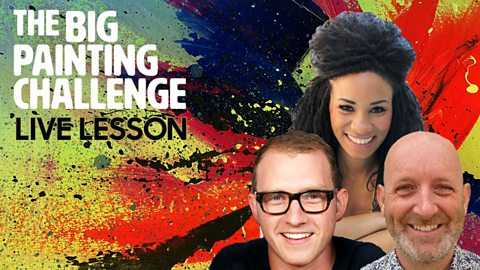 CBBC's Michelle Ackerley and Ricky Martin learn how to draw characters from Nick Sharratt
Get Involved
Schools can get involved with The Big Painting Challenge in a number of ways. Why not watch the recording of our Live Lesson with illustrator Nick Sharratt and then use our classroom activity pack to get your students drawing? Then it could be time to unleash their art skills on our postcard painting competition The Little Painting Challenge which has a special category for young artists.
We've also produced several "How To" films presented by programme judge and artist Lachlan Goudie giving hints and tips on various styles of drawing and painting which you can find them in our clips section.
Live Lesson
At 11am on the 25th of February 2015, we streamed a Live event from the Library of Birmingham designed to get your class drawing, and thousands of you watched and drew along right here on our website.
Join Michelle Ackerley, Ricky Martin and Nick Sharratt
If you didn't manage to see it live, you can watch the whole show again on this page.
CBBC's Ricky Martin (Art Ninja) and Michelle Ackerley were joined by Nick Sharratt (illustrator of the Tracy Beaker books) to take you through a fun packed drawing adventure.
We had so many questions and pictures sent in from schools around the country that we didn't have time to show them all in, so instead we've included a selection of just some of the hundreds of drawings you sent in here.
Don't let the fun stop there, why not download the classroom activity ideas and keep on drawing?