Main content
'I was there': Moscow Olympics boycott, 1980
5 live Daily looks back at an historic moment through the eyes of those who were there.
A Soviet invasion of Afghanistan sparks international outrage
Russian forces entered Afghanistan in December 1979, at the beginning of a conflict that would last nearly ten years.
Margaret Thatcher: "One way to bring home to the Russian people the enormity of what has happened... is to boycott the Olympic Games."
The invasion spurred US President Jimmy Carter to issue an ultimatum on January 20 1980. He said the United States would boycott the Moscow summer Olympic Games if Soviet troops did not withdraw within one month.
British Prime Minister Margaret Thatcher backed the boycott and pleaded with British Athletes not to go.
Olympic official Dick Palmer defied the Prime Minister
Dick Palmer was a member of the British Olympic Association, which voted to take part in Moscow.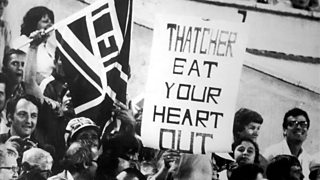 There were protests against the boycott
Speaking to Peter Allen on 5 Live Daily, he said: "We had letters by the score urging us not to go - but we passed a resolution to go to the Games and allow the individual athletes to make their decision to go or not."
The British hockey, fencing and equestrian teams all chose to stay away from Moscow. In total, almost 6,000 competitors from 81 countries arrived compared to the 10,000 expected.
Why I went to the Moscow Games
Swimmer Duncan Goodhew was the first British athlete to win gold in Moscow.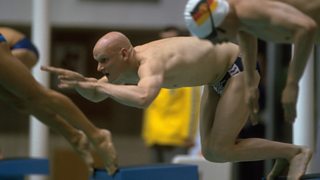 Duncan Goodhew: "It seemed a very bad idea to me to stop talking sport because it was one of the few things we could talk about."
Because he'd defied his government to travel to Moscow, there was no union flag and God Save the Queen wasn't played during his medal ceremony. Duncan instead had to receive his gold medal with the Olympic anthem and flag.
"It was the most awful time. My step-father was a real war hero and he elected not to go. There was a huge argument between him and my mother about it."
He describes the games as "like a cultural atom bomb landing on Moscow" and believes it shifted people's attitudes.
Why I stayed away
Lucinda Green was on the British equestrian team and didn't travel to Moscow.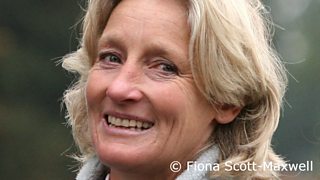 Lucinda Green: "I don't regret what we did and that's a big thing to say, as you don't get too many shots at the Olympics."
Instead she competed in an alternative Olympic Games in France that was organised as part of the protest against the Soviet invasion of Afghanistan.
"We just felt - and I just felt too in my own heart - that these Russians had walked in on someone else's freedom and how can we go and play games there as though we don't care?"
A golden era for British athletes
Despite the political storm brewing back home, the 1980 Summer Olympic games became a memorable moment in British sporting history as Team GB took home 21 medals, five of them gold.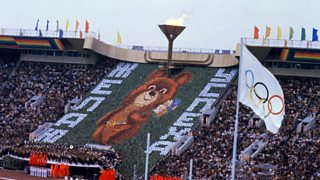 This wasn't the first sporting boycott and it wouldn't be the last. Fourteen nations refused to take part in the 1984 Olympics in Los Angeles in response to the events of 1980.
Dick Palmer told Peter that sport and politics will always be intertwined: "We've just run a very successful games in London and that wouldn't have taken place without the support - indeed the financial support - of government at every level."
You can listen to a short clip here...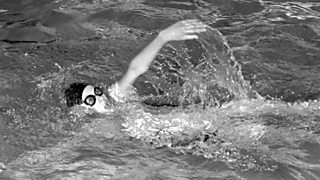 Sharron Davies: "I genuinely felt that by being there, our voice was a lot louder than if we didn't go."
Sharron Davies won silver in the 400m relay in Moscow, her only Olympic medal. She told Peter it was the right decision to take part in the games.
If you have a few more minutes...