Main content
10 things we learned from Ian Wright's Desert Island Discs
Ian Wright is a former footballer and is now a TV and radio broadcaster. He grew up in south-east London, and unusually he didn't sign with a professional football club until he had reached his early 20s, starting at Crystal Palace in 1985. After impressing as a forward at Palace, he was bought by Arsenal for a record fee in 1991, staying there until 1998.
Ian retired in 2000 and in total, he played 581 league games, scoring 387 goals for seven clubs in England and Scotland, and earning 33 England caps. Since his retirement from football, he has had a career in television and radio and continues to appear as a pundit on Match of the Day. Here's what we learned from Ian's Desert Island Discs:
1. Ian Wright was a late starter as a professional footballer
When he signed for Crystal Palace aged 21 he was a Sunday League player who worked as a labourer to feed his young family. It was his foreman who said his job would be waiting for him if football didn't work out that persuaded him to take the deal. He went on to be the second highest scorer in Arsenal's history and to win 33 caps for England.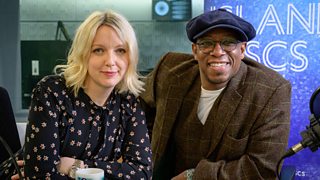 2. Ian thinks his 'best match' was his very first league game for Arsenal
"It was with my dear friend David Rocastle. We grew up on the same estate. I've known David since he was five and I was nine and he was an inspiration to the whole estate because when he was 15, 16 he got signed by Arsenal as a youth team player."
He was the one who'd encourage Ian saying: "You should be playing, you should be trying to get in." "It's moments like this," says Ian, "where it's difficult to speak about him because he was always looking out for me, wanted me to do the very best I can with the opportunities. When I got to Arsenal our first league game was away to Southampton and I scored a hat-trick in the game and David scored the other goal, it's the best football match I've ever played in."
David Rocastle died aged just 33 from Hodgkin lymphoma. "I don't think of the accolades or the trophies I've won or the England caps – which mean the world to me – all I think about is the fact that I played with him for a year as a professional."
3. Ian's first music choice for the island is his 'surprise disc'
"I know people would never ever guess this one," says Ian, because it's music that he reckons no one would ever associate with him. It's an aria from Mozart's The Marriage of Figaro, as featured in the film The Shawshank Redemption. On his one hour commute to Arsenal this is the first track Ian would play, because he wanted to be calm at the start of the journey, before turning up the volume: "When I'm close to Arsenal I'm probably blasting out The Prodigy or something like that. But this is what I'd start with."
4. He would have cried the first time he played for England except for Paul Gascoigne
Seeing his boots under the England number 9 shirt in the dressing room at Wembley, Ian could feel the tears welling up: "I remember Gazza saying: 'Look at Wrighty, he's going to cry.' And I swear, if Gazza doesn't say that then I'm probably going to burst into tears."
5. A teacher at Turnham Primary School changed his life
Ian describes how he had a difficult time at school, finding it hard to concentrate until he met one particular teacher, Mr Pigden, the person Ian credits with changing his life: "I don't know why he chose me but he did. He gave me responsibility, I used to collect the registers from the teachers, then they made me milk monitor. It was really good, I just felt important. He wouldn't let me play football if he heard I'd been naughty in class. He just gave me a sense of feeling like I had some use… He was the greatest man in the world." Ian dedicated his 2016 autobiography to Sydney Pigden.
Mum wasn't really fussed. Maybe because I used to leave the house in my school uniform. And then get changed and go to work!
Mr Pigden repaid the compliment telling Ian that he was more proud when Ian made his England debut than his own flight over Buckingham Palace as a pilot to mark the end of the Second World War.
6. Ian left school at 14 and became a plasterer
"How did your mum react?" asks Lauren. "She wasn't really fussed," replies Ian, before adding: "Maybe because I used to leave the house in my school uniform. And then get changed and go to work!"
7. Ian was in prison in 1982 for 18 days
Ian received a prison sentence for failing to pay fines and driving without a licence, among other offences. "I couldn't take it…" he says. "I cried from the first day to the last day. It made me realise I can't do this. When I came out it was a case of trying to find the kind of job that would pay me so I could focus on getting that trade until [my football career] started to happen."
8. Success on the football field brought its own problems
"You start to think you're a bit special," says Ian.
"A little bit too big for your boots?" suggests Lauren.
"Absolutely, I went through that. If I'm totally honest [they're] not my proudest years. I caused a lot of problems for my family… I made some terrible decisions. I found that when I went on the football pitch everything I was doing off it didn't bother me. On the football pitch is sanctuary."
9. So how did he turn things around?
There were times at Arsenal that Ian's temper got the better of him. "I needed therapy. I'd got to a stage in my life where you're not hearing the word 'No' because you're doing do so well and that's dangerous to the point you're obnoxious. I went to see this wonderful woman and she recognised after the first few sessions [and said]: 'You're not telling me the truth - why have you come here? If you want to waste money go and do it somewhere else because I've got too many people who need help and you are wasting my time.' She said that and then I burst into tears… and then I poured it all out and the therapy was the best thing that ever happened to me. What I realised was that a lot of it stemmed from my youth and when I was a child. One time she asked me about being hugged. She said 'Can you remember the first hug you got from your mum? Can you remember any time your step-dad showed you affection?' And I literally couldn't remember anything like that."
How did the therapy help? "It made me realise that it wasn't great when I was growing up but I turned it into something and I'm just pleased that I got to a stage… I didn't want to be that guy that when I looked in the mirror I didn't like myself."
10. What are his hopes for the future?
"All I want my kids to do is be wonderful with their kids, to do the best they can, give them the best education and lots of love," says Ian. "Now, I feel I'm in an unbelievable place, I've got an unbelievable woman and with everything I've gone through to get to marry someone like my wife Nancy I know someone is looking out for me."