Main content
Scarlett Moffatt dished all her Jungle Queen gossip over Breakfast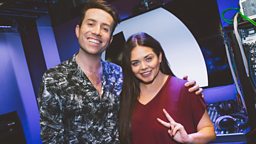 The delightful Scarlett Moffatt came into the Radio 1 Breakfast Show, the day after her birthday and the day before the launch of her new autobiography: My Life Story - Sofa, So Good!
(Do you see what she did there? We LOVE a pun, and that's the best one we've heard this year...)
In a typically chirpy and honest mood, Scarlett chatted about everything from fake teeth to cow's urine. Read on to find out exactly what went down...
She doesn't know much about the new series of I'm A Celeb - luckily!
VERY excitingly, Scarlett is going to be back in the I'm A Celebrity Jungle this year - sort of. She'll be on the other side of the fence, hosting the spin-off show Extra Camp with Joel Dommett.
Nick revealed that the show's makers are introducing shots of cow's urine, which apparently are massive in the German version of the programme. But beyond that, Scarlett wasn't able to give us much goss - which is, from the sounds of it, probably for the best.
She doesn't know yet which Celebs will be going in. "Honestly, I think they daren't tell us!" And it sounds like if she did, she'd definitely let it slip. "Course I would," she said. "Don't tell me!"
In fact, Scarlett seems pretty relaxed about the whole deal. "I feel like you know more than me," she told Nick. "I'm just getting on a plane and going there!"
Her training for I'm A Celeb last year was SAS style tough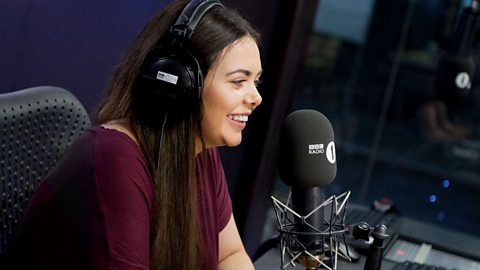 Her dad took it all very seriously and ruined scotch eggs for her for life.
While Scarlett says she never expected to win I'm A Celeb last year - "I thought I'd get at least a week out of me hammock, but I thought I was going to be one of the first to leave" - it sounds like she actually had some PRETTY intense advance training from her Dad.
"Me Dad would put loads of plastic spiders around the house," she revealed, "And he forced me to eat Scotch Egg, because he said it's a bit like kangaroo bits."
Bear Grylls? Ray Mears? They've got nothing on Scarlett.
She revealed the identity of her ultimate teeth icon
Poor Scarlett, who damaged her teeth in an accident years ago, is getting a new smile next week. "I just fancied new teeth, the ones that don't look like they're having a party without us," she joked.
Unfortunately, she then had a dental-related mishap in the studio. "I get me proper veneers in next week, and I forgot I had plastic teeth in," she said, "And I've just bit some peanut butter and it's all stuck to me teeth! It's not very glam." Honestly though, who can resist peanut butter in the morning? Nobody, that's who. And Scarlett, we thing you ALWAYS look glam.
It turns out that Scarlett actually modeled her new teeth on her favourite celebrity smile - Cheryl's, to be exact. We'd be pretty happy with her teeth too, tbh.
All the A-List want a piece of her right now
There's no doubt that Scarlett's life has been turned upside down - in the best possible way - since she won I'm A Celeb last year.
"I'm just meeting amazing people," she said, "I'll go into a meeting with Ant and Dec and just be like, 'This is my life?'"
But by far the maddest moment must have been when Tom Hardy - yes, TOM HARDY - asked for a selfie with her. We think we might have fainted just there and then...
Scarlett, we love you.