Main content
Margot Robbie: "I keep the Harley Quinn baseball bat next to my bed"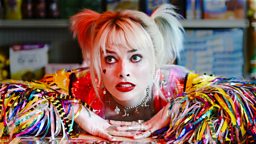 Margot Robbie's portrayal of DC super-villain Harley Quinn stole the show in 2016 film 'Suicide Squad'. So much so that she's been given license to take centre stage in follow-up 'Birds of Prey' – or, to give it its spectacular full title, 'Birds of Prey (and the Fantabulous Emancipation of One Harley Quinn)'.
In a new interview with Radio 1's Ali Plumb, Margot reveals how she initially didn't expect her character to become such a worldwide phenomenon, to the point where Harley Quinn was the go-to Halloween costume from 2016 onwards.
Watch the full chat on BBC iPlayer and check out a snippet below.
When Margot was first given the role, she thought Harley would be "somewhat overlooked," but "life changed pretty quickly." She first caught sight of Harley-mania when attending Comic-Con 2015. She was only halfway through filming 'Suicide Squad', which came out the following year, but hundreds of attendees were already dressing as their version of Harley. It was around that time that she pitched a follow-up film, which would eventually become 'Birds of Prey'.
I don't get to see action films with a female ensemble – ever

Margot Robbie
"I really fell in love with her," she told Ali. "People really seem to respond to her unflappable sense of humour." Her own Harley fandom is pretty clear – she keeps her character's baseball bat next to her bed as a memento, and "in case anyone ever breaks in" to her house. "They're gonna regret that."
For 'Birds of Prey', Harley assembles her own impromptu girl gang, which Margot is a massive fan of. "I don't get to see action films with a female ensemble – ever. The last one that really resonated me was the [2000] Charlie's Angels [remake], which I loved growing up. That was years ago! Why can't we have more of that?"
She also addressed some word-of-mouth rumours around the 'Suicide Squad' franchise. Is it true she never rehearsed with co-star Jared Leto (who plays The Joker)? It is indeed. Is it also true that he gave her a pet rat?! Yep, that too. What's stranger, she believes the pet rat now belongs to filmmaker Guillermo del Toro. Watch her explain her thinking in the video above.
Amazing behind-the-scenes tales from Timothée Chalamet, Emma Stone, Keanu Reeves, Saoirse Ronan and many more.
Ali Plumb reviews all the biggest releases and goes behind the scenes with Hollywood stars.
More Birds of Prey on the BBC
The stars give Steve the lowdown on how DC are pushing the superhero genre forward.