Main content
Why are people crowdfunding a GPS tracker for this cat?
Whether it's a jolly to Loch Lomond, his daily supermarket sweep or the 9:24 train to Edinburgh, George the cat has fans hanging on his every move.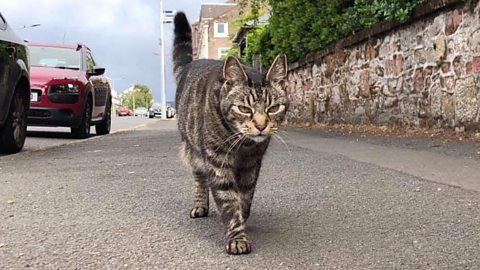 No one wanted rescue cat George — now he's a local hero in Helensburgh.
"He was a completely normal cat for the first two or three years" says Jackie, the daughter of George's owners — Elizabeth and Dennis Royal, a retired couple from Helensburgh.
But, as she explained to Kaye Adams on BBC Radio Scotland's Mornings programme, over the last six months or so the intrepid feline explorer has started having increasingly impressive adventures — raising his profile significantly locally and on social media.
"He goes daily to Tescos", says Jackie.
"He sits on the mat outside and waits for someone to come out then he goes in. He goes up and down the aisles, he goes and chats to the girls in the bakery. He goes to the Argyll bar for a pint. He goes to eleven am mass at the local chapel."
"He came from the cat protection league in Paisley - he's a rescue cat - he'd been in foster care for two years and no one wanted him - they find these cats very hard to home because they're no longer cute and we thought he'd be perfect."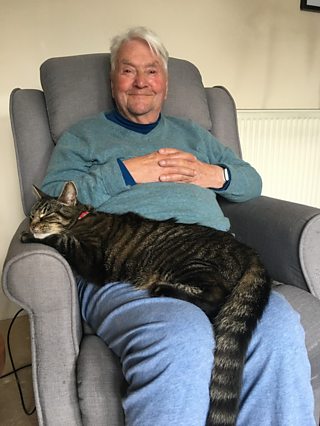 Dennis and George: 'George won't sit on anyone else's knee'
A comfort at home
George was welcomed into the home of Jackie's parents after their other cat died and although they were resistant to replacing her at first, Jackie persuaded them it would be good for them, particularly for her father who was showing early signs of dementia.
"He's been a real comfort to my dad", says Jackie.
"George won't sit on anyone else's knee - he loves my dad and my dad takes a lot of comfort from patting him and then the two of them fall asleep together."
"It's been great for him because he remembers the cat and it gives him something to look forward to every day to see."
Initially Jackie set up a Facebook page for George - George the Helensburgh cat - to explain to people that he was not a stray.
"The very kind people of Helensburgh kept taking him to the vet!"
But once the locals realised who George was, the page became a space for his fans to upload their videos and photos of his adventures. George-spotting, it seems, is quite a popular hobby in Helensburgh and he now has 1200 followers and a separate Instagram account.
"It's quite phenomenal I find it quite overwhelming how many people love George and follow him and go out on a daily basis to meet him", Jackie told Kaye.
Crowdfunding George's cat-ventures
Although cats are known to be able to roam far-reaching territories, George seems to have evolved, adding public transport links to his journeys.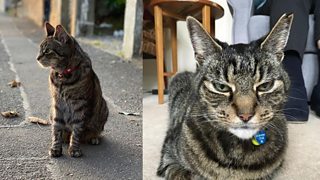 George has a growing Instagram following
"A couple of weeks ago he got on the 9:24 train to Edinburgh from Helensburgh Central!"
"The Scotrail staff messaged me and said luckily we managed to get him off before the train departed but he could have been anywhere I think there's 32 stops on the way to Edinburgh."
"Our Facebook fans are actually putting on a push to buy a GPS tracker maybe through crowdfunding and then we can get a website for him because he seems to cover a huge range of territory."
George visits Tesco every day
George visits BBC Scotland
Listen to Mornings on BBC Radio Scotland
Latest features from BBC Scotland
Scots language expert Billy Kay on the historic relationship between two ancient nations.

The chef bringing Glasgow its first Michelin star in 18 years.

Meet the enthusiasts plunging magnets into the dark depths, of the Scottish canals.

In the 1960s Aviemore became a luxury holiday destination.

On Shelf Isolation the stand-up praises Selfie by Will Storr.

Emma Caldwell's body was discovered in 2005.

The Drag Race winner on the 'perfect vessel to be unapologetically you'.

The Take That star reveals an important lesson.

The author was chosen to complete an unfinished work by William McIlvanney.

Stop your savings falling into the wrong hands with these tips.

Kenneth Macleod talks about the crofting origins of Stornoway Black Pudding.

Author Kerri Andrews reveals how women's experiences have been overshadowed by men.

Follow this clear advice if you find personal finance overwhelming.

Debora Kayembe's lifelong fight for justice has come at a cost.