Main content
The Nutcracker - Waltz of the Flowers and Russian Dance by Tchaikovsky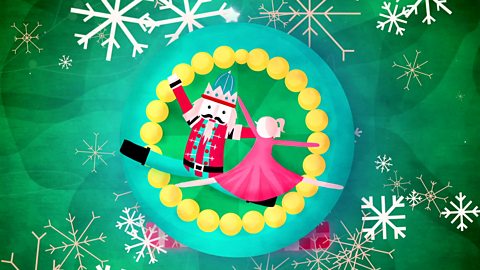 Lemn Sissay explores Tchaikovsky's music from The Nutcracker with beautiful animation.
The story of The Nutcracker and the Mouse King was transformed into a magical ballet in 1892 – and is now a Christmas favourite. A bit like a Tchaikovsky 'Toy Story', the enchanting narrative is full of wonderful characters and follows a young girl called Clara who is given a wooden nutcracker as a present. When the nutcracker comes to life as a handsome prince the two have to escape the Mouse King to reach the Land of Sweets, which is ruled by the Sugar Plum Fairy.
The two extracts from the suite give us the chance to look at very different dances: the whirling Russian Dance, based on a Ukrainian folk dance, and the elegant Waltz of the Flowers.
The Russian Dance - the Trepak - is a Cossack dance normally performed by men who would kick their legs out from a squatting position. In contrast, the Waltz of the Flowers is the final dance of the ballet where all the Sugar Plum Fairy's sweets celebrate Clara and the prince.
Listen out for: The different time signatures (beats in a bar) in each piece. The Trepak dance uses 2/4 (two beats in a bar) and the Waltz of the Flowers uses 3/4. This means it has three beats per bar and gives the waltz its distinct 'oom pah pah' feel.


Watch the introduction film at the top of the page then starting exploring the music:
Watch the full orchestral performance
MP3: Listen to or download the music
Lesson plans: Six weeks of learning and activities

Download lesson plans for six weeks of learning and activities for Tchaikovsky's music, as Powerpoint presentations or PDFs.

To enable all images to work in the Powerpoint files please save the file to your computer. To save to your computer: PC - right-click and save, Mac - ctrl-click and save.

Primary lesson plans:

Suitable for:

Key Stage 2 in England and Wales
Second Level, P5-P7 in Scotland
Key Stage 1/Key Stage 2 in Northern Ireland

Written by Rachel Leach.
Arrangements: Play the pieces with simplified parts

All parts have been designed to work together to enable mixed-ability groups to perform together. The parts scores for Tchaikovsky contain both pieces in one file. See more information about the parts below.

Beginner/pre-Grade 1:

Intermediate/Grade 1-3:


Grade 4-5:

Other scores:

Please get in touch with the Ten Pieces team if there are minor adjustments you would like to make for your ensemble.


Notes from the arranger:

By Iain Farrington

All parts have been designed to work together to enable mixed-ability groups to perform together. A certain amount of simplification has been required to adapt the pieces for mixed-ability. Some pieces have been cut to allow a 3-5 minute general duration and to remove especially difficult passages of music. A successful rendering of each piece would require the essential melodic material and bass line which are often in the Grades 4/5 parts, especially in the piano.

There are scores for each difficulty level plus three other scores for each piece:

Grouped according to ability
Grouped according to instrument type
'Short score' in C, grouped according to ability

There are three ability levels – beginner, intermediate (Grades 1-3) and Grades 4-5.

Flute parts can be played by the violins
Oboe parts can be played by the flutes and violins
Trumpet parts (in Bb) can be played by the clarinets.
Violin parts can be played by the flutes (except when in the lowest register)
The 'percussion' part is a beginner part and can be played on any drum. It adds a simple rhythm layer to each piece. Timpani and full percussion parts are for intermediate or Grades 4/5

The parts scores for Tchaikovsky contain both pieces in one file. Please note:

Russian Dance: The time signatures have been modified from 2/4 to 4/4. This is to allow fewer bars overall, making counting easier (especially with rests).

Waltz of the Flowers: There is a cut from bar 140 to bar 275 in the original.
Watch the full performances
About the composer
PYOTR ILYICH TCHAIKOVSKY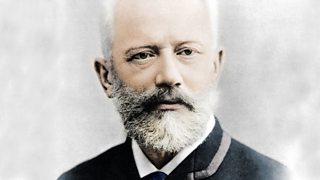 BORN: 1840 / DIED: 1893 / NATIONALITY: Russian
Pyotr Ilyich Tchaikovsky (pronounced PYOT-uhr il-YEETCH chigh-KOFF-ski) wrote some of the best known and most performed music of all time. He was most famous, and indeed very famous, for his wonderful and exciting ballet scores and symphonies. In both he demonstrated a great skill with melody, unmatched orchestral energy and the ability to express the deepest of emotions. His 'real' life wasn't a happy one at all though. His mum died when he was just 14 and he missed her terribly. He actually wrote most of his early pieces for her. As an adult he had terrible doubts and constantly wrote to his brother about how much of a fake he felt. It is in his sublime music that he expresses all of these feelings and that's why his music is some of the best loved and most performed in the world – happy, sad, excited, miserable, Tchaikovsky's music really makes us 'feel'.