Main content
The Rachael Bland New Podcast Award
*** THIS COMPETITION IS NOW CLOSED ***
Those who have progressed to the second stage will have received further instructions (via the email address used to enter the competition).
Please bear in mind that, if you are successful, the email could be hiding in your 'junk' email folder.
If you haven't received an email, thanks for entering and your interest in the Rachael Bland New Podcast Award.
===============================
What do you want to get the nation talking about?
If you have a passion that you need to get off your chest, this award is for you.
Rachael was brilliant at getting a subject that no one wanted to talk about to go viral – can you do the same?
We're looking for those ideas that don't normally get the A list treatment you think it deserves.
(Please refer to the Terms and Conditions before submitting.)
Thanks to Rachael, there's already an incredible health podcast about cancer.
So tell us something we don't know. Be original and make us laugh.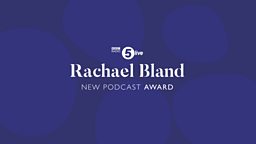 Bear in mind that the audience might not know anything about your subject and might not care as much as you do so think about how you're going to bring them along for the ride.
Rachael brought the cancer community together – can you bring people together in the same way?
If you manage to convince us that your idea is distinctive, compelling and packed with humour and charisma, then BBC 5 Live will produce a pilot series of it and showcase it on BBC Sounds.
About Rachael
Rachael was fun. If you ask people what they remember most about her, it'll probably be her laugh.
It was the type of laugh that made you want to immediately laugh with her.
Her wicked sense of humour shaped her outlook on life and was reflected in everything she did.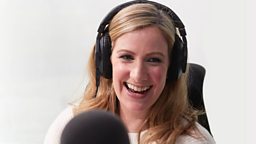 So it was no surprise that when she was diagnosed with breast cancer in 2016 she started blogging to try to make sense of the new situation she found herself in.
We have smiles to celebrate what she's achieved"

Deborah James from #YouMeBigC
That soon morphed into You, Me and the Big C; the award-winning podcast she created where people could talk about cancer and learn more about the effects of the disease.
It was creative and laugh out loud funny; teaching without ever preaching.
At times it was painfully moving, but then the sadness was often quickly undermined by an inappropriate joke.
It was Rach through and through and its success mirrored its creator.
Sharp and original, understated but with an incredible impact.
It changed the conversation we were used to having about cancer and literally saved lives with people becoming aware of symptoms thanks to the frank chats between Rach and her co-presenters Deborah and Lauren.
Rachael died in September 2018; less than 2 years after she was first diagnosed.
To honour the incredible woman and journalist she was, we're proud to announce the Rachael Bland New Podcast Award.
If you have problems submitting your entry, please send an email to rachaelpodcastaward@bbc.co.uk