Main content
Fig and Chocolate Cake with Spiced Rum
Fig and Chocolate Cake with Spiced Rum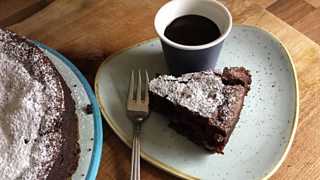 Ingredients
150g dried figs, chopped
125ml golden rum
1 teaspoon mixed spice
125g soft butter
75g castor sugar
75g soft brown sugar
3 eggs
200g chopped mixed nuts
125g melted dark chocolate
20g breadcrumbs
Recipe
Line a 10inch cake tin with parchment paper and set the oven to 160 oC.
Place the figs, rum and spice in pan and simmer until they are all absorbed into the liquid. Allow to cool. Beat the butter and sugars until pale and fluffy.
Add the eggs one at a time. Mix in the nuts, chocolate and breadcrumbs.
Spoon into the tin and bake for about an hour or until an inserted skewer comes out clean.
Spiced hot chocolate and rum sauce
Ingredients
35g cocoa powder
65g castor sugar
25ml rum
75ml water
15g butter
Recipe
Place the cocoa, sugar, rum and water in a pan and bring to a simmer. Whisk and simmer until the sugar has dissolved. Whisk in the butter and serve with the cake, with some cream or ice cream on the side.