Main content
10 magnificent moments from the Ten Pieces Presents Prom
Proms conductor-founder Sir Henry Wood made a surprise return to take the audience on an exciting adventure for all the family.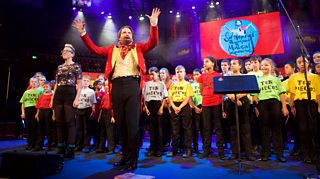 Together with young performers, the Royal Philharmonic Orchestra, the Ten Pieces Children's Choir and some very special guests, he discovered how nature, history, dreams and other ideas have inspired composers to create musical masterpieces.
A range of stirring classical tunes were performed, from Elgar and Vivaldi to the world premiere of Kerry Andrew's brand new song, No Place Like, composed specially for Ten Pieces III, which starts at the beginning of the 2017/18 academic year.
Check out Radio 3's Ten pieces that will make your kids instant classical music fans for more Proms performances to inspire young listeners.
1. A world premiere of a new piece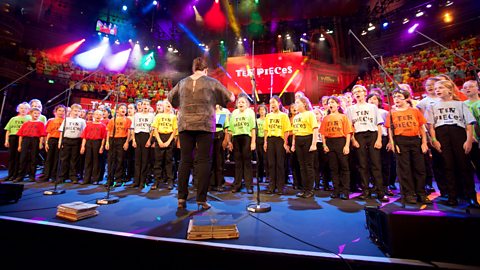 Hear the new a cappella song performed by the Ten Pieces Children's Choir.
2. Sir Henry Wood returns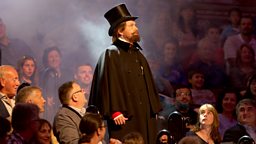 Sir Henry Wood conducted the very first Proms season in 1895, before making the Proms his life's work. He made a dramatic return to the stage at the Ten Pieces Presents Prom (played by Rory Kinnear) to take the audience on a journey through the influences behind various famous tunes. You can explore other classical masterpieces and their influences through the Ten Pieces repertoire.
3. There's no guest like a gnome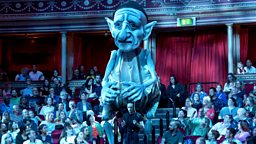 No one could take their own eyes off this special guest - a giant gnome puppet roamed the arena to a backdrop of Mussorgsky's Pictures at an Exhibition, showing how even a hand-drawn sketch can inspire composers to write music. Another of Mussorgsky's works, A Night on the Bare Mountain, features on the Ten Pieces I repertoire - find more information and teaching resources for the piece, including clips and MP3s.
4. Imaginations captured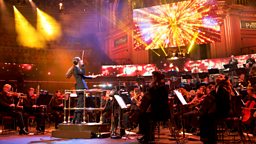 It was the Royal Philharmomic Orchestra and conductor Jessica Cottis who were tasked with capturing the attention of a family audience with Mussorgsky and the other pieces on the programme, including a moving recital of Lily Boulanger's D'un matin de printemps - and the whole Hall was enthralled. There are more exciting orchestral performances to get young listeners engaged with classical music in the Ten Pieces collection.
5. New musical stars in the making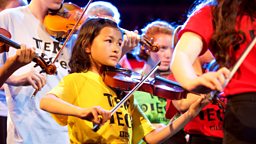 It wasn't just the professionals who took to the stage. Ten Pieces aims to get the next generation inspired by classical music and producing creative responses in any art form. See the imaginative creative responses we've received this year, from a Wagner-inspired baking-themed musical to artworks, poetry and rap! At the Prom, young musicians from North Lincolnshire performed their very own composition, 'The Faces of Brahma', which was inspired by Indian classical music.
6. Jess Gillam takes centre stage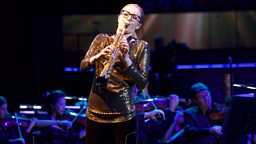 7. Every good story needs a villain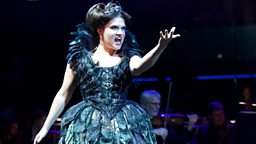 The Queen of the Night from Mozart's opera The Magic Flute, played by soprano star Kathryn Lewek, was the Prom's mysterious villain. She made her presence known throughout the Prom - on the screens and in a dramatic arrival to the stage. The Ten Pieces celebrity-led film clips are packed with other colourful characters, as well as drama and animation, to spark young listeners' imaginations.
8. A fusion of cultures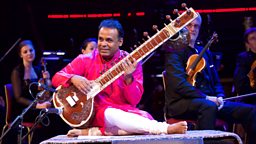 Special guest Gaurav Mazumdar played sitar during Ravi Shankar's beautiful Symphony - Finale: Banjara, which combines traditional Indian influences with an orchestral backing. Each of its four movements are built around a different raga scale. You can hear Gaurav play more music by the legendary Ravi Shankar on Radio 3's In Tune.
9. The power of the voice
As well as orchestral performances, there are powerful choral pieces on the Ten Pieces repertoire lists - Handel's Zadok the Priest and Verdi's 'Requiem'. At the Prom, Vivaldi's Gloria and Elgar's The Music Makers sung by the Ten Pieces Children's Choir, made up of young singers from around the country, were other stand-out performances and filled the Royal Albert Hall with harmony.
10. And a Proms first!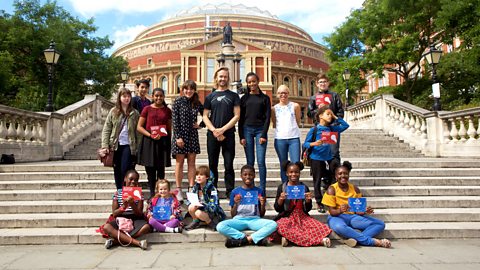 On the panel were Vicki Stone, Gabriel Prokofiev and Sasha Boult.
Schoolchildren had a chance to ask questions about life in the music industry to a panel of experts at the first ever children's Proms press conference, organised by Ten Pieces and BBC School Report.
Facing the budding reporters and musicians were Ten Pieces II composer Gabriel Prokofiev, National Youth Orchestra cellist Sasha Boult, composer Vicki Stone and BBC Entertainment reporter Chi Chi Izundu, who chaired the meeting. Questions included 'What inspired you to become a composer?', 'Do you ever get stage fright?', 'How do you deal with criticism?', as well as the intriguing, 'What do you do if you need the toilet on stage?!'
BBC School Reporters also met Kerry Andrew and Jess Gillam backstage (right) at the Ten Pieces Presents Prom and found out what it's really like having a career in music.
Explore more:
Which inspiring classical pieces are on the list for the 2017/18 academic year?

Radio 3 pick their favourite family-friendly pieces being performed at the BBC Proms 2017