Main content
John Doran's 10 Sleeves Notes to Read Before You Die
The author and music journalist selects some essential reading for BBC Music Day.

I've literally just walked through my front door after a month-long 31-date English tour with a rock band and it all came about because of LP liner notes.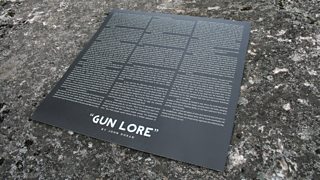 John Doran's liner notes for Arabrot's Murder as Art EP
About 18 months ago my friend Kjetil Nernes from the Norwegian noise rock group Arabrot asked me if I'd write the liner notes to his Murder as Art EP which was due out on Fysisk Format. Inspired by Steve Albini's unsettling inner sleeve vignettes from the Big Black albums, I decided to write him a short story about a man tattooing himself.
I was very happy to be having my first ever short story published and determined to get a copy of the record for my mum. When the label sent me a copy, the striking sleeve art by Johannes Høie featured women in paramilitary uniforms and balaclavas with their breasts exposed carrying automatic weapons, goose-stepping across clouds. They all appeared to have erect penises. I thought I would perhaps show my mother my second published short story instead of the first.
Kjetil asked me to record myself reading out the story and then, in mid-2014, while undergoing punishing treatment for throat cancer, he and his girlfriend - the Swedish pop star Karin Park - set it to music.
One thing led to another and then I found myself on a lengthy tour of bookshops, gig venues, church halls, warehouses, art galleries, record stores and churches, giving readings with Kjetil providing musical support.
I had plenty of time to reflect on how lucky I'd been to end up with such an opportunity but also on the significance of sleevenotes in general. How they speak of a product made by those who implicitly understand how music obsessives feel. These short paragraphs are what we pore over on the bus or the train on the way home from the record shop and are what we read when we're giving the music our (near) full attention.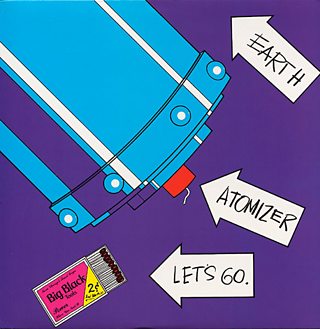 Here is a (subjective and unranked) list of my own favourite LP liner notes.
Big Black - Atomizer (1986)
Steve Albini loves records. You can tell by looking at the ones he puts out. From the artwork all the way down to the cryptic messages etched into the run out grooves on discs by his bands Big Black, Rapeman and Shellac. You can tell, to a certain extent, that he fetishizes the physical product and understands the power it holds over those who feel the same as he does. Atomizer has a stark inner sleeve containing short but vividly penned vignettes, relating to each of the tracks, in white on black text. In case you'd managed to miss what the subjects of these songs were about, the sleeve insists you share in the record's sense of revulsion and compelling horror at child abuse, domestic violence, arson and the like. These sleeve notes are designed, like the music, to make you uncomfortable.
Manic Street Preachers - Generation Terrorists (1992)
Naysayers often point to Manic Street Preachers' failure to sell 16 million copies of their debut LP, Generation Terrorists around the world from "Bangkok to Senegal" as evidence of their failure. However, it seems unlikely that their primary aim was this so much as it was to educate and motivate listeners. They started as they meant to go on by providing a set of quotations cum reading list to hook the casual listener into their very uncasual mind-set. For curious minds, the inner sleeve of this debut was a gateway drug to EE Cummings, Rimbaud, Ibsen, Camus and more. As Nicky Wire said to the author of this list once, "We don't inspire people to form bands, we inspire people to become teachers and librarians and things like that."
Lotion - Nobody's Cool (1995)
Of course, in some cases, the sleeve notes will be of a higher quality than the actual music itself. No disrespect meant to gentle, mid-90s, indie journeymen Lotion but I'm pretty sure it's the liner essay written by Thomas Pynchon that's keeping copies of Nobody's Cool higher than 99p on Discogs.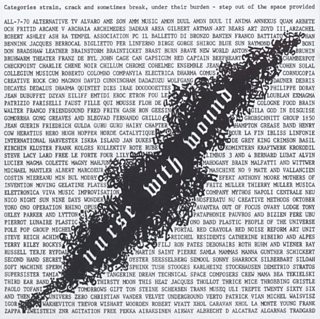 Nurse With Wound - Chance Meeting on a Dissecting Table of a Sewing Machine and an Umbrella (1979)
Nurse With Wound hail from a different time; a time when the concept of the hipster - as in someone who 'hips' others to underground culture - was not a dirty word. Whether intentionally or not "The Nurse With Wound List", a collection of the names of 291 artists and bands that inspired the making of their debut album, Chance Meeting… has gone on to become a key document which continues to reveal the world of underground, cult music to generations of music fans since. The list, which opens with All 7-70 and concludes with Ya Ho Wa 13, is so utterly cooler and more obscure than your record collection that to this very day, debate rages on as to whether some of the names were made up or not. NWW clearly thought they hadn't gone far enough however and expanded the list for inclusion in their second album, To the Quiet Men from a Tiny Girl (1980).
The Fall - Totale's Turns (It's Now Or Never) (1982)
If some sleevenotes are meant to educate or illuminate, others certainly exist to obfuscate, and so it usually is with The Fall. "I don't particularly like the person singing on this L.P. That said, I marvel at his guts. This is probably the most accurate document of The Fall ever released, even though they'll have a hard time convincing their mams and dads about that, ha ha." says R. Totale XVIII, almost certainly another pseudonym of one Mark E Smith...
XTC - Go 2 (1978)
Of course great sleevenotes can be appreciated in complete isolation from the music they're attached to. I have little time or patience for XTC's whimsical and classicist new wave rock music but the sleeve of Go 2 is a copper bottomed piece of design genius and the album sits proudly on my shelves despite the fact I've only ever listened to it once all the way through and no doubt will never listen to it again. The sleeve, simply, is a piece of text that deserves to be hung in the Tate Modern.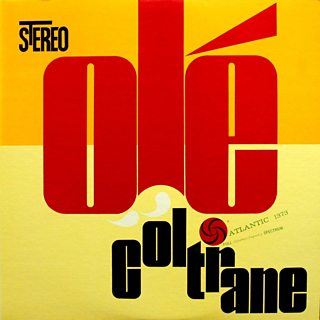 John Coltrane - Olé Coltrane (1961)
As I'm finding out of late, jazz albums generally have the best sleeve notes. In fact the Grammy Award for Best Album Notes, really should add the word "jazz" to the title and be done with it. They can range from the professorial to the weird (Charles Mingus got his psychiatrist to write the sleeve notes to The Black Saint and the Sinner Lady in 1963). Jazz can seem impenetrable to neophytes and good sleeve notes can provide an entry point for the mind alongside the ears. They can explain not just the music but also the political intent of the music (Max Roach - We Insist! Freedom Now Suite) not to mention the often esoteric or complex spirituality that underpins the artist's vision (Alice Coltrane - Journey In Satchidananda). But my favourite sleevenotes in this genre happen to be attached to which album I'm listening to on any given week. This week it's John Coltrane's Olé Coltrane with liner text written by Ralph J Gleason… last week it would have been Albert Ayler's The Village Concerts with Robert Palmer providing the words.
John Fahey - Blind Joe Death (1959)
Initially released as a one-sided album on Takoma in 1959, John Fahey's first LP was initially credited to the 'mythical' (i.e. completely made up) bluesman Blind Joe Death and the sleeve notes, not just of this LP but countless records that followed, supported this subterfuge.
Magma - Mëkanïk Dëstruktïẁ Kömmandöh (1973)
French progressive group Magma were formed in 1969 by French drummer Christian Vander after suffering an eschatological and apocalyptic vision of humankind's future, which involved us having to flee this planet and relocate to Kobaïa. The concept was such a firm and well-sketched one that the songs were sung in Kobaïan - a made up, but phonetically consistent alien language. When the group released their third album, Mëkanïk Dëstruktïẁ Kömmandöh, it was their first to get issued in the US and the gatefold notes, written by Vander, were intended to bring puzzled American audiences rapidly up to speed with what was going on. Whether these sleeve notes did much for the Magma cause is debatable but it is undeniable, that they open the door to the type of world not usually suggested by an LP: "The Earth people think of him as a relentless tyrant and they decide to do away with him, to march against him, to destroy him. They gather themselves together and start a long march singing warrior-like chants. but lost inside of this mass only one thought is apparent in their minds--their reason for marching. And so little by little, the march turns into an awakening of their consciousness. As humans what is their destiny on Earth? What is the purpose of their existence? Where are they going?"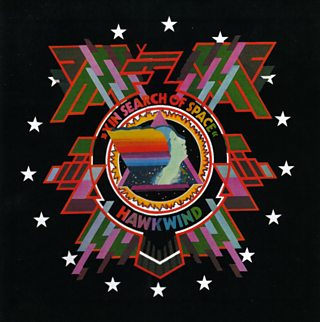 Hawkwind - In Search Of Space (1971)
"TECHNICIÄNS ÖF SPÅCE SHIP EÅRTH THIS IS YÖÜR CÄPTÅIN SPEÄKING YÖÜR ØÅPTÅIN IS DEA̋D." Thus starts the message from the deep space exploratory vehicle Hawkwind on its second voyage, In Search Of Space. The then new idea of 'space rock' (as birthed by the band's self-titled debut in 1970) was starting to take shape and the band provided a detailed, if slightly confused, Hawkwind Log. It opens: "The spacecraft Hawkwind was found by Captain RN Calvert of the Société Astronomæ (an international guild of creative artists dedicated in eternity to the discovery and demonstration of extra-terrestrial intelligence) on 8 July 1971 in the vicinity of Mare Librium near the South Pole. The discovery of the Hawkwind has led to more wild speculation than any of the mysteries of space that we have so far encountered. The facts surrounding the discovery of this drifting two-dimensional spaceship have been so distorted by guesswork and rumour that any further attempts at assessment would only increase the density of the fog." The density of "the fog" is something that can only be guessed at now by reading the frazzled sleevenotes and listening to the languid but propulsive riffs.
More from BBC Music Day...
Visit the BBC Music Day website for a full round-up of all the events and broadcasts on Friday 5 June 2015

Think you know your Ziggy Stardust from your Dolly Parton? Take the quiz to find out if you belong with The Thin White Duke or in Dollywood.

Download all episodes of the powerful series delving into tracks with huge emotional impact.