Main content
The Witterlist - 18th September 2020
Mark & Simon decided to party on and be excellent to each other this week, as they talked about the cinematic return of everyone's favourite time-travelling slackers. Would this be the Wittertainment episode to finally unite the world and save the universe? As ever, it's quantum, baby.
The Interview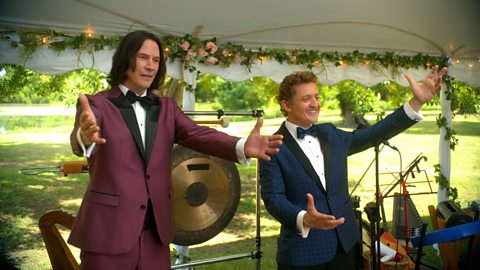 Simon Mayo talks to Keanu Reeves & Alex Winter about Bill & Ted Face the Music.
Keanu Reeves was back on the show, this time joined by his fellow Wyld Stallyn, Alex Winter. The pair have reunited to bring their beloved slackers and would-be saviours of mankind, Bill and Ted back to the big screen with the long-awaited third film in the franchise, Bill & Ted Face the Music.
Keanu and Alex talked to Simon about how the new film came to be, the joy of making a totally uncynical movie and nailing the accent of someone "born in the Lake District and then educated more around the Kent/Maidstone region"...
Mark has always been a huge fan of the Bill & Ted franchise, and this new film was everything he and the fans could hope for in a much-delayed sequel. It's scrappy, nonsensical, silly and totally without irony, and Mark enjoyed every minute of it.
The latest film from director Sarah Gavron (Brick Lane, Suffragette), written by Theresa Ikoko & Claire Wilson and starring a cast of unknowns, Rocks follows Bukky Bakray (the titular Rocks), a teenage girl who tries to keep her and her brother's life on track after their mother abandons them. There is grit and authenticity in the film, but the vibrancy and joy of the young characters and their friendships makes it an absolute pleasure to watch. Mark was bowled over by it and celebrated the thoroughly collaborative nature of the film's production.
Following on from his role in Calm with Horse, Cosmo Jarvis gives another intense, Brando-esque performance in Nocturnal, the debut film from director and co-writer, Nathalie Biancheri. Jarvis plays a painter and decorator who embarks on an unusual (and for the audience, unnerving) friendship with a 17 year-old girl. A strange and moody film that slowly and subtly reveals its story through the interactions between its two leads.
Ethan Hawke stars as Nikola Tesla in an odd and anachronistic biographical film, which includes a scene where Tesla sings the entirety of Tears for Fears' Everybody Wants To Rule The World. It doesn't always work, but it's a bold and daring attempt to do something interesting with a historical story.
Mark Kermode joins Simon Mayo to give his verdict on the week's movies.