Main content
A whole lot of night music
BBC Radio 3 Through the Night is celebrating its 25th anniversary in May 2021 – but you may be surprised to know that music has been keeping its listeners company during the small hours for much longer than that, writes presenter John Shea.
Bach (who else?) beat us to it almost three hundred years ago! An insomniac Russian diplomat visiting Leipzig reportedly asked Johann Sebastian to write something to be played for him as he lay awake at night, and the Goldberg Variations were the result. Louis XIV had his own version some decades earlier, thanks to a lutenist called Robert de Visée who sat at the end of the royal bed, playing his own pieces for the Sun King during the hours of darkness.
The fruits of both composers' efforts live on, making regular appearances in the playlists of Radio 3 Through the Night. It's the least we can do, to thank them for their inspiration! Our overnight musical sequence usually lasts six hours, and it draws on recordings shared by other members of the European Broadcasting Union, as well as our own (Proms highlights, for instance). That includes associate members, so you'll sometimes hear us introducing concerts from further afield: the USA, Canada, Australia, New Zealand and China are also regular contributors.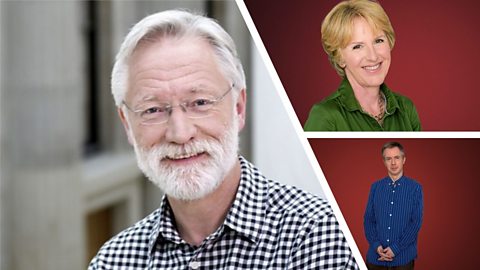 Donald Macleod, Catriona Young and John Shea on what the programme means to them.
A couple of years after the BBC version of Through the Night started in 1996, we began to share the programme with our European neighbours under the title Notturno. Different countries customise it in different ways, but the basic plan is that the same music is sent out to the other stations that choose to subscribe – the equivalents of BBC Radio 3 from Sweden to Turkey – and they add announcements (prerecorded, as ours are) in their own languages.
I always make new discoveries from writing these scripts.
The range of music that Radio 3 plays during the rest of the day has broadened hugely in the last few years, but in many respects Through the Night has led the way, particularly since it spread its wings to become Notturno in early 1998. The opportunity for our European neighbours to have their recordings played alongside each other has an obvious appeal for any of them who are considering taking part, and I've learnt about so many composers in my 19 years on the programme that I might never have encountered otherwise.
One thing we do regularly is mark the national days of the member countries with a whole night of their recordings, featuring as many of their performers and composers as possible. I always make new discoveries from writing these scripts – as I often do, too, from the concerts that begin the programme every night. Many of these come from Europe's early music festivals, a series of treasure troves which repeatedly show that the composers of three or four hundred years ago were just as curious about musical life elsewhere in the continent as any working today.
This seems to be increasingly true of performers and programme planners, too, which is very encouraging. The number of times I've said "next on Radio 3, Purcell from Poland" or "Elgar from Bulgaria" suggests that many of the claims we grew up with, about certain composers not "travelling", are no longer valid! I've definitely learned to admire the art of programme planning - whether it's the kind done by a concert promoter or by our own dedicated producers. Following their train of thought through a six-hour nocturnal soundtrack is perhaps the most serendipitous pleasure that Radio 3 Through the Night has to offer. Who would want to miss that?
Radio 3's continuous overnight broadcast of concert music and opera, recorded with partner broadcasters and at locations throughout Europe.